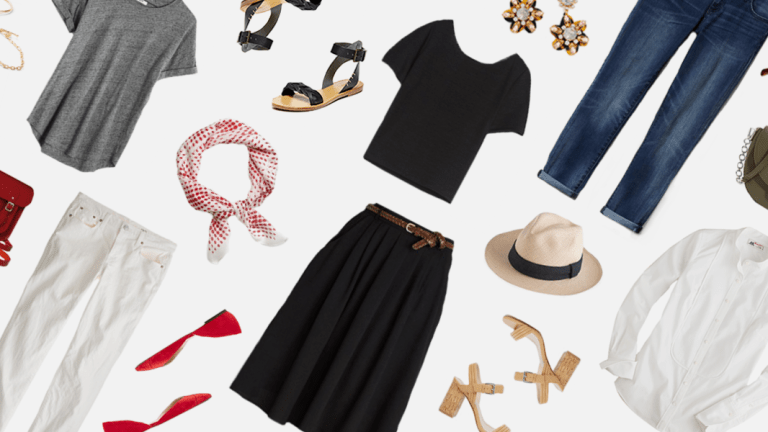 3 Ways to Instantly Make Your Outfit Look Pulled-Together
Don't worry, no one will notice you're faking it.
We all have mornings when a planned-out outfit is just not happening. Whether half of your wardrobe is in the laundry or you simply didn't have time to assemble your look the night before, there are easy ways to fake a pulled-together outfit.
Follow these no-fail tips to trick everyone (and yourself) into thinking you have it all together—don't worry, your style secrets are safe with us.
Camouflage with Accessories //
A sure way to make any plain tee and jeans outfit look intentionally styled is to use accessories wisely. Delicate gold chains, stacked bracelets, and rings do the work in making you appear more pulled-together. The contrast of your casual, loose-fitting tee with your fancy necklaces and bracelets will give you an effortlessly cool street-style look. Bonus points for adding a statement bag and classic straw fedora.
Choose Monochrome //
This tried-and-true combination is the style secret for any girl who wants to look edgy without the effort. Wearing monochrome, or specifically, black on black, will give you that fashion-forward, no-nonsense aesthetic that New Yorkers are so famous for. Achieving this look is easy as pie: Just wear your favorite comfortable black tee with a black midi skirt or jeans. Instant chic! While black on black is the goal, a little color always goes a long way—add an easy pop with your shoes and accessories.
Borrow from the Boys //
Borrowing from the boys is the easiest way to fake a pulled-together outfit. The crisp tailored button-up will upgrade your entire outfit, giving you all the class and sophistication of a Parisian street styler. You can even wear your slouchiest boyfriend jeans with this look. To add to this boy-meets-girl ensemble, throw on a pair of heels for a playfully juxtaposed look.