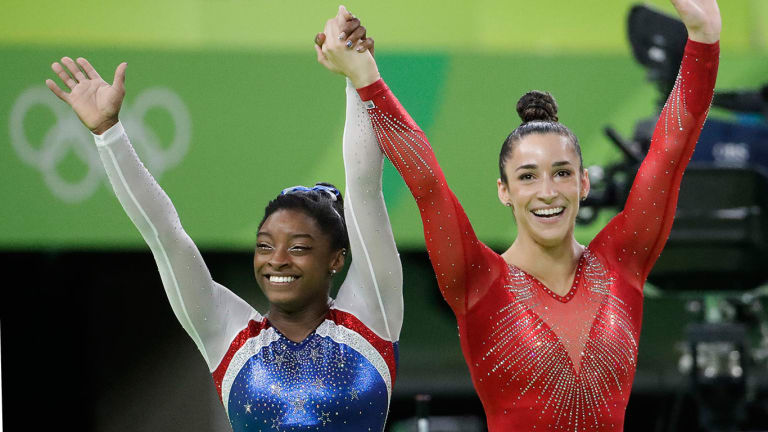 Team USA Is Killing It—Here Are the Olympic Highlights You Shouldn't Miss
Everything you need to know about an eventful second week in Rio.
The second week of the Olympics was as exciting as the first! Whether you're a sports junkie like me who watched every minute, or you're just looking for the highlights, you've come to the right place. There were highs and lows for Team USA, but the Americans continue their impressive lead in the medal count. From record-breaking to Zac Efron, here's what you need to know.
Kerri Walsh Jennings Loses Olympic Match for First Time but Takes Bronze with April Ross
On Tuesday night the country watched what many people doubted they would ever see: Kerri Walsh Jennings lost an Olympic match. Walsh Jennings and her doubles partner April Ross, who were ranked third, lost in straight sets to second-ranked Brazilians Bárbara Seixas and Ágatha Bednarczuk in a semi-final match. Entering the match, Walsh Jennings had only ever lost one set in her entire Olympic career.
It's not all bad news, though. Walsh Jennings and Ross played in the bronze medal match on Wednesday night against top-seeded Larissa Franca and Talita Antunes of Brazil. The Brazilian ladies took the first set and had the lead in the second but Walsh Jennings and Ross rallied back to push it to a third. Riding that momentum, the Americans were able to pull off the win, giving Kerri Walsh Jennings her fourth Olympic medal and Ross her second. The grit and determination that the Americans showed was nothing short of inspiring. With a 27-1 all-time record in Olympic beach play, the only question that remains is, Will Kerri Walsh Jennings be back in 2020?
USA Sweeps the Women's 110m Hurdles
Team USA swept the podium in the 110m hurdles race. It was the first sweep by U.S. women, in any event, in Olympic history. Brianna Rollins won gold with Nia Ali close behind and Kristi Castlin took bronze just inches ahead of the fourth-place finisher. There were smiles all around at the finish line when the results were announced.
Simone Biles Leaves Rio with Five Medals
Simone Biles was unbeatable on the floor exercise on Tuesday, securing her fourth gold and fifth medal overall in the Rio games. Teammate and Olympic veteran Aly Raisman took silver in that event. After winning a gold in the Team All-Around last week, Biles went on to win gold in the Individual All-Around, Vault, and bronze on Beam. Team USA ended with eight individual medals in addition to a gold for each of the girls in the Team All-Around. The girls celebrated with french fries, pizza, and meeting Zac Efron.
Jenny Simpson Wins First American Medal in Women's 1500m
"I'm not here to race against people's past performances. I'm here to race them." That was was Jenny Simpson posted on Twitter the night before the finals. After a disappointing eleventh place finish in Beijing, Simpson made history when she won bronze in the women's 1500m, the first U.S. medal in Olympic history for that event. After the race she said, "Hopefully every American watching my race tonight feels like they can take a small piece of ownership in this medal." She can leave Rio with a lot to be proud of.
Strong Medal Winners Use Olympic Platform to Spread Body-Positive Messages
Sarah Robles is known as the strongest woman in America, and she proved it with a bronze medal on Monday in the super-heavyweight division, the first American weightlifting medal in sixteen years. Robles used her position on the podium to share a message of positive body image with young fans. "I didn't have to conform my body or my ideals or my looks to get where I am," she said in an interview for the LA Times after competition. Robles' message reminds us that women of all shapes and sizes are able to accomplish their dreams.
"Shot Diva" Michelle Carter won the first gold medal by an American woman in the shot put since 1960 on Friday. After the event, she spoke out about what it's like to be an athlete of her size, saying, "I'm in a sport that people don't look at us like women. They don't look at us being girly or feminine. But I've been girly all my life. I couldn't separate the two between the sport and being a woman." Carter reminds us that being athletic and feminine are not mutually exclusive. "I just encourage young girls to be true to themselves," she added. Thanks for being real, ladies!
U.S. Women's 4x100m Relay Squeaks Into Finals in Dramatic Fashion
Thursday morning, Team USA entered the second heat of the women's 4x100m semifinals as an overwhelming favorite and as a serious contender for gold. As Allyson Felix attempted to hand the baton to teammate English Gardner, she seemed to stumbled and disaster followed. The handoff was botched, and for about ten seconds the baton was lost. It was the worst-case scenario. While all of America watched in dismay, Gardner held her head in her hands and finally Felix located the baton and told her teammate to start running. Team USA crossed the finish line but was listed as DQ.
What happened? How did the defending gold medalists end up disqualified? It turns out that Brazilian runner Kauiza Venancio crossed over the lane line with her elbow and hit Felix while she attempted to hand off the baton to Gardner. After reviewing what happened, Olympic officials decided to let Team USA compete against the clock for a place in the finals, under circumstances never before seen in the Olympic Games.
Alone on the track, it looked like a practice run, except with the whole world watching. Racing against the clock, the ladies ran their hardest. Anchor Morolake Akinosun crossed the finish line at 41.77, the top time of all teams in the finals. Tune in Friday night to see if the Team USA ladies can complete their dramatic quest for gold!
And for a Quick Look at Other Happenings, Here's a Rapid-Fire Roundup:
- Usain Bolt is killin' it, per usual.
- Where is the USWNT? They lost early in the knockout round to Sweden in the first ever Olympic match decided by penalty kicks.
- Venus Williams won a silver medal in mixed doubles, saving her from an empty-handed Olympic Games. Williams and partner Rajeev Ram lost to fellow Americans Jack Sock and Bethany Mattek-Sands.
- Helen Maroulis became the first female American wrestler to win a gold medal, beating a Japanese legend in the sport.
- Women's rowing won its third consecutive gold medal. Way to dominate, ladies!
Go Team USA!
Photo Credit: AP