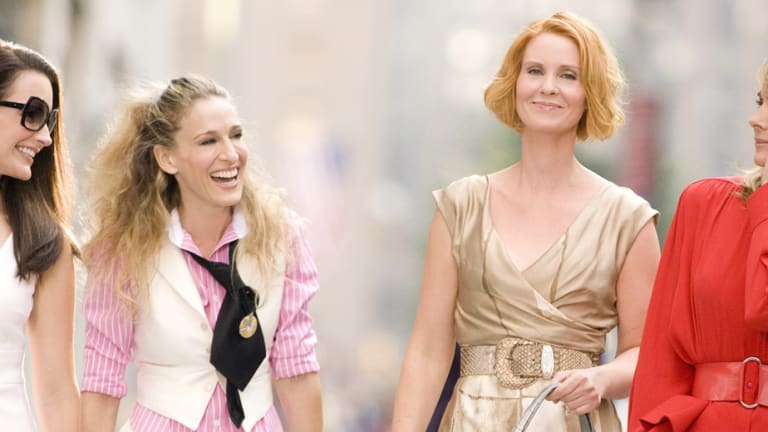 Is It Really a Sign of Empowerment if Women Are Initiating Hookups?
Sex and the City turns 18 this summer, and we're wondering just how much it taught us.
This summer marks the eighteenth anniversary of an HBO show premiere that would go on to have an impressive six-season run and an even more notable impact on many generations of women.
Yes, I'm talking about Sex and the City.
Helmed by Sarah Jessica Parker, SATC was the larger-than-life story of four women living, working, shopping, and falling in and out of love (or at least having lots of sex) in Manhattan. It was a veritable cultural phenomenon and displayed a type of woman-embraces-sex mentality we had never before seen on TV, even if it was on HBO.
As SATC diehards brace themselves for SJP's return to HBO with this fall's new show, rather ironically called Divorce, the show that started it all is still at the forefront of our minds. But in the nearly two decades since SATC started, there has always been a subtle unease among critical viewers. Whenever I watched SATC, I was struck by what ridiculously bad decisions the characters made and wondered if it were almost intended as a cautionary tale for viewers to learn how not to live.
Ali Barthwell called out one famous plot line for Vulture when she said: "In the show's final season, Carrie dates reclusive and sexy Russian artist Aleksandr Petrovsky. He makes absolutely no room for her in his life. Her friends hate him. The couple says 'I love you' a total of zero times. Still, Carrie quits her job and abandons her friends to move to Paris with him. This empty relationship and the couple's complete lack of foresight are supposed to be romantic. Oh, honey, no."
Whether you saw the episodes as cautionary warnings or how-tos, SATC changed the dialogue about women and sex forever. And I couldn't help but be reminded of it when a friend of mine recently said, "Girls, more so than guys, are the ones being sexually aggressive these days."
My friend in question went on to suggest that women, more than men, are the impetus for much of the casual sex happening today—and that this is a good thing. Where men have perhaps always felt free to approach sex openly, women writing their own sexual narrative still feels a bit novel. In that context, my friend views women who appear aggressive and wanting to have more sex with less consequence, not unlike what SATC showed, as evidence of female progress.
I'm not so sure. Not that women can do this; it's clear they can. What brings me pause is the part about it being an expression that's coming from women.
The way I see it, sexually aggressive behavior in women is more about pleasing men than empowering women. When I see women "being aggressive," as my friend puts it, I can't help but wonder: Are these women just trying to beat men to the punch?
In other words, have women learned to play the lead in a man-made sexual script in order to avoid succumbing to it?
There are many possible exceptions, of course, but looking at the trends and research about male/female differences, this seems much more likely than the theory that women's deepest desire is to have the frequent, no-strings-attached, often anonymous sex we see in the hookup culture.
Evolution theory tells us that women generally seek long-term relationship security in a mate. But that might be harder to come by thanks to reports last year showing that not only is there a male shortage in most of the Western world, but there's also an "eligible male" shortage. As Jon Birger revealed in his 2015 book Date-onomics, among those with college degrees, there are four college-educated women to every three college-educated men. Because studies show women want to couple with men on an equal education level as them, a man shortage is a real phenomenon—at least at a post-collegiate level.
This, to me, is where this idea of a sexual shift among women might come into play.
Because the male market is saturated, I think women now feel compelled to compete to stand out. In many ways, metaphorically speaking, women are chasing men today more than men are chasing women. In the short term, the surest way to a man's attention is through sex appeal. You know, the Samantha Jones way. In a study where men and women were propositioned for no-strings-attached sex on campus by an attractive member of the opposite sex, 100 percent of female participants declined this offer, and about 75 percent of men were eager to accept. So women are clearly pickier in their sexual partners and experiences.
Which is why I think it's a mistake to view a culture of sexually aggressive females as being a good thing for women. It could easily speak more to an attempt to be viewed as being valuable in relationships than to their inner yearnings. Women sometimes think sexual promiscuity up front will garner them the long-term commitment they want. Carrie eventually got Mr. Big, right? But what about all the hardship she faced along the way?
Studies have indicated the majority of women don't experience as much physical pleasure in hookup sex as men; one study involving 24,000 college students showed that 40 percent of women surveyed said they had an orgasm during their last hookup. Meanwhile, 80 percent of men did.
Physical pleasure or not, though, surveys show that women continue to have hookup sex, and if they don't enjoy it, they resort to liquid courage if necessary. According to a study of college women's drinking patterns, 89 percent of those who had hookups with a random stranger involved drinking, and a notable 63 percent involved four or more drinks. Another study found that of the female students who hooked up, more than a third reported that they likely would not have engaged in the level of sexual activity they did had they not been drinking.
It seems to me that if many women aren't experiencing pleasure during hookup sex but keep doing it, then they're doing it for some other reason than to feel empowered.
Some feminists step in saying we need to educate women more about how to reach orgasms during these encounters, but I think that misses the point here. Rather than try to manufacture some kind of blanket pleasure equality, I think we'd learn more if we put our attention toward discerning what the motives are of women who demonstrate this behavior. What are they seeking, and are they going the best route to achieve it? These, to me, would be much more telling than rushing to assume that all women want is an orgasm.
Can women beat men at their own game if we want to? Sure, I have no doubt. But the question we have to ask ourselves is, do we want to? Is that what we actually find fulfilling?
As a high school senior interviewed for Peggy Orenstein's book Girls & Sex put it: "My whole life is an attempt to figure out what, in the core of myself, I actually like versus what I want to hear from other people, or wanting to look a certain way to get attention. And part of me feels cheated out of my own well-being because of that."
We owe it to ourselves to ask these questions. Because there are a lot of reasons to believe that it's not women's deepest desires unleashed that have led us to the hookup culture.
Researchers on hookup trends have found that "a majority of both men and women are motivated to engage in hookups but often desire a more romantic relationship." I suppose you could say that's something SATC got right. Its protagonist spent the whole series feeling unfulfilled, looking for real love. Questions of his suitability aside, Carrie wanted Mr. Big to commit to her. It's all the in-between that makes for the confusing sexual climate we have today.
As those same researchers concluded, "Hookups, although increasingly socially acceptable, may leave more 'strings' than public discourse would suggest."
SATC brought entertainment and joy to a lot of viewers. As a champion of strong female friendships, it definitely had some appeal. But its place in pop culture history as a holy grail of modern, liberated love is why nearly two decades later we're left to wonder just how much those ninety-four TV episodes and two blockbuster movies have impacted the way we as women relate to men and sex today. I, for one, only see fiction.
Photo Credit: HBO