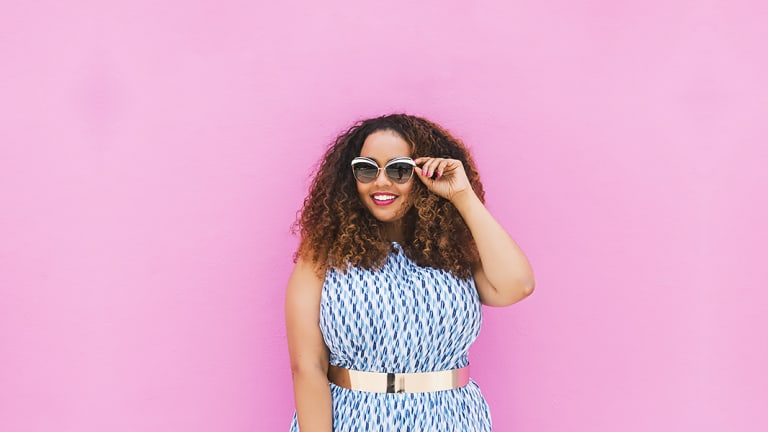 5 Style Bloggers Who Are Challenging How the Industry Defines Size
We can all be inspired by the women reminding us that beauty is diverse.
A common complaint against the fashion industry is that plus-size clothes are too frumpy. Not only are most women bigger than a runway size underrepresented in movies and advertisements, but they're also underserved on the clothing racks—are matronly cuts and the color black really the only options? This is what the average U.S. woman has to choose from?
Fashion blogs are the next frontier for finally diversifying fashion. Sometimes we just want to see women who don't fit the same narrow mold; we want to see women who could be us. Many fashionable women are helping pioneer this movement, proving that good style can be universal. Here are five of our favorite bloggers for steal-worthy street style and perspectives on beauty we can all take to heart.
01. Tanesha Awasthi
This San Fran babe has killer hair and a winning smile. Growing up, people would tell her she was beautiful—but too big. Because of these kinds of comments, Tanesha Awasthi said she wrestled with eating disorders and self-hatred for years. So she founded her self-named fashion and lifestyle blog (formerly known as Girl with Curves) to encourage women to feel beautiful regardless of their size. Awasthi, who is also a wife and mom to a precious 2-year old, has tons of beauty tutorials and an affordable, comfortable style that gives us OOTD #goals. But our favorite part of her blog is definitely her empowering mission:
"So many women in the world who don't fit the mold of the media's narrow definition of beauty have been made to feel unworthy of looking and feeling amazing. My goal is to show the world that beauty comes in all shapes and sizes, and women with curves have the right to look and feel amazing."
02. Shira Rosenbluth
We love feminine style, and Shira Rosenbluth's level of passion for sequins and flouncy dresses on her site, A Sequin Love Affair, is unmatched. Being a personal shopper for coworkers and friends turned into something bigger when the NYC native started the fashion blog to expand the boundaries of her love for clothes. Her style is colorful and classic but always with a fun, modern twist. She says on her blog that its purpose is to encourage women to have fun, take style risks, and embrace "all the different parts of yourself." Best of all, in July, she uploaded a post calling out the idea that women have to get bikini-ready every summer:
"Can we stop obsessing over thinness already? It can be exhausting to try and be at peace with your body when all you see and hear are reasons why you are wrong and not good enough.…why can't a woman at any size be confident and happy?....I know too many beautiful women suffering with eating disorders and I want to bring more positivity in the world, not add to our weight- and thin-obsessed culture."
03. Gabi Gregg 
Gabi Gregg's blog, GabiFresh, launched into the public eye a few years ago after she posted a photo of herself in a swimsuit and encouraged readers to do the same to combat the discomfort many women feel in beachwear. A lot of the self-consciousness over swimwear comes from what our culture teaches us but also from not having any options we like, she told Today. So Gregg began designing swimsuits to change that. The Chicago blogger is definitely a fashionista when it comes to everyday wear, but her style truly shines in swimwear. She said she started her blog to fill the empty market for fashion for size-14-and-up millennial women. A lack of options shouldn't limit our style choices, and neither should society:
"We have to be happy with the bodies that we have right now."
04. Nicolette Mason
Somehow, Nicolette Mason manages to skirt the boundaries of classy and edgy style (maybe it's the pink lipstick and the nose ring?). Mason (and Gregg) partnered with both Target and ModCloth for plus-size fashion lines. She says she doesn't mind the term "plus size," but it's important not to confuse appearance for personhood. All too often, we use these sorts of terms for women when a discussion of size is completely irrelevant. Her style advice is also about rejecting labels:
"I rarely pay attention to the size number on a tag, and instead I assess a garment by its fabric and shape. It's a clever trick I picked up over a lifetime of being 'too big' for fashion (yeah, right!)."
05. Allison Teng 
If girly dresses and heels are too basic, Allison Teng knows how to throw a quirky clutch or leather jacket into the mix to keeps things interesting. This California girl is passionate about fashion in and outside of the plus size genre, as evidenced by her site, Curvy Girl Chic. Being a curvy girl can be difficult, especially in the Asian community, but Allison says no matter what others say, being healthy and confident is always in style.
"My advice to big girls in the Asian community is the same advice I give to big girls everywhere–don't waste time comparing yourself to others! I'm never going to be that skinny, pale-skinned Asian girl with stick-straight, long dyed hair and big anime eyes, but that doesn't matter! Focus on doing things that make you feel good about yourself. As hard as it is, try to filter out the negative media, and instead focus on whatever makes you happiest."

We're so inspired by how these women are showcasing style in their wardrobes and their lives. By pursuing fashion and empowering women along the way, they're reminding us that true style and beauty are undefined.