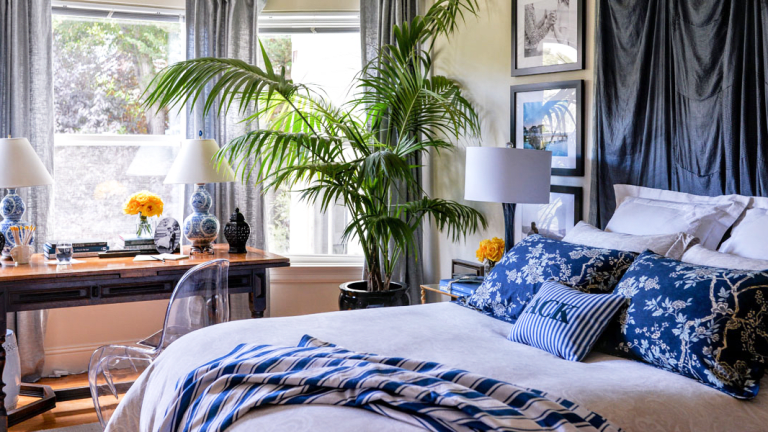 Stacie Flinner Shares Her Secrets For Creating a Personal and Comfortable Home
A home that is a reflection of your best self is inspiring and restorative.

As an interior designer, there are few things more personally satisfying than seeing a creative vision come together.
When my husband and I moved from New York City to San Francisco last year, we doubled our living space. This left the furniture and decor we brought from our 400-square-foot Manhattan apartment feeling a little lonely in our new home. But decorating is a process; you can't just wake up one morning and decide you're going to finish it that day. Soulful homes are the result of collecting objects and memories over time, displaying them to enjoy as a part of your daily routine.
A home that is a reflection of your best self is inspiring and restorative. To achieve this, design your home around your lifestyle, and then fill it with inviting and inspiring things that make you smile—whether it's a photo from a vacation or memories of an early morning spent treasure-hunting for a chair at a local flea market. We're eighteen months into West Coast living, and, in collaborating with Shutterfly to create a meaningful home, we're almost there. Below are my top four tips for fashioning a stylish and personal space that speaks to who and where you are in your life.
01. Decorate Honestly
The best designs result from an honest consideration of your day-to-day living and how you realistically use spaces in your home. Document how often you perform important activities in there, and make design decisions to enhance the activities that you value most.
Categories will be unique to you but may include: family get-togethers, dinner parties, game nights, yoga in your living room, working from home, movie nights, playdates, etc. Design your space around each possible scenario. If you never host dinners for twelve, do you really need a full china set for twelve and a formal dining room? Or if you rarely watch TV, a projector that can be stored away when it's not in use is the perfect alternative to permanently mounting a TV to your wall.
In our house, both my husband and I are self-employed, so work space is a priority. We have two large tables—the desk in our bedroom and our dining room table—for us to spread out our work. I spend a great deal of time at my desk, so I added a favorite wedding photo of ours printed on an oval portrait plaque from Shutterfly. This small reminder of a fond memory brings unexpected warmth to this corner of our home.
We also like to host large dinners but only do so every couple months. So we chose a desk that extends into a ten-foot dining table, which we pull out when it's needed. Selecting pieces that conform to the patterns of your life will result in the most functional and beautiful home.
02. Add Contrast Here and There
Create visual interest through contrasting the old with the new. Vintage goods are a cost-effective way to feather your nest, whether you're shopping for big-ticket items such as rugs or tables or just looking for small objects to add to your bookshelves. Many people stress out about whether an antique is "authentic." But my rule of thumb is, if you love it and the price seems fair, it's worth it to you.
Yet as much as I love a little patina that comes with age and wear, it's all about an artful mix: like contrasting something antique with something streamlined and modern. Whether your taste is modern, traditional, rustic or global, you can incorporate something old with something new.
I love pairing my antique Jacobean desk with an acrylic chair, ornate candlesticks on the same table as sleek glassware, or an antique tapestry alongside modern framed black-and-white photography from Shutterfly. An architectural curved glass print I use as a side table catchall adds elegance. A striped monogrammed pillow against floral chinoiserie shams lends a touch of prep to our bed (these are all customizable at Shutterfly; you can use a favorite print or photo for the fabric). A monogrammed mason jar holds fresh flowers and seems to say "welcome" in any room. Just as antiques are one of a kind, so too is any new piece we personalize ourselves. These gestures are nearly effortless, but they add greater expression to your style.
03. Get Personal with Your Photos
Weave stories of favorite memories throughout your home using your photographs as personalized decorative accents. Instagram's popularity has turned us all into photographers, capturing our most memorable moments to share in our feeds. In many cases, you'll already have all the art needed to create a gallery wall of memories saved in your phone.
Shutterfly lets you create and customize home decor accents anytime, anywhere with just a click. I was thrilled when I received the six contemporary framed prints around my bed in the mail. The mix of photos from vacation (we love to travel) and a shoot we did with a photographer friend always makes me smile. I love the idea of keeping mainstays (such as a favorite wedding shot) framed all year but changing out seasonal vacation photos to fit the mood. If you're a renter and aren't allowed to put nails in your walls, place larger framed art on the floor leaning against the wall, or lean smaller frames against books on your shelves for a fresh way to display your original photography.
04. Make Your Mark with a Well-Placed Monogram
It must be my time on the East Coast because I love monograms! Especially now that I share the same initials with my new home city of San Francisco. The irony won't escape guests when we use this wine decanter and stemless wine glass set monogrammed with a simple "SF."
Whether celebrating the joining of two families or your individuality, monograms are a thoughtful touch to even the simplest items in your home. Using your initials is a classic approach to customization, but consider meaningful words and phrases as well. While on vacation, I saw many shops that offered home goods etched with "Nantucket." Instead of lugging them back with me, I ordered one from ShutterfIy. I loved the thought of having little reminders of our favorite place around the house, so I customized a wooden cutting board with this nine-letter token. In addition to your initials or the name of a favorite vacation destination, I like the idea of using cheeky acronyms like "BRB" or "OOO" to leave your distinctive mark on everyday items.
By designing around our lifestyle and personalizing decor items with our favorite images, colors, and designs, our San Francisco abode has become a deeper reflection of who I am and how I want to live in our new home. With these simple guidelines in mind, you can take everyday items and make them special for your space.