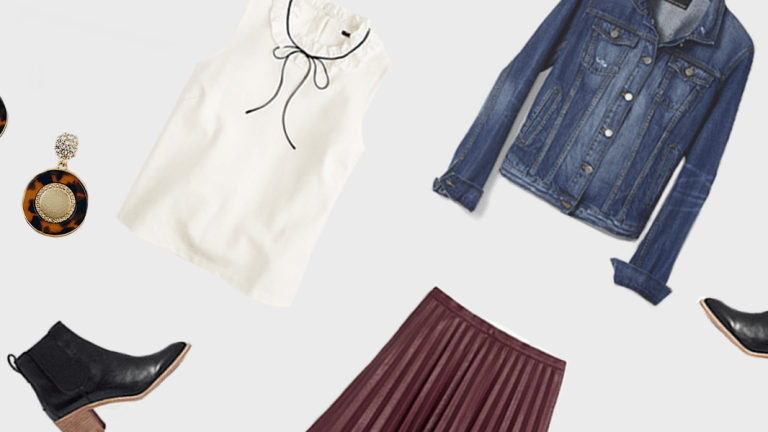 You'll Want This Grown-Up Back-to-School Look to Be Your Fall Uniform
One look that flatters every figure . . . we'll take it!
There's a certain charm about schoolgirl pleats and blouses with bows that we refuse to outgrow. As the arrival of the school year has virtually no impact on our daily 9 to 5 grind, we can't help but feel inspired by a new academic season. So, why not give the classic schoolgirl uniform a grown-up update?
We're going to take you through the ABCs of transforming your private school classics into a modern, grown-up getup that can easily take you from the office to a night out on the town.
01. The Statement Earring //
A sure way to make any youthful outfit a little more grown-up is to wear statement jewelry. A pair of tortoiseshell earrings will give you that 1960s mod vibe while highlighting the earthy tones of your fall look. Plus, a pair of bold earrings will certainly transition this daytime ensemble into night.
02. Victorian Blouse //
We're definitely ready to say goodbye to last fall's understated, minimalist blouses. A brand-new blouse is in town, and it's perfectly romantic and flouncy. With its ruffled neck and darling bows, this silhouette is ideal for dressing up any outfit by adding a feminine touch.
03. The Modern-Day Blazer //
Sometimes the prep factor can be a little intense, so incorporate the modern-day navy blazer into your look—aka the denim jacket. We can always count on the ever-trusty jean jacket to give any outfit a street style flair, making it effortlessly cool and practical.
04. Sleek Pleats //
No plaid here! This isn't your average tartan. This skirt is the embodiment of the grown-up pleated skirt. The sleek faux-leather fabric adds just the right amount of edge to the feminine A-line silhouette, separating the women from the girls.
05. The New Fall Bootie //
We've got to admit, even the cutest of private school uniforms were plagued with clunky Mary Janes and Doc Martens. (Mia Thermopolis, anyone?) To save your grown-up back-to-school uniform from frumpdom, try wearing a heeled bootie. The universal shoe will keep your outfit from looking too young, and the chunky heel will be easy on your commute.
06. A Sporty Satchel //
The satchel has "academic chic" written all over it. Smart buckles and clever straps—it's enough to have us ready to go back to school. To give your classic satchel a modern update, consider fun colors, patterns, and sporty stripes. It's a surprising twist that will give your whole outfit a playful air.