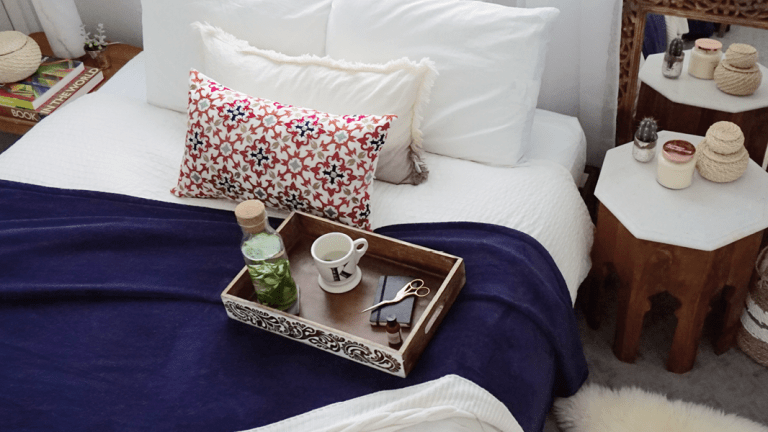 This New Mattress Brand Has Found a Clever Way to Get You a Good Night's Sleep
Firm or soft? Turns out, you don't have to choose.

Remember the fat-free craze of the nineties or the ubiquitous "Got Milk?" campaign of the past twenty years? Today, it's sleep that's being sold to us as the thing that our health needs. Some have famously said we're in the midst of a "sleep revolution." Apple has added a sleep tracker to its next iOS update coming this fall. And article after article has told us that sleeping is the key to improvement in every area of life, from our relationships to our salary. But unlike fad diets, sleep as a vehicle for good health is proven true time and time again.
In a perfect world, a third of our lives is spent sleeping. It's only during these recommended seven to nine hours of sleep per night that our bodies restore, rebuild, and remember. If you've already realized that you need to catch some quality Zzz's on the regular, you might have already taken steps to get better sleep: regular exercise, reading a book (rather than a screen) before bed, keeping room temps cool, and resisting the urge to hit snooze.
But have you evaluated what you're sleeping on? No? Me neither—at least, not until recently.
I've slept on decades-old box springs, dorm bunks, IKEA toppers, and even a sofa bed for eighteen months. (Worst. Ever.) But a few months ago, I started sleeping on a new kind of surface. I'm not one to embellish, but it changed my life. Really.
Memory foam was developed in the late 1960s by a group of NASA scientists whose goal was to create a material that would relieve astronauts of intense g-force pressures during liftoff. While it is highly energy absorbent and soft, some memory foam products can contain toxic chemicals and retain uncomfortable body heat. More than fifty years later, innovative companies have developed mattresses using healthier materials optimized for better sleep. And thanks to modern convenience, the trendiest of foam mattresses now come in a one-size-fits-all box that your mailman can carry.
But while the box might be small, the investment is not. Ranging in cost from hundreds to thousands of dollars, a mattress is one of the most important purchases you can make for your longterm health. Yet with so many types out there, how does one commit, especially with a good night's rest on the line?
One sleep technology brand called OSO came up with quite a clever solution so that you can worry less about the "Will this be comfortable?" question: Get the option of firm or soft in the same bed. OSO's engineers know that our shoulders are pickier about support than our knees, and our hips are more sensitive to firmness than our feet. So they designed a mattress that focuses on supporting the areas where we need it the most: our shoulders, lower back, and hips. When you find your bed too firm or too soft, just rotate (not flip) it 180 degrees to get a different level of support and a better night of sleep.
I'm skeptical of pretty much everything, so I had to give it a try. The good news is that if it didn't work out, OSO has an excellent return policy. I get 101 nights to decide whether the mattress is right for me. If I decide to return it, the company will work with me to find a local charity to donate it to, and I get reimbursed 100 percent. Win-win.
"Be careful. It's heavy," the UPS guy warned when my OSO arrived at our front door. But to my delight, I could easily push it over the threshold and into my home. Unboxed, it's sealed in airtight plastic like a giant jelly roll. My petite self was even able to tumble it upstairs to our guest bedroom all on my own. Woot!
After unwrapping and waiting for it to expand while I watched an episode of The Great British Baking Show, I did my own cake test. The OSO mattress comes with conspicuous tags to distinguish the firm end from the soft, though the transition is gradual. Rolling, squishing, and sampling from end to end, I quickly rated the firm side a 7 out of 10 and the soft side a 3. Incidentally, I later read that OSO rates its firm a 7.5 and the soft a 3.5 out of 10, "with 1 like a pile of feathers and 10 like sleeping on the ground." This gives you an idea of how subjective mattress rankings are.
The first night, I wondered how different the OSO could possibly be from the other modern foam mattress I have in my master bedroom. Both had breathable layers designed to keep you cool (a must for a comfortable sleep). The OSO mattress is composed of premium Talalay latex and RevTech™ foam for optimal body support and airflow. Both were clearly well-made with materials certified to be free of ingredients that have a negative impact on our health and the environment. Both have similar price points.
After a couple nights on the OSO, though, a guest came to stay with us. Before she arrived, I texted to ask if she preferred a soft or firm bed. "Soft!" she replied. That's when I noticed that our OSO mattress comes with handles sewn in, making it a cinch to rotate from my preferred level of firmness to hers.
Back in my own bed, I found myself wishing that I were sleeping on the OSO instead. I don't like to admit this because I do like our bed a lot. It was our first big purchase for our new home. And I've highly recommended it to family and friends. But here I was liking the OSO more. Why?
For one, I'm a side sleeper, and my husband is a stomach sleeper, but we both found it equally pleasant to sleep on. He finds our own mattress a bit firmer than he'd like. The OSO has all the benefits of an exceptionally-designed foam mattress and then some: it's so soft yet I can't feel him move, it supports the unique pressure points on our bodies, and I can rotate it when we want a different level of firmness or to suit guests' preferences.
Well after 8 a.m. the next morning, without question, our visitor exclaimed: "I love my bed! Normally, I move around a lot in my sleep. But I didn't wake up at all. I felt like I was sleeping on a cloud. When my alarm went off, I didn't want to get up. I hit snooze three times." This coming from an early bird who has risen at 5:40 a.m. for as long as I've known her. I can't make this stuff up.
So am I sleeping better thanks to OSO? I can't really say. We've hosted several guests one after the other in the short time we've had our new mattress, which means precious little time for me to test it longterm. Are our visiting family and friends sleeping well? The consensus, so far, has been a well-rested resounding yes.
I work full time, I'm married to an entrepreneur who works and travels a lot, and we have two children under the age of 3. Our life is hectic, but health is not something I'm willing to compromise on. Our new OSO reminded me that quality sleep impacts our well-being far beyond waking up refreshed. And as I wrestle with whether to swap out our king for the guest room's OSO queen, I know one thing is for sure: A good night's sleep is oh-so-nice.
Win an OSO Mattress!
Click here for your chance to win an OSO mattress in your preferred size and get your best sleep. Sweepstakes ends September 18, 2016.