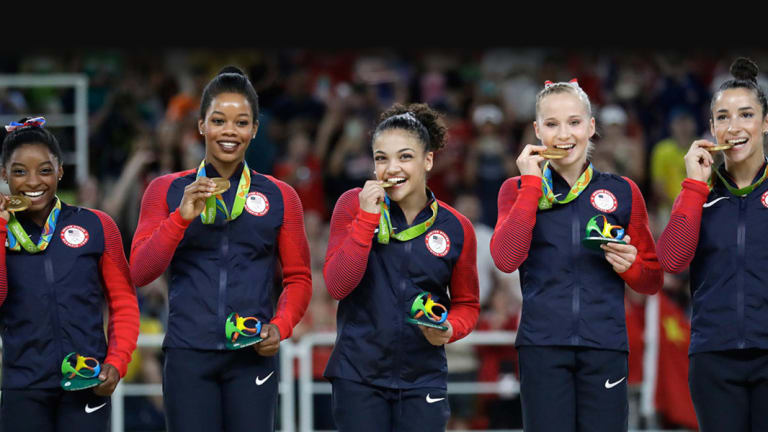 Olympic Highlights from This Week You Won't Want to Miss
Everything you need to know about the first week of this summer's Olympic Games in Rio.
The Summer Olympics in Rio has completed its first full week of competition, and if you haven't been able to watch it in real time, now's your chance to catch up on what you've missed. Even for the non-sports-followers among us, you'll want to catch up at the very least to cheer on USA or to understand the significance of the now pop culture phenomenons of #PhelpsFace or Lilly King's finger wag. Here are some of the biggest highlights of the Olympics this week.
U.S. Women's Basketball Team Sets Record for Margin of Victory
Diana Taurasi led Team USA to a 121-56 whomping of Senegal in the team's Rio debut earlier this week. The ladies' 121 points were also the most scored in team history. Taurasi shot a deadly 64.7 percent, including 5 three-pointers. The team is packed with WNBA talent and is a strong favorite to win gold (for the fifth consecutive time). Team USA extended their winning streak beating Serbia 110-84. When asked if games like this are really good for the sport, four-time Olympian Sue Bird defended the team's accomplishments by saying, "More than anything, in regards to the score, it's beautiful basketball."
Lilly King Wins Gold, Calls Out Russian Swimmer
Get ready for the "Lilly King finger wag" to become a household gesture. The Team USA swimmer is the latest athlete to voice her discontent for the IOC's decision to allow Russian athletes who were involved in a doping scandal to compete in Rio. After Russian swimmer Yulia Efimova won her 100-meter breaststroke semifinal heat, she waved a number one sign. King was seen waving her finger back at Efimova on the TV screen in the ready room. When asked to explain her gesture, King said, "You're shaking your finger number one, and you've been caught for drug cheating? I'm just not a fan." King and Efimova met in the final on Monday night and swam in lanes right next to each other. After King won gold, she said, "It just proves you can compete clean and still come out on top with hard work." Her conviction that "there is a way to become the best and to do it the right way" is a lesson we can all take to heart.
'Momma on a Mission' Dana Vollmer Wins Medal
When Dana Vollmer found out she was pregnant she thought she would retire from swimming after giving birth. Shortly after her son Arlen was born, however, she decided to make a comeback. Seventeen months later, she is competing in Rio. Vollmer had the chance to become the first American mom in Olympic swimming history to win gold, but she took bronze behind Swedish swimmer Sarah Sjöström, who set a world record. It's so inspiring to see Olympian moms prove that motherhood and competing at an elite level are not mutually exclusive. This is a relatively novel idea, and only ten out of the 298 female Olympians in Rio are also mothers. After being told that she could never come back, Vollmer told the Associated Press, "I wanted to show that you can. I think it will keep women in sports much longer, that you can have family and you can make it work." We couldn't agree more, Dana!
Williams Sisters Knocked Out Early
World number one in women's tennis Serena Williams and her sister Venus were both unexpectedly eliminated this week in Rio. Serena had won gold in London in 2012 in both singles and doubles (with partner Venus) and was favored to win again this year. This is the first time in her career that Serena has competed in the Olympics and left without a medal. The doubles loss by the sisters is their first defeat in the Olympics after going 15-0 with three golds.
'Final Five' Win Gold
Tuesday evening the "Final Five" USA gymnastics team proved they are, without a doubt, the best in the world. In a sport where scores are calculated down to a one-thousandth of a point, the girls won the team all-around competition by a stunning 8.209 points over the second place finisher, Russia. Led by Olympic veteran team captain Aly Raisman and superstar Simone Biles, they easily set a new record for largest margin of victory; the previous one was 5.066 set by the 'Fierce Five' in London in 2012. Biles and Raisman also took home gold and silver in the individual all-around on Thursday and could also medal in individual events. The 'Final Five' got their name because this is the last Olympics that will have a five-person team, as well as the last games that long-time Team USA coach Martha Karolyi will participate in.
Ledecky, Phelps Dominate the Pool
Team USA swimmers Katie Ledecky and Michael Phelps already have a combined seven gold medals. That's more than most countries. Phelps helped two relay teams win gold, as well as took first place in the 200m butterfly final, beating rival Chad le Clos. Interactions between the two swimmers earlier in the week made headlines (and some hilarious memes) when Phelps appeared to be staring at le Clos agrily. Phelps also won gold in the 200m individual medley.
After winning gold in the one event she raced in London, Ledecky came to Rio to participate in five events. She won gold in the 200m and 400m freestyle and has a gold medal as part of the women's 4x200m freestyle relay. It is an incredible experience to watch Ledecky finish almost fifteen meters ahead of the second place finishers. The craziest part? Both swimmers have races still to come this week in which they are expected to medal, if not take gold.
Simone Manuel makes history with gold medal
With so many superstars in Olympic swimming, few us may have heard of Simone Manuel before last night. However, she may have made bigger history than any medal count by Michael Phelps or new record by Katie Ledecky. With her first place finish in the women's 100m freestyle, Manuel became the first African American woman in Olympic history to win a gold medal in an individual race. When she realized she had won, Manuel was overcome with emotion and tears. The commentators declared that this was huge for the sport of swimming. Way to go, girl!
Age Is Just a Number
American cyclist Kristin Armstrong won gold in the Individual Time Trial on Wednesday, just days before her forty-third birthday. This makes her the oldest female athlete to win a gold medal in an individual event since 1908. The mom came out of retirement last year and has quickly resumed her place at the top of women's cycling.
Also, 41-year-old gymnast Oksana Chusovitina completed for Uzbekistan in her seventh Olympic Games this week. In a sport where being over 20 years of age is considered being a veteran, it is nothing short of incredible. Chusovitina not only qualified for the games but also made it to the finals for the vault event, where she placed fifth. She has a son who is the same age as many of the girls she was competing against, but that doesn't let that intimidate her from competing in a sport she loves and excels at.
Sexist Commentary Under Fire
Unfortunately, not every headline this week has been about the incredible stories of the athletes. Many sexist remarks from reporters and commentators are being called out by people watching and listening. NBC analyst Dan Hicks' comments that Hungarian swimmer "Iron Lady" Katinka Husszu's husband is "the guy responsible" for her success prompted outrage from those who were listening. Husszu, who is coached by her husband Shane Tusup, won gold and set a new record in the 400m medley. Some interpreted Hicks's comments as crediting Tusup for Husszu's success, a deflection that's unlikely to happen with a male athlete.
Then the Chicago Tribune was heavily criticized for reporting Corey Cogdell's bronze medal in trap shooting by referring to her as "Wife of a Bears' lineman" in an article headline an on social media. Many felt it was sexist by the tribune to define her by who her husband is and took to social media to voice their discontent. The Tribune later changed the headline to include her name.
These were just two examples of sexism throughout Olympic coverage. While watching, I heard one NBC analyst comment on Kerry Walsh Jennings returning to competition after giving birth to her third child "without an ounce of fat on her." There is no shortage of comments on the appearances of female athletes in ways that have no relevance to their ability to compete as athletes. We're hopeful that the public's negative response to these sexist comments will put a stop to them throughout the rest of the Games. 
Stay tuned for more of what you missed as the games continue!
Photo Credit: Associated Press