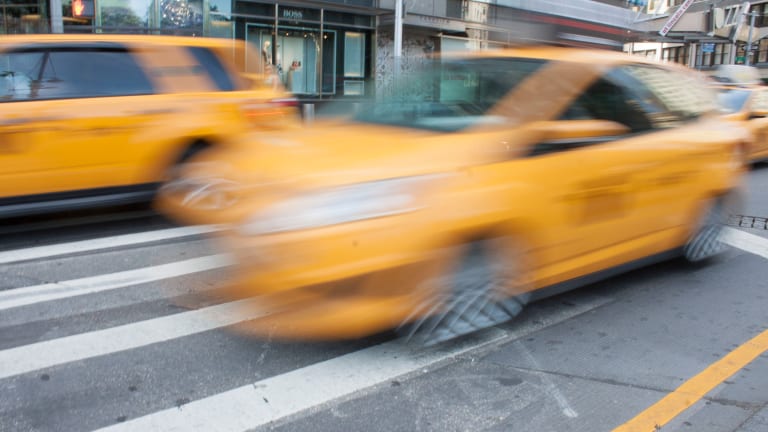 9 Things About Living In NYC That Will Take You By Surprise
More young people are moving to cities, but do we know what's in store?
There's no doubt that cities hold a certain allure. Many of us at some point or another dream about what it'd be like to hustle down the famed Fifth Avenue, rub shoulders with business folk in the Windy City, or share coffee-shop space with a budding start-up in San Fran. Sure there are impenetrable crowds, excessive expenses, and a million people vying for the same thing you've got your eye set on, but there's nothing like a big city to inspire some serious life goals in a person. There's just an energy about it.
It's no wonder that more young people than ever are opting for the urban life. Despite predictions that technology would make us all remote beings, the masses are flocking to city centers to be disrupters—in person. For Newsweek, Kevin Maney commented on this, saying, "Millennials—the adults under 30, the biggest generation in U.S. history—are leading that population shift."
Urban studies theorist Richard Florida recently noted that "talented, highly educated, and creative young people tend to cluster together in today's modern cities." And those people are increasingly concerned for their happiness. Florida's comments were said in conjunction with a recent study, broken down in Psychology Today, looking at people living in Berlin, London, New York, Paris, and Toronto. The study revealed that people tend to rank their contentment based on place or performance. The former included the cultural and recreational aspects of the city as well as accessibility and beauty. The latter had more to do with governmental services, schooling, health care, and the like. Unsurprisingly, millennials associated their happiness more closely with place variables.
Young people today want opportunity; we want to impact change. And we want to be in the center of it all—the big cities. But we've got to feel proud of our city, and we have to feel stimulated by its offerings to be happy. That's a tall order.
So we asked our summer interns Maddie Fry and Grace Cooper what they thought would be true about a move to the Big Apple—but wasn't.
Myth #1. With so many people, it's easy to make friends.
It's much harder to make friends in New York than you'd think, but it's not impossible. With so many people around, it's difficult to decide whom to spend your social energy on and who will respond to small talk well (more people than you think). Just because there are tons of people around doesn't mean you'll be able to connect with them frequently enough to form a solid friendship. We've found the key to making friendships in the big city is to find people with common interests (coworkers, girls at yoga class, even the baristas at your local coffee shop). Make an effort to cultivate friendships with the people you know you'll come into contact with frequently, and you won't be disappointed with the results. —MF
Myth #2. There's nothing to do unless you're rich.
While I won't try to argue that living in New York (or any big city) is expensive, you can easily spend a day here without paying an arm and a leg. There are all the classic touristy sightseeing destinations that are usually free (and if they're not, check for special days when they are). There's always something to do in the city, especially during the summer. Don't be afraid to act like a tourist and browse the web for free events or last-minute discount tickets. And after all that, if you still think there's nothing to do, then just take a chance and walk outside. Unlike the 'burbs, you can literally be entertained for an entire day—and then some—simply by walking through one of New York's neighborhoods. —GC
Myth #3. It's shiny and pretty.
While nobody ever promised me that New York City would always be beautiful and spotlessly clean, I did spend more time picturing beautiful skyscrapers than sweaty subway stations. Real life in the city is far less glamorous and a lot more smelly than the way it's portrayed in the movies. My first morning here I woke up to a mouse scuttling beneath my bed and yellow goo dripping from my bathroom ceiling. But if you can ignore the unidentified smells that greet you in the subway or the fact that every day appears to be trash day, every city has its own particular beauty to offer. Because the city can be—well, let's face it—ugly at times, it makes each beautiful sunset and breathtaking view just that much more special. So try not to focus on the dirt, don't wear white shoes, and always look for the beautiful moments, and living in the city may be more worth your while.—GC
Myth #4. There are thugs lurking around every corner.
I expected to see shady characters poking their heads around every corner and men running down the street clutching women's purses. While there are definitely people it would be wise to avoid, all you have to do is be smart and stay in safer areas. It's also OK to go out after dark. The streets are well-lit, and most places have a lot of people around, even late. This brings me to a city perk: Businesses stay open later, which is perfect for evening ice cream runs.—MF
Myth #5. City people are jerks.
On the flight up here, I braced my little Southern heart for the callousness of Northerners. Then, a lady at the airport gave me tips for flagging a taxi. And the taxi driver shared how he wants to move south and open up a business. Then I made small talk with the barista at the coffee shop near my apartment. I've found that more likely than not, anyone you ask for assistance will be more than happy to help you, as long as they're not running late. On top of that, not everyone is snobby and obsessed with climbing the corporate ladder. It's pretty easy to bond over common interests like the fickle weather or complaining about rent rates. You've never met a group of people more willing to dish the dirt on their personal finances than young New Yorkers!—MF
Myth #6. The city is so huge, you'll get lost all the time.
Yes, the city is huge, but that doesn't mean you'll end up wandering around in circles (maybe on the first day, but not long after). Always take advantage of technology like transit apps, Google Maps, and so on, and do your research before you head out. Maybe even carry around a good old-fashioned map (gasp), which agenda books like Moleskine can make very handy. Keep in mind that cities are littered with iconic landmarks that can help you get around as points of reference. In New York, you may even be able to put those math skills to use because most of the streets are numbered. And lastly, there are always people around, so don't be afraid to ask for directions. Soon enough you'll be the one guiding people around. —GC
Myth #7. It's too crowded.
The bad news is that the horror stories of grocery store lines wrapping all the way to the front door are true, if you go at the wrong time. Even with your native expertise, you will still encounter the unavoidable lines, traffic, and delays, but often the fact that you're even standing in line means you're doing something worth doing, which you may not be able to do outside of the city. So practice patience and bring a book and granola bar everywhere you go. And after a while, you do learn when the rush hours are and can plan to avoid them.—GC
Myth #8. You'll never see so much as a leaf.
City people need nature, too. This is why even big cities have trees and parks. It may not be quite like the green space I was used to, but city dwellers do a good job of working with what they've got. If you're missing animals, some of the best zoos and aquariums in the nation are in its biggest cities. Lots of city dwellers have pets as well, and in New York you'll see them alongside their owners from stores to cafés. Unfortunately, you're not allowed into the dog runs unless you have your own furry friend, but most pet owners are not opposed to strangers fawning over their babies.
If you live in San Francisco or New York, you have the perk of being on the coast. The Hudson River Waterfront Walkway in NYC is a beautiful place to go for less crowds and more fresh air (and more dog walkers! Triple win!). The last thing the movies lied to me about was the barren night sky. It's not true that you can't see stars above the city skyline. I counted at least ten the other night.—MF
Myth #9. It's overwhelming.
Living in a big city may seem daunting at first, but you'll quickly realize that it's neither as big as it feels nor as scary as it sounds. Life is happening all around you, so making memories isn't hard. (Some may be good and some may be bad, but most end up as good stories either way.) Make your world smaller by joining clubs, calm yourself by establishing routines, and save your wallet by finding free activities in your city. Establishing a stomping ground—picking a favorite restaurant or park—will go a long way toward helping you feel like you belong. And at the end of the day, the city may not be for you, but you also may just find a new home.—MF
So you may be wondering: As we head into a new semester, are we breathing a sigh of relief or counting down the days until we return to this metropolis?
Maddie: After I graduate college (which, for me, is in the-middle-of-nowhere Michigan), I'm not sure whether I'll gravitate toward the city. I always thought cities weren't for me, and while NYC hasn't proved me wrong, it hasn't entirely proved me right either.
Grace: After living here this summer, I could not be more sure that New York and I have a future. Although there were a lot of prejudices I had wrong about life in the Big Apple, I'm glad I've had the chance to find out if city life is really for me. Naturally I was nervous (OK, really, really nervous) about living in a new place for the summer, let alone the city that never sleeps, but my time in New York so far has been absolutely amazing, and I can't wait to come back.
Photo Credit: Nadine Ruiz