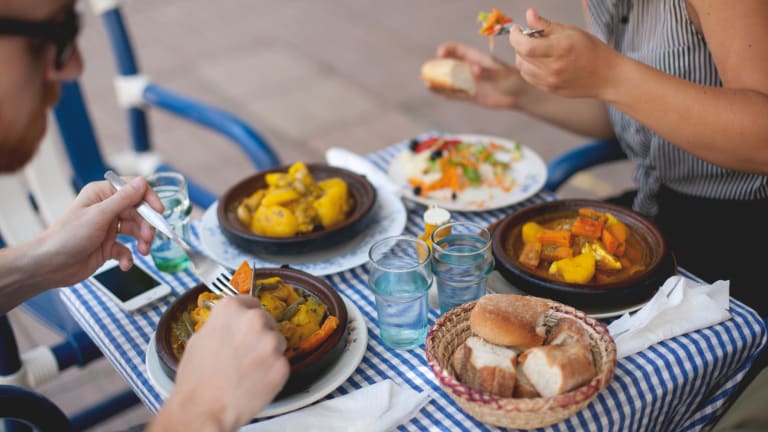 Real Women Share Their Secrets For Being Super Productive Without Burning Out
There's a lot of merit to the 'work hard, play hard' philosophy.
A recent study by a professor at Queen's University finally confirmed the truth behind the maxim "Work hard, play hard." Apparently, those who value hard work are more likely to embrace leisure time. Maybe this is because those who are most successful know that the secret to being productive and avoiding burnout is to take a well-earned break.
But if high achievement and uninterrupted play go hand-in-hand, what does that look like in practice? We decided to ask some high-achievers how they approach the elusive work–life (or rather, work-play) balance by juggling diligence and downtime. They're proving that being successful doesn't mean giving up fun!
We talked to Anne Buckle, a singer-songwriter (who also plays the fiddle—props, girl!) from Nashville. She spends her time touring and writing new music. Aubrey Lim is an entrepreneur—and a junior in college. She recently created her own beef jerky product and has been seeking new ways to get it on the market. Danielle Ahn is an assistant professor of pediatrics at Columbia University and has been a physician for ten years. She's currently studying the immune response to multidrug-resistant bacteria.
It turns out that getting specific about what work-play balance looks like for you is the the key to achieving it. Here's what these women shared about success and making the most of their precious leisure time.
01. How do you avoid feeling guilty for taking time for yourself?
Anne: Live like the French.
After spending several months in France, Anne returned to the states with a completely new perspective. No one says the French aren't successful, yet they have a cultural inclination toward work-play balance, with generous vacations and leisurely meals that can last up to three hours. The French simply enjoy life and feel no shame in doing so. "I love that way of living," Anne says. "Our culture isn't that way, but it changed me forever."
Aubrey: Make a plan.
By scheduling business events and fun activities on the same calendar, Aubrey says work and play maintain equal importance in her mind. If it's on the calendar, why would she feel guilty for checking it off?
Danielle: Balance it out.
Taking vacation time definitely leaves Danielle with some guilt, but she says she tempers this by working harder leading up to her break. "This actually adds a lot of motivation and energy to my work," she says, "because I really have something exciting to look forward to!"
02. How does leisure help with burnout?
Anne: It redirects your passions.
One of the unfortunate things about being a creative, or any professional for that matter, is that following your passion can easily become a chore. "When your passion becomes your work," Anne says, "staying energized is important." Instead of becoming disenchanted with the enthusiasm that brought her into the music industry, Anne finds other activities to inspire her. By living by the advice, "Follow your curiosities and you'll find new passions," she has let it lead her to tap dancing and figure skating, both activities that keep her too invigorated to permit burnout.
Aubrey: It recharges you—if you let it.
Burnout is inevitable, but leisure can keep it to a minimum if you plan ahead. "For me, every time I go to a conference, afterwards I feel socially drained... It just helps me knowing that so I can plan to have a day that I label 'unproductive.'" Don't fight the burnout by trying to push through it—anticipate when you'll need a break, and give yourself permission to savor it.
Danielle: It gives you a fresh perspective.
Danielle said she was losing the battle with burnout fairly recently. When she realized she was only functioning at 80 percent capacity and that it was hurting not only her but also her relationships, she went on a vacation to Italy for a new perspective. A change is as good as a rest, and observing others' lifestyles offers us a fresh take on our own routines.
03. What is the most relaxing way to spend your time?
Anne: Creative outlets.
Because one of her favorite forms of creative expression, songwriting, is now her work, Anne had to find other outlets that don't drain her. She still loves writing, so now she pursues other forms, like journaling and blogging.
Aubrey: Exercising.
Aubrey has been rock climbing since she was nine, so using the sport to wind down is a no-brainer. "There's just something nice about not having to think," she says. "Whether it's an easy climb or I'm really trying to do something hard, the physical exertion is a restart. Being tired physically and being able to sleep well is better than being tired mentally and being in a fog."
Danielle: Family time.
Spending time with friends and family is key to relaxation. "They are the lifeline of my existence, and I attribute all of my successes to the love and support that they give me," Danielle says. She adds that spending time alone is important to her, too, because it allows for personal reflection and rest in her own unique way.
04. Where do you like to go when you're relaxing?
Anne: Everywhere.
Anne schedules frequent trips. She says traveling takes your to-do list out of your head so you can focus on the now: "It re-teaches your brain how to be present in the moment, which, when you have 20 things going on, you forget to do."
Aubrey: My favorite place in the city.
When she needs to unwind, Aubrey makes her way to her stomping grounds: a favorite neighborhood, and one of its coffee shops, in her city.
Danielle: The backyard.
Whether it's serving as the perfect hangout venue or a haven for some much-needed personal space, Danielle says her backyard is her favorite place to relax. "My roommates and I are fortunate enough to have an amazing outdoor space that we use to hang out with our friends or grab some solo time. The solitude is priceless."
05. How can you be intentional about your downtime?
Anne: Deal with work later.
To keep her mind from wandering back to all her tasks when she's in play-mode, Anne writes work-related thoughts down as they come up. "Before I fall asleep, I list out everything that is running through my head, and then when I wake up I deal with it," she says. The key to uninterrupted leisure time is allowing yourself to let those work thoughts go, without forgetting about them.
Aubrey: Go on walks.
When she absolutely needs a break, Aubrey goes outside. She'll go on a walk with her dad or a mentor to tell them about her current stressors. "I do these walk-and-talk things," she explains. "The key thing is if I try to deal with it in my own head, I don't come up with solutions, but there's something about telling someone else—whether or not they give good advice, it tends to straighten itself out."
Danielle: Block off time.
Sometimes we end up missing out on leisure, not because we don't have enough time, but because we're not implementing it at a practical level. Danielle said she wanted to change that this year. "I made a New Year's resolution to schedule one night—actually putting in in my calendar to block the time—just for myself. This small commitment went a long way to help me recuperate."
Many of us spend our play time fretting about all the productive things we could be doing, not realizing that leisure time is productive. We think taking time for ourselves will make us less successful, but these women prove that's certainly not the case. "Everybody has their own definition of work–life balance and success and what that looks like," Anne says. "You have to figure out what makes you happiest and then define your life in those terms." Luckily, we don't have to choose between success and downtime. By being intentional about work and play, we can accomplish both.
Photo Credit: Janis Roseanne