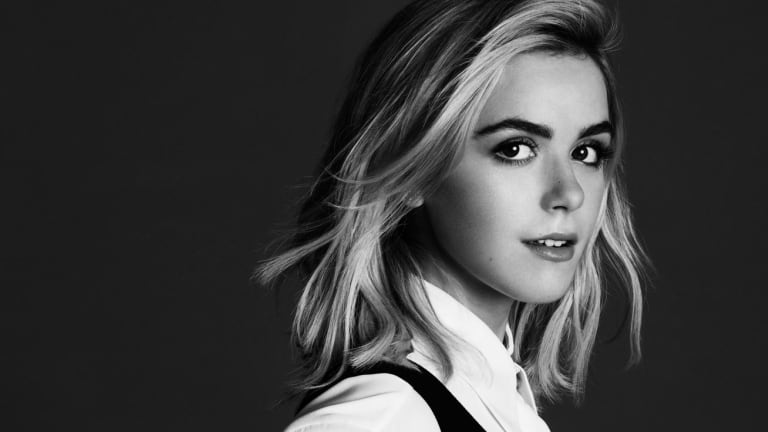 This 'Mad Men' Starlet Just Delivered Some Wise Advice on Modern Femininity
Before you go labeling yourself or others, read this.
It's hard to believe that we first met Kiernan Shipka when she was just 6 years old. Since her breakout role as Sally Draper on the iconic TV show Mad Men, the now 16-year-old has established herself in the fashion world, recently landing a feature in the September issue of Teen Vogue.
In an essay, the starlet reflected on her experience at the Chanel fragrance fields in the South of France at Grasse. This is the field where the iconic Chanel No. 5 fragrance blooms—literally.
Shipka re-echoes Coco Chanel's famous words, "Look for the woman in the dress. If there is no woman, there is no dress."
She admits to having personally changed after her trip to Chanel's original apartment in Paris. Having come of age in a time when fashion has directly reflected more feminist ideals, the actor would be right to sense a bit of a disparity emerging. It seems that today being overly feminine might land you with a "girlie" or "frilly" label—and perhaps you wouldn't be taken for the feminist you might truly be. But visiting Chanel's quarters—home of a fashion revolution that challenged gender norms—struck a cord in Shipka. She realized that "fashion and feminism are not mutually exclusive." Rather, she explains, they work together to empower women.
Can we get an amen? Shipka clarifies that feminism means being able to dress like you, whether it means "ultra-feminine, super-tomboyish, or something else entirely." All too often fashion and clothing typically deemed "feminine" have been seen as the antithesis of feminism. But Shipka brings up a fantastic point—why can't ultra-feminine styles reflect and celebrate what it means to be a modern woman? As she stated, the way we dress is a choice. We should feel free to dress in a way that expresses our femininity—now that's feminism we can get behind.
This doesn't mean that Shipka is against a great pair of pants. Although the budding style queen is known for her unusual frocks and jumpers, she's recently been keen on trousers. "Even if there is no dress, there can still be a woman," her essay poignantly concludes.
She may be young, but Shipka's point about fashion should inspire and empower us all:
"I recently reached a stage in my style when I decided I was just going to really go for it. What people think no longer matters to me. I just want to enjoy myself. This mindset has made me so excited about fashion and so excited about taking risks. I'm having more fun than ever with how I dress."
And this is the point we want to drive home. Whether donning a waist-cinching dress or a loose pair of slacks, modern feminism is all about the woman who embraces and celebrates her innately beautiful femininity. She is a woman, and that is enough.
Photo Credit: Kiernan Shipka