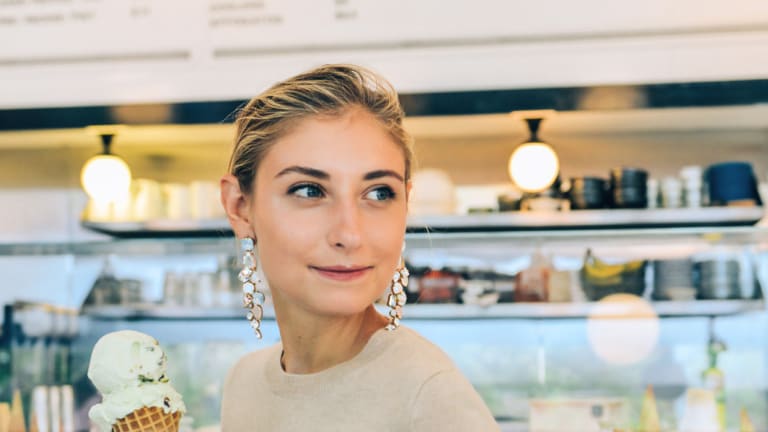 This Modern-Day Audrey Hepburn Is Bringing Feminine Fashion Back, and We Love It
Get inspired by this street style icon who is reviving our favorite vintage styles.
If you're getting tired of the ultra-streamlined, monochrome, minimalist looks dominating the scene, we have just the antidote for you. Meet Jenny Walton, the modern-day street style icon who is bringing back our absolute favorite fashions from bygone eras.
Ribbons, oversize dangling earrings, swoon-worthy pumps, and midi skirts galore (if we love it, you know midi skirts are involved). Not just a darling of fashion week street style photographers (although she is actually dating Scott Schuman), Walton is a freelance illustrator and the current fashion director at The Sartorialist. Her signature feminine skirts, quirky heels, and unique vintage finds are enough to have us on board.
To W Magazine, Walton revealed that her style icon is—you guessed it—Audrey Hepburn herself. And what three words did she say described her personal style? Simple, classic, refined. Sounds like a formula for success.
More importantly, there is a realness about the 26-year-old's style. She isn't a walking designer ad; she actually buys most of her items secondhand. She's also not above wearing the same pieces over and over again—a telltale sign of the truly stylish who invest in relationships with their clothes.
And, she knows the key to great fashion: choosing what looks great on you. Walton explained her style to Refinery29: "I think there's something very classic about my look, and I think that just comes from what shapes I like and that they read as classic. I'm more petite on top, so I like smaller, more fitted tops. I like things that are fitted at the waist, and I tend to like fuller skirts. I like my neck and jawline, so I love pulling my hair back and wearing big earrings. For me, I know that's a part of my body I like, so I choose to highlight it, and it makes me feel great."
Walton is breathing life back into the fashion industry, and we cannot wait to see what she wears next. Check out a few of her best looks to inspire your next great outfit.