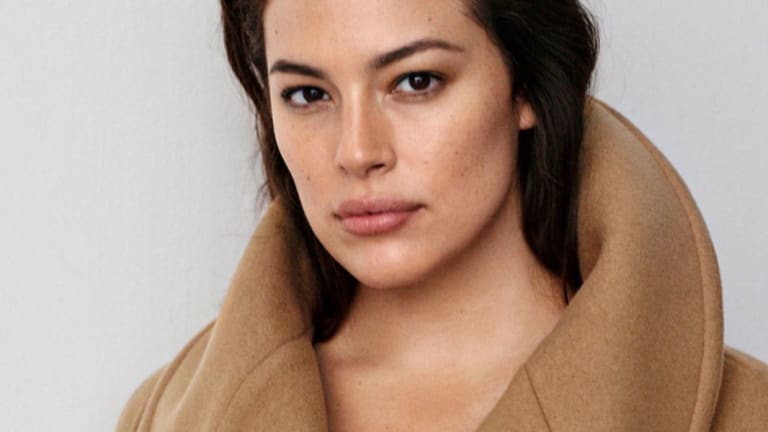 H&M's New Fashion Campaign Features Ashley Graham, But How Inclusive Is It Really?
Our style editor's personal take on the fashion industry rut.
In case you haven't noticed, model Ashley Graham is everywhere. In fact, for me, she's larger than life—standing at a hundred feet tall on a billboard ad just outside the Verily office in Times Square. Every day as I gallop down the stairs to the subway, I often stop to peer up at her and marvel at how she's trailblazed through the fashion industry.
The beauty has been featured on the covers of Sports Illustrated and Elle Quebec (she's also been on Cosmopolitan and Maxim), starred as Joe Jonas' love interest in his DNCE music video, and most recently, snagged a gig as the new face of H&M. What is particularly groundbreaking about her recent job with the fast fashion brand is that there is no mention of "plus size" anywhere on the campaign. No "body positive" or "curvy" words printed all over the ads—it's just like any other brand campaign. Finally.
These photos of Graham have me thinking back to my 16-year-old self, poring over images of "straight-size" models and feeling like beauty was some narrow ideal that I couldn't achieve because I was a size 10 and not a 2. I'll never forget the moment I stumbled across an image of Crystal Renn, and within seconds of discovering her, I realized that beauty couldn't be defined by size. I could almost feel the veil being lifted from my eyes. Right after that, I gave up my yogurt diet and ate a piece of pizza. It's incredible that after years of hating myself for not being stick thin, it took just one image of a normal, healthy, beautiful woman to correct the warped fun house mirror vision I had of myself.
As a young woman making her way in the fashion and media industry, I constantly find myself at odds—feeling like collectively, we're taking two steps forward and one step back. In just a two-week span, we'll see the famously inclusive brand ModCloth rally behind anti-Photoshopping legislation, but we'll also see an anonymous exposé confirming our worst fears about Victoria's Secret retouching and Instagrams showing that clearly the brand doesn't care and will continue with its practices.
As is the case during any movement, you have to celebrate small strides, but that doesn't mean the road toward change is easy or totally transparent. So while Graham's rise to supermodeldom may be monumental to helping women recognize their own self-worth, an image isn't always enough. We also have to give women the tools to celebrate their beauty. This is why I was disappointed to learn that H&M won't be selling the plus-size pieces from the collection modeled by Graham in stores; it will only be available online. So much for being a groundbreaking, inclusive brand.
H&M is already infamous for its minuscule sizing, recently receiving heat from an average-size shopper who tweeted about her experience of trying on an H&M size 16 (the largest size available at the United Kingdom storefront she was at). Not only does H&M not have "plus sizes" in its average brick and mortar, but its normal sizes are also smaller than most places. Any time I used to go to H&M (I try to avoid fast fashion now, but that's a whole other story), I had to size up significantly; all my friends say the same. When the majority of women are above a size 8 at the majority of big-box stores, why in the world wouldn't H&M sell its bigger (read: normal) sizes in stores and actually do away with the plus-size segregation?
The impact of Graham's presence in the campaign is, without a doubt, powerful. I know firsthand just how life-changing such an image can be. But admittedly, it's discouraging that yet again, what we see in the photo isn't reality. Girls and women who will see the ad and see in Graham someone more like themselves still have to shop elsewhere to get clothes that will fit them. So while I appreciate H&M's sentiment of inclusivity by featuring Graham free from plus-size language in its fall campaign, I cannot help but feel disappointed by its inability to follow through with anything truly liberating for the fashion industry. It feels like an opportunity sorely missed.
Photo credits: H&M