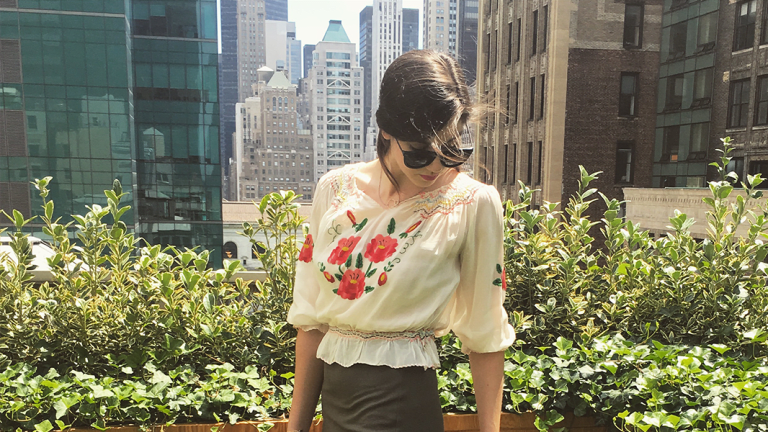 Can Someone on a Budget Afford an Ethical Wardrobe? I Tried It to Find Out
Would ethical brands have styles I liked? Could I afford the high-quality pieces? There was only one way to know for sure.
There's nothing quite like getting that first grown-up paycheck. After eight long semesters of saving nickels for Pop-Tarts from the campus vending machine, I now had disposable income, and the world was my oyster.
What did I do with that first taste of grown-up cash? I went shopping, of course! As an NYC newcomer, I hit the strip on Broadway in Soho, overwhelmed and intoxicated with the endless shopping opportunities. Not one but two H&M stores called to me, as did Zara, and Mango, and Topshop. Later, I sat exhausted on my bed, drunk from this newfound monetary freedom.
But it wasn't long before this kind of shopping left me more unsatisfied than ever and in the midst of a complete identity crisis. Getting dressed in the morning, I realized that my closet had begun to look more like I was browsing through a Forever 21 than clothing that looked like me. I may have had more clothes than ever, but somehow I had become totally disconnected from any individual piece or sense of independent style.
Around the same time, I began hearing about ethical fashion brands. At first, I honestly didn't even know what that meant. Ethical fashion? I found myself on these brands' "about" pages, reading up on their pursuit to create a market for goods that have been produced in an ethical environment, i.e., free from exploitative labor, environmental damage, and the use of hazardous chemicals. I was moved by their mission to improve the lives of artisans by investing in their talent and craft and by offering fair pay and a healthy work environment. I had never experienced such transparency with clothing brands before—or really any brand for that matter—and suddenly, I was viewing fashion with new eyes.
I wanted to commit to only ethical shopping, but I thought it was impossible for someone just out of college to shop like this. Would they have fresh styles? Could I afford the high-quality pieces?
Turns out that it is possible—but I had to work through some common misconceptions.
'Ethical fashion is just for rich people.'
Globalization and the manufacturing shift overseas has resulted in a dramatic reduction in the cost of production of clothing. I had become so accustomed to $10 and $15 price tags that the higher price tags of ethically produced clothing was definitely an adjustment. But I had also completely lost any understanding of qualities that might be worthwhile in a garment—like the fabric, the craftsmanship, or the manufacturer. 
Suzette Munson, Owner and Chief Instigator of Love41 told me, "Although ethical shopping can be pricier, it's actually cheaper in the long run. You can either buy a $20-30 bag every six months, or you can save up and buy one bag you'll keep for the rest of your life." She explains that quality items used be everywhere. "People knew that handmade and quality materials were the way to go but as we've entered into this fast paced life, we've gotten away from quality as a norm."
I made the decision to stop aimlessly shopping at those fast fashion stores. Instead I would save up for something I really wanted. I ended up buying a leather, handmade backpack from Spain on Etsy, and by the end of the two months of saving, I was amazed at how much money was still in my bank account—despite spending bigger bucks on this one item. I began to realize just how much money I was really shelling out on fleeting bargains. 
To truly save money, I started investing in quality pieces that I won't have to replace. By avoiding the big box stores, the impulsive "gotta have it" urge just didn't exist anymore, and I was able to focus on the items I actually needed and wanted.
'Ethical clothes aren't cute and don't reflect current styles. I don't want to look like a hippie.'
Let's be honest, when picturing someone who only shops ethically, we have an image of a middle-age woman who burns incense, eats vegan, and does yoga. While that's totally fine, as the millennial generation, we want more options to express our personal style. After being introduced to a bunch of rising ethical brands, I noticed some seriously diverse collections emerging. 
Gwendolyn Floyd, cofounder of SOKO, acknowledged the stereotype surrounding ethical fashion and the departure from the generalizations. "It was pigeonholed as exclusively festival hippy gear. I think the new associations with ethical fashion are not of being hippy, but of being cosmopolitan, cool, and in the know." 
Shopping ethically, I noticed my style becoming more classic. It was after stumbling upon Everlane's sleek basics and Reformation's feminine frocks that I realized they were actually ethical brands. These standard pieces filled the gaps of my trend-based wardrobe and helped me to create a closet that actually represents my personal style and not simply what's popular. Gwendolyn says that at SOKO, they encourage their customers to "look for items that are timeless, items that will transition easily from season to season and aren't likely to go out of style." Since I now invest in items and spend more money on one piece, I always try to make sure it's something I'll want to wear forever.
'Ethical shopping is not accessible, I don't know where to shop.'
Before, if the store wasn't on Broadway in Soho, I didn't know where to look. But as I began my research, I actually became overwhelmed with the amount of ethical brands available at my fingertips. Brands like Eileen Fisher, Reformation, Everlane, and Matt & Nat are certainly trailblazers, proving there is a market for ethical brands. Ben Bohannon, cofounder of SSEKO, explains the new narrative that the ethical movement is trying to create: "It's incredibly challenging to change consumer behavior. But we've seen over the last decade that people want to know where and how their stuff was made. I think people genuinely want to know if their clothes are contributing to slave labor." 
With various fast fashion stores repeatedly being accused of unethical labor practices (like the infamous 2013 Bangladesh factory collapse), the public's demand has shifted from cheap fashion to brand transparency. As Whimsy + Row's Founder, Rachel Temko explained, "Ethical shopping is becoming more accessible as consumers become aware and stand by its practices. The industry is gravitating towards the sustainable movement because our lifestyles are shifting in that direction, just how we started choosing organic and non-GMO foods."
While the new ethical fashion movement is an industry, shopping ethically doesn't mean constantly shopping for brand-new items. Buying secondhand clothing is another easy way to create a responsible wardrobe. 
At the end of the day (and nearly one year later from committing to ethical shopping), I honestly feel like I'm seeing fashion through new eyes. The transparency of these brands reminds me that there is a person behind every item I buy—behind the ethically produced ones and especially those that aren't. When I throw my new Ubuntu Made bag over my shoulder, I know Patrick Masyulu made it. How? Because he wrote his name on a card inside my bag. I also know that my Nisolo shoes were made by Willan, the Master Shoe Maker in Peru. When I shop secondhand, I know that a woman in the 1950s wore the very same skirt. It's these little things that make me truly understand the impact of fashion and how clothing is so much more than pieces of fabric. No matter what I wear, I know there is a person behind it.
Photo Credit: Lilly Bozzone