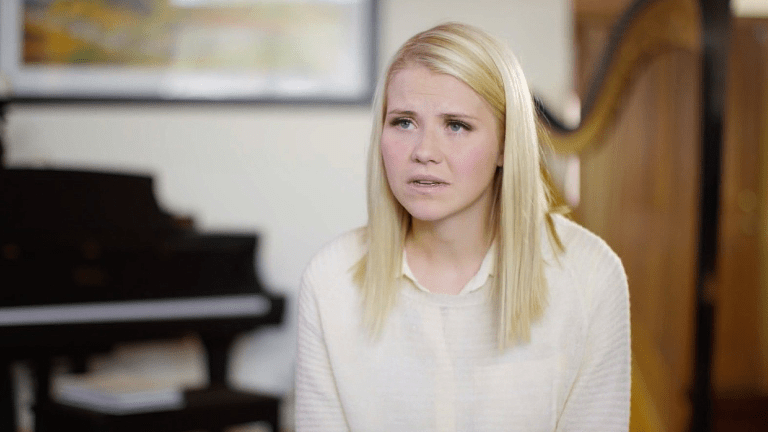 Elizabeth Smart Speaks Out on How Porn Made Her Captivity Worse
Her experience reveals the true dangers of porn addiction.
This week Elizabeth Smart shared with the public some insight into how her hellish captivity was affected by porn. On June 3, 2002, Smart was kidnapped at age 14 from her home in Utah, which resulted in nationwide headlines and intense search for her captors. After nine months, she was rescued and her captor Brian David Mitchell was sentenced to two life-terms in federal prison. In 2013, she published a book called My Story.
Since her book dropped we haven't heard much from her, until now. In a five-minute video on FightTheNewDrug.com, Smart speaks for the first time about how pornography affected her experience. In her own words, porn made her "living hell worse."
Smart describes how she was abused by her captor, but even when she felt she had hit rock bottom, it got worse. At one point, her captor left and came back with a magazine showing hardcore pornographic images. After he looked at them, he got all amped up, she said, and became even more brutal in his treatment of her.
Smart's personal testimony supports the research that shows how routine porn consumption leads many users to become addicted—which means not only that they have trouble stopping but also that they need to go to more extremes  to get their fix. Her captor, Mitchell, was also known to possess pornographic images of young girls. 
Research also shows that after exposure to porn, people are desensitized to sexual violence in real life, which appeared to be the case for Smart's captor. It reminds me of the troubling words of Ariel Castro, who when being indicted for kidnapping and imprisoning Amanda Berry, Gina DeJesus, and Michelle Knight in his Cleveland home, told the judge, " my addiction to pornography and sexual addiction in general has taken a toll on my mind." A toll indeed. 
This video is by no means the first time Smart has taken a step to help others with her experience. In 2011 Smart founded the Elizabeth Smart Foundation which educates about violent and sexual crimes against children and works with Operation Underground Railroad to fight human trafficking. 
Smart, who is a member of the Church of Latter Day Saints, met her Scottish-born husband while on a mission trip in Paris. Last year, they welcomed their first child, Chloe. It's beautiful to hear how, after all she's been through, Smart is writing the rest of her story.
Photo Credit: CNN