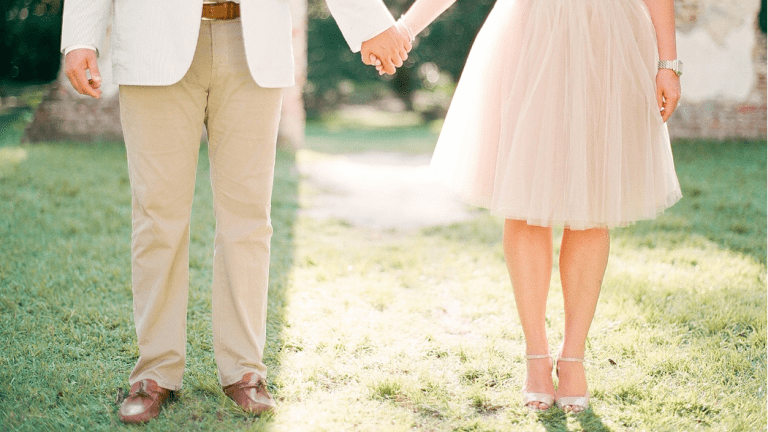 Hey, Ladies: Most Men Aren't Holding Out for a Porn Star
Yes, choosing a mate based on physical attraction is normal, but body shaming isn't.
We all know that Tinder has a long history of making women feel terrible about themselves. All the swiping left and right is enough to make anyone cringe, but honestly, I think one of the worst things about Tinder is that it gives the worst kind of guys a platform.
Case in point: Last week a woman from the United Kingdom named Michelle shared a text she received from a man she had a lovely date with after meeting on Tinder. I will spare you from having to suffer through the entire message, but the gist is that he sang her praises; he told her she was amazing and someone he could see himself with . . . except that he didn't want to pursue a relationship with her because he feared she wasn't skinny enough.
"I would marry you like a shot if you were a slip of a girl because what you have in that mind of yours is utterly unique, and I really really love it," he unnecessarily explains.
"So whilst I am hugely turned on by your mind, your face, your personality (and God . . . I really, really am), I can't say the same about your figure," he cruelly continues. "So I can sit there and flirt and have the most incredibly fun evening, but I have this awful feeling that when we got undressed, my body would let me down. I don't want that to happen, baby."
First of all, gross. Gross, gross, gross. Secondly, on what planet does he think that this much honesty is necessary for a first date breakup?
This went viral because of course it's outrageous—but also because it confirms a sneaking suspicion many women have that men are only attracted to one kind of physical beauty. But the truth is that healthy men don't snub beautiful women because they don't fit one very narrow standard of beauty. It's important that you know that.
Here's the truth about what healthy men find attractive in a woman: Healthy, heterosexual men are attracted to women—and all that entails. Within that is a vast category of stimuli such as chemistry, pheromones, tenor of voice, and the way a woman moves, which has been shaped early in life and varies depending on the guy. We like to call this a "type," but scientists call it an arousal template.
"Choosing a mate based on physical attraction is how we are wired," Matt Fradd, speaker and executive director of The Porn Effect tells Verily. "That said, pornography can change our sexual template and instill in us unrealistic and unhealthy expectations."
It used to be believed that arousal templates were fixed (e.g., a leggy blond–loving guy would always be a leggy blond–loving guy), but research now shows that this is not so. According to Psychology Today, porn addiction can desensitize arousal stimuli and cause a person's arousal template to change and often escalate to require more extreme stimuli. Fradd clarifies that exposure to arousing visual stimuli, such as porn, can also make us sexually attracted to things we should not be attracted to: "Think (or don't) of the many weird fetishes out there that people get sucked into," Fradd notes.
All of the images in porn, or even just in sexy advertisements, can influence what we find attractive—in ourselves and others. The fact is, being surrounded by tons of skinny, naked women has given many men a new standard of beauty. In 2002 the Journal of Sex and Marital Therapy published research showing that when men viewed pictures of centerfold models from Playboy and Penthouse, their judgments about the attractiveness of "average people" were significantly lowered. As disheartening as it may be to hear, men and women in the dating world are constantly comparing themselves and others to unrealistic standards of beauty. This phenomenon is not only messing with our self-esteem, but it's also impairing our ability to find a mate.
Michelle's story is evidence of the damage that this unhealthy skinny arousal template can do to a woman dating and trying to find love. "And I'm ashamed to say, for a few moments, it worked," Michelle tells her Tinder date in an open letter. "You stirred a dormant fear that every woman who has ever been a teenage girl has—that it doesn't matter how funny you are, how clever, how kind, how passionate, how loyal, how determined, or adventurous or vibrant—if you're a stone overweight, no one will ever find you desirable."
If you have ever felt that way, know that men like Michelle's Tinder date are unhealthy (clearly)—but the email aside, skinny women are not the universal type. When you are dating in a pool of healthy men, one size does not fit all.
I beg all men, and women, to seriously think about how your type might be influenced by the images you consume. It's important for all of us to ask ourselves if the standard of beauty to which we hold those we date—and ourselves—is realistic and if it might be getting in the way of finding real happiness with a real man or woman.
Photo Credit: The Happy Bloom