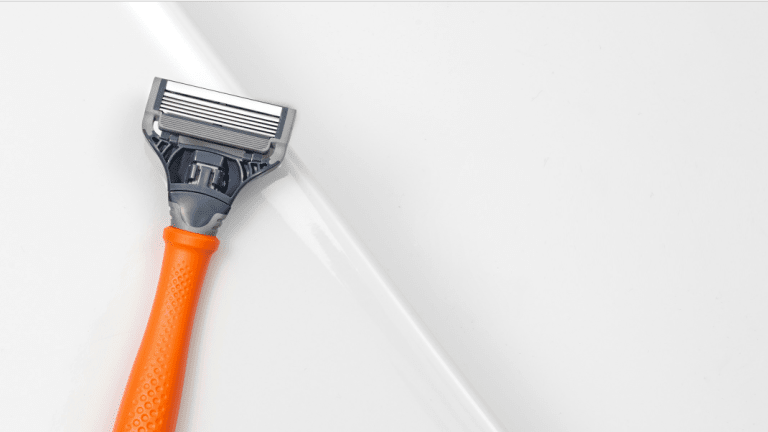 I Tried Men's Products for a Week, and Here's What I Discovered
Men's personal care products are proven to be cheaper, but are they better?
In 2015, New York City Consumer Affairs published a study resulting from the question of whether women paid more than men for comparable goods and services. As the study states, in 1994 California conducted something similar and found that women were spending $1,351 more annually than men on the same services. They dubbed it a "gender tax."
The New York audit looked at five industries, twenty-four stores, ninety-one brands, and nearly eight hundred products. Across the board they found it to be true—women are paying more. So which category had the highest discrepancy? Turns out personal care products are taking the lead, costing on average 13 percent more than their male-branded counterparts.
With this in mind, a recent Internet sensation caught my eye. The Warby Parker of razors, a company called Harry's, basically blew up the Web in the past month. Ever since last summer when it raised more than $75 million in Series C funding to disrupt the impenetrable success of Gillette and the like, people have been taking note. Promising a next-generation shaving experience, Harry's is actually quite affordable and certainly on-brand for the millennial consumer. Its competitor Dollar Shave was purchased by Unilever last month to the tune of $1 billion. So, yeah, shaving is having a moment.
Lest the women be left out of this lifestyle-enhancing shaving experience, I decided to buy one. I've always heard my female friends talk about using guys' razors because of their superior quality. This seemed like the ideal time to test out that theory. And, I thought, why not take the opportunity to experiment with some other products? From where I sit, all signs point to the male versions of things we all use being cheaper and possibly—better.
So here's what I gleaned from a week of borrowing from the boys.
Sweat Equity //
When it comes to that everyday necessity to keep the B.O. at bay, the New York stats found that female deodorants on average cost $4.91 while the mens' costs $4.75.
The duration of my experiment happened to be one of the Hottest. Weeks. Ever. Temps in New York were in the upper nineties, and sweat was an accessory I donned every single day. You don't know hot until you ride the subway in July.
Most of my life I've turned to Secret to keep me fresh—occasionally Dove. I'm not an extreme sweater, so I haven't ever put that much thought into it really. Men, on the other hand tend to sweat more than women, so I expected the Men's Speedstick I bought to work wonders. And I can't say I was disappointed.
On an average day, I'll ride the sauna (aka subway) at least twice, run around town during my lunch break in the blazing sun, and usually spend an hour or so on an elliptical or spin bike. Also, most NYC apartments don't have central air, so just cooking dinner has the potential to make you pretty hot. The Speedstick kept me feeling good throughout all of this—noticeably more so than my normal brand.
I picked what I thought would be the most gender-neutral scent, but it still had a distinct manliness to it, which was kind of a bummer. But at the end of the day aroma is the most apparent difference between the sexes' products after all, right? Smelling a little bit like a guy is a small price to pay for some top-notch sweat repellent. I think I'm sold.
Razor Sharp //
The NYC study looked at twenty razor brands and found the average female version was $8.90 while the male was $7.99. The cartridges showed a bit more discrepancy with the female ringing in at $17.30 to the male $15.61.
So back to Harry's. I chose the starter kit, aptly named Harry. The company also offers subscription services for razor delivery, but I opted out for now. The whole Harry's thing is decidedly masculine. Surely I'm not the only female buying this product, so I was kind of surprised by how overtly man the whole thing is, but I get it—their target audience is male.
Since I can remember I've used only disposable razors to shave my legs, so this was a departure. The first time I used Harry (I actually think the name is part of the appeal here) I wasn't so sure. It didn't seem like a very close shave. At the same time the blades seemed sharp. I was nervous around my knees and ankles. I survived without any cuts, and I guess the result was good. But the blades within the overall cartridge are really close together so they get gunked up with soap and hair pretty easily. It's not a big deal, but it's not something I've ever noticed with my trusty lady-purple Schick razor.
I will say I was a little bummed that the blades seemed to be dulling after just a week. With my disposables I'm used to this, but I expected more mileage out of a proper razor.
By week's end, I'm sort of unconvinced—if pressed, I'd say my female razor was getting the job done a little better than Harry. But I really want to like this razor, so I'm going to keep trying for a while.
Scrub-a-Dub //
Back to the study. Looking at body wash this time, they audited 18 products and found on average the female version was $5.70 while the men's version rang in at $5.40. My current body wash is Olive and Green Tea Soap from Shea Moisture. It's not something I would consider distinctly feminine, and it has a great earthy, subtle fragrance.
When it came time to test out a male body wash, I chose Dove. I didn't want to go full-blown dude and try the acclaimed Axe body wash, so I figured Dove was a nice place to settle. First of all: the smell. This body wash had a stronger scent than anything I ever plucked from a shelf at Bath & Body Works. More so than just smelling it in the shower, the scent lingered on my skin for a long time. It was also a super gelatinous consistency that kind of seemed like I was cleansing with the soap version of Flubber. It also didn't lather that well. Is lathering a luxury we ladies take for granted?
I figured soap (even branded for men) would be the most universal item I would try. Maybe other brands would be OK, but this body wash was a no-go for me—big time. I literally counted down the days until I could get back to my Shea Moisture.
Lather, Rinse, Repeat //
Shampoo is leading the pack with one of the highest variations in cost. The NYC report found that among 16 products, on average, females pay $8.39 to a man's $5.68. Shampoo and conditioner are the products I have most often experimented with. I've used just about every drugstore brand out there, and as an adult, I've waded through many name-brand products as well. When I started this experiment I had been using and loving Living Proof products for a while now. For the record, I only use conditioner periodically (once a week, max). I will say, though, my entire life I've always kept a bottle of 2-in-1 Head & Shoulders around for intermittent use. I always think of it as more of a man's brand, and I've always gotten good results from it.
All the women I asked said they're game to borrow from the boys sometimes. Shampoo, oddly enough was a contentious point though. A few said soap and shampoo were totally sharable. A couple said shampoo was totally off limits for them, that they hated male shampoo. I was interested to see if I agreed with them.
The Suave for men 2-in-1 I chose for the experiment proved interesting. It had a good lather, and the smell was pretty appealing (not as masculine as the other products; it was just fresh). It wasn't until a couple days in that I learned why my friends had warned me—it's really drying. At first I felt like maybe it was getting rid of some residue in my hair, so I was happy about that. But over the course of a few days, it felt more like it was just stripping my hair of anything and everything. There will be no lathering, rinsing, or repeating of this man shampoo any time soon.
At the end of my week borrowing from the boys, the only thing I'm pretty set on continuing my use of is the deodorant. Price differences aside, I think I'm mostly just following my fragrance preferences back to the female-friendly products. It's not that the guy stuff smelled bad, it just smelled very strong. Maybe I perceived it as stronger because it's not what I'm used to smelling like. Of course, my little experiment doesn't account for all the brands out there or all the price points, but my trial week affirmed that more expensive or not, I like the female-branded products more most of the time. Maybe those consumer goods brands are on to something?
Have you tried and loved any male-marketed products? What do you think about the discrepancy? Share with us in the comments below.
Photo Credit: Harry's