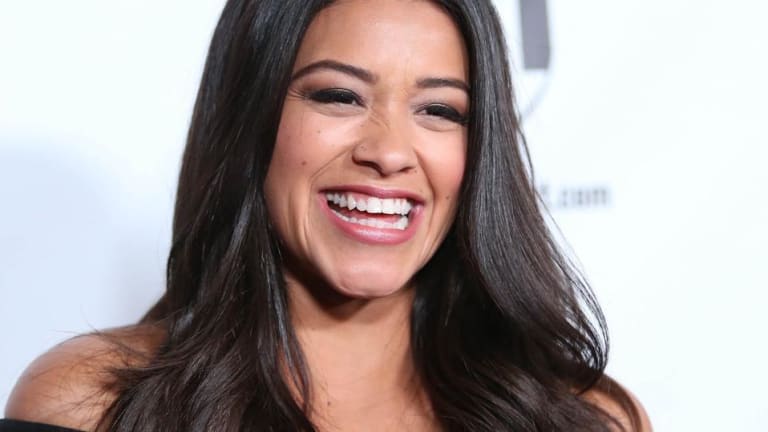 These Celebs Are Defying Beauty Molds and Making Us Feel Pretty Good
We can all do something to combat body shaming.
According to a recent study done at Macquarie University, it only takes two minutes for a person to change their perception of body image—for better or for worse. The study showed participants a series of images of themselves and others as thinner than the participant (sometimes the picture was actually a digitally altered version of their own body). After two minutes of exposure to the thinner images, researchers found "that the neural mechanisms controlling participants' perceptions actually adapted to see thin images as normal. . . . Original-sized body images now looked fatter to them."
With a near-constant stream of altered images via advertisements and Instagram, our lives (and our bodies) are up for scrutiny in a way that no other generation has been subject to before. And it's not just average social media users—almost every week we see a new celebrity being criticized for their weight or how they look (Renée Zellweger, anyone?).
In rebellion against all the shaming, a lot of celebs have taken to social media to show their own self-love. Women, whether A-listers or not, are constantly bombarded with the ideal model-thin body type that not all women can or should achieve. Luckily, this group of women wants to see a change. Here are the most recent body positivity role models that have caught our eye.
01. Brie Larson
Oscar-winning actress Brie Larson recently posted a throwback picture of herself on Instagram from the 2013 Maui Film Festival. In the photo the actress is beautiful and makeup-free, but she wrote in the caption that she remembers feeling concerned and embarrassed by her appearance. She didn't have a "glam squad" like everyone else and didn't want to be photographed, ruminating that she was "too fat, too ugly, too depressingly banal to be honored." However, that couldn't be further away from the way Larson feels now. The actress says that she regrets her feelings that day telling her past self that "There is no need to waste your time to be anything other than you."
Larson has made her Instagram account a safe place, calling for "no hate and more understanding." She also wrote that she will be letting other people take over her Instagram so they can share their own stories. Needless to say, this award-winning actress has earned her role model status in more ways than one, and we can't wait to see what she does as Marvel's first female superhero.
02. Misty Copeland
Famed ballerina Misty Copeland has spoken out about her body image issues before, but now, as a brand spokeswoman for Under Armour, she has a whole new platform to share her positivity. Copeland is not your typical ballerina body type—she has a more athletic build. The pressures of being a dancer made her overly self-conscious of her body, and she soon had an unhealthy binge-eating habit to compensate. But now, thanks to many years of healing and growing acceptance of diversity in the dance industry, Copeland is healthier than ever and couldn't be more comfortable in her own skin.
The iconic dancer may just be the face of the movement ushering in a new era that defies the tall and skinny ballerina stereotype. As Copeland told The Cut, "I want to show young women that it's OK to be strong and to be an athlete and that it's not just for boys." Besides inspiring love for all body types, Copeland is the first black principal of the American Ballet Theatre. The ballerina is championing diversity in the arts and athletic worlds, often taking to social media to motivate her fans and anyone who feels out of place, like she once did.
03. Mindy Kaling
When it comes to body positivity, Mindy Kaling is the queen of #realisticfitnessgoals. The hilarious comedian recently posted a celebratory selfie Flipagram to commemorate the fact that she'd run a 9.5 minute mile—a fitness goal that she's had for the past eight years. Although Kaling herself described the time as slow, she really showed that everyone's body is different, and just because one person's fitness goals are different from another's doesn't mean there's any less cause for celebration.
The creator and star of The Mindy Project has definitely admitted to wanting to change her body in the past, but she never lets herself get obsessed with it—because there's an important difference between wanting to improve your body and absolutely hating it. Kaling's accomplishment defies comparison and serves as a model for other women who constantly find themselves comparing their body shape, weight, or fitness goals to anyone else saying, "If I can do it, so can you!" Because it's OK if you don't stay on the treadmill as long as the person next to you as long as you keep trying to reach that goal—even if it takes eight years.
04. Gina Rodriguez
The star of Jane the Virgin recently opened up about her struggle with thyroid disease and how she's OK with not being a "skinny mini." In an interview with Yahoo, Rodriguez spoke up about her own self-esteem, saying, "Of course I've fallen into the pressure!" But she reminds us that we all have a unique beauty that should always be able to shine through even our makeup: "The idea of makeup and hair is just to enhance our inner beauty, not to cover up or deny that what we already begin with . . . is frickin' awesome."
Rodriguez shows that the picture-perfect lives we see on-screen and off don't mean that female celebrities don't struggle with the same things as all women. The award-winning actress is also the cofounder of Naja, a socially conscious and environmentally friendly lingerie company that seeks to empower women, not objectify them. Rodriguez is a great inspiration to women everywhere who struggle with a thyroid condition but also for anyone who feels the pressure of our culture's unrealistic beauty standards. The actress reminds us that even beautiful and successful female celebrities have insecurities once in a while—and that's OK.
05. Sasha Pieterse
A few months ago Pretty Little Liars actress Sasha Pieterse was bullied, name-called, and even asked if she was pregnant until she finally revealed that her weight gain was due to a hormonal imbalance. She recently opened up on Instagram again to share about her struggle to make it in the industry. And by "make it," she doesn't mean success and fame; she means "to protect my heart and soul, I need to make sure I create my own healthy environment." She reminded everyone that she is and always will be "under construction," but that doesn't mean she should love herself or her body any less.
Although the fact that the actress had to reveal this very private information just to justify her body is ridiculous, but we can appreciate that Pieterse used her position to provide support for anybody else going through the same experience. The fact is that most women's bodies are "under construction," whether we have a hormonal imbalance or not. But as Pieterse pointed out, the key to self-improvement is to love yourself at every stage.