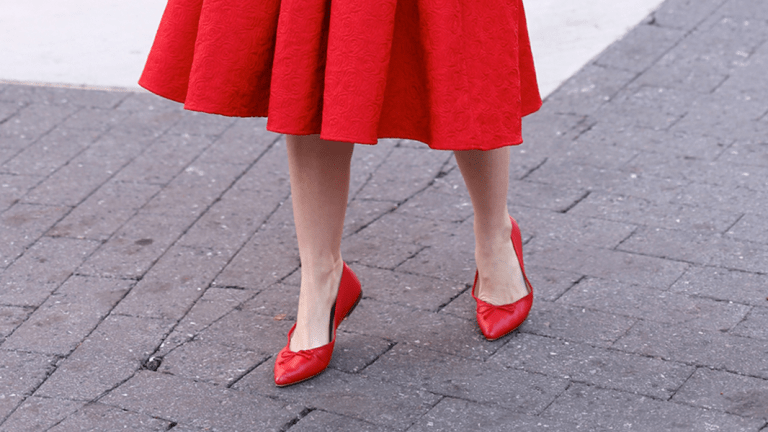 Easy Outfits That Are Perfect for Your Classic Ballet Flats
Don't overlook this versatile, pretty pair of shoes.
We all have a pair (or ten) of ballet flats, but has your trusty pair become a wardrobe "blah"? The ballet flat is undoubtedly a staple, but since its initial rise in popularity, the ballerina-inspired shoe has faded into the background in the wake of trendy gladiator sandals, lace-up flats, and sports luxe sneakers.
For every time our trusty ballet flats have rescued an outfit from borderlining on too casual or saved us from the pain of high heels, we have to ask: Do we take our ballet flats for granted?
This coming fall, let's show our endlessly versatile shoe some love by giving it a makeover with some fresh and creative outfits.
The Original //
The most obvious ballet flat combo is with the ever-ladylike midi skirt. Cathy shows us how to take the look up a notch by matching her skirt with her ruby red flats. When recreating this feminine ensemble for yourself, go all out with some subtle inspiration from the 1950s. Keep your waist in mind by tucking in or tying your shirt, and top it all off with a bright red lip.
Blue Jean Baby //
This is an outfit we all forget to wear time and time again. Its French flair is enough for us to revisit this perfectly casual meets fancy look. Julie's stunning vintage brown flats complement the distressed indigo of her jeans. To make this look your own, simply update your everyday denim look with your favorite ballet flats. Voilà: instant outfit upgrade.
Secretly Leisurely //
If you thought relaxed cotton slacks were off-limits when wearing your ballerinas, think again. Chân really knows how to stretch her wardrobe by unexpectedly mixing her loose-fitting leisurewear pants with her dressy tasseled flats. To copy this outfit into your weekly lineup, bring your cotton joggers out into daylight and introduce them to your pretty ballet flats— you'll be surprised at how well they get along.
Menswear with a Twist //
We all like to borrow from the boys every so often, but when that look starts to look a little too masculine, add a feminine touch with your ballet flats. Daphne makes this preppy schoolboy look uniquely her own by pairing it with her dainty bow shoes. Even though her trousers and blazer are boxy in fit, the little ballerinas make all the difference. To rock this look yourself, give balancing your more masculine pieces with your ballet flats a shot.
Juxtaposed Boho //
Most people wouldn't think a bohemian-inspired outfit would work with ballet flats. Kristabel has proven us all wrong. Her stunning eyelet lace blouse offers volume and that hippie flair we all love (in moderation). To reel in the peace and love inspiration, she rocks a pair of leopard-print flats, creating an experimental street style look. When copying this steal-worthy outfit, remember that juxtaposed styles can sometimes be your friend and that your bohemian digs just might look fantastic with a pair of printed ballet flats.