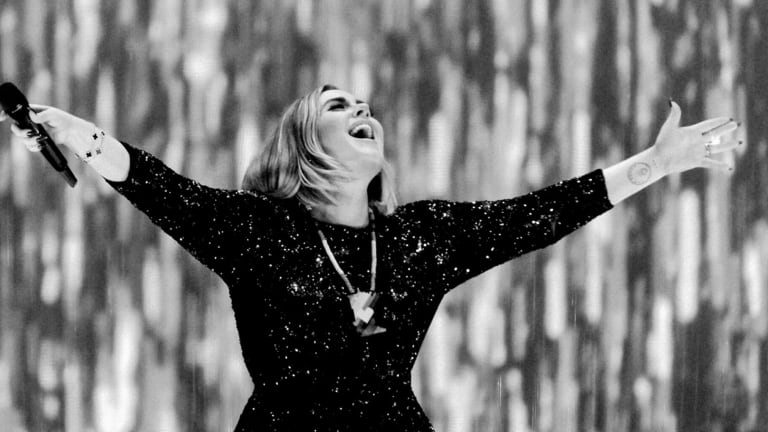 4 Things Successful Risk-Taking Women Do (That You Can Do, Too)
Find out what Adele, J. K. Rowling, Vera Wang, and Audrey Hepburn have in common.
We are all too familiar with the stereotype that women are risk averse. But one study evaluating the research behind these statistics finds that men don't take more risks than women—at least, not necessarily more successful risks.
The LA Times reports, "Investment firm First Round Capital looked at three hundred companies it seeded between 2005 and 2015, and found that those with a woman among the founders performed 63 percent better than ones founded just by men." And according to the Kauffman Foundation, female tech entrepreneurs made back a return on their investment that's 35 percent more than their male counterparts.
So while women may not be the corporate definition of risky, this doesn't mean they aren't successful. After all, when a savvy person takes risks, they consider all the facts to make a calculated decision. As much as we think of risk-taking as a spontaneous, adrenaline-inducing, throw-caution-to-the-wind process, it's usually much more tame—something the word "risky" doesn't do justice.
Perhaps the next step isn't to continue examining whether women are averse to risks or not, but rather, to explore the different ways we approach risk. It needn't be characterized by reckless reward, but by making choices that could lead to failure with wise intent. With this new definition of risk-taking, it's clear that women take courageous chances all the time. Consider these inspiring qualities of four successful risk-takers—J. K. Rowling, Audrey Hepburn, Adele, and Vera Wang—and redefine what it means for yourself.
01. They fail, but they keep trying.
The old adage "If at first you don't succeed, try, try again" really applies here. Although doing something over and over may not be the definition of risk-taking, it shows that you're working toward achieving your goal in spite of the odds—and that takes a willingness to risk rejection or failure. 
Take J. K. Rowling, author of the beloved Harry Potter series. Publishers sent her tons of rejection letters before her first novel was finally accepted. Rather than accepting multiple failures, Rowling used these rejections to seek guidance, refine her work, and finally find a publishing house that aligned with her vision (interestingly, her publisher, Bloomsbury Publishing, gained most of its growth from her series). She has even posted her past rejection letters on social media to encourage other novice writers not to give up on their work. Through persevering until she achieved success, Rowling has shown that rejection—after rejection, after rejection—doesn't doom you to failure. It pays to learn from your mistakes and keep at the grindstone.
02. They follow their passion in the midst of difficulty.
When you're truly passionate about something, taking risks to achieve it becomes second nature. Take the life and career of the inimitable Audrey Hepburn. Hepburn overcame many obstacles in her way before she became a darling of Hollywood's Golden Age. Her father abandoned their family and divorced her mother when she was 8 years old. She and her family lived in the Netherlands under Nazi occupation for five years. Hepburn developed anemia, respiratory problems and malnutrition after Germans blocked food and fuel supplies to their already limited living conditions. Yet the artist never gave up on her passion. She diligently attended school and learned ballet. She even performed ballet for secret fundraising events after she joined the Dutch resistance.
This may be what inspired Hepburn's charismatic enthusiasm and famous words: "Nothing's impossible. The word itself says 'I'm possible!'" And, while the art of performance may have been her first passion, it was not the only one to sustain or fulfill her. She would not forget the food and relief UNICEF brought to her as a child after World War II. Later in her life, Hepburn became a goodwill ambassador for UNICEF where she worked tirelessly to promote projects serving women and children in impoverished communities across the globe. Although ill with cancer, she continued these efforts until she died in 1993.
Wherever her skills and passions intersected, Hepburn took the chance and applied extraordinary effort to pursue it, whether performing in a musical chorus or leading humanitarian endeavors. This iconic woman showed us is that if you are truly passionate about making a positive impact however your talents will allow, it's a risk worthy of pursuing.
03. They dare to be different by remaining true to who they are.
Doing something different than everyone else can be unpredictable since the waters haven't tested before, but, it can also be your greatest asset. In the world of pop music and culture, few have dared to stand apart from the crowd than Adele. With her unique contralto tone and soulful, old jazz-inspired sound, we're hard-pressed to name contemporary artists who can match her talent and success. Yet she has accomplished it all while defying typical Billboard-topper molds. 
As Rachel Herbeck wrote for Verily, when it comes to Adele, there are, "No gimmicks, no costumes, no dancing. Just that voice. It's refreshing in an age where female stars often feel the need to reveal more skin or promote their sex appeal to be noticed. All the same, Adele doesn't criticize other artists; she just says, 'That's not me.'"
While it may seem that she is always performing, Adele is very seldom in the spotlight. Herbeck notes, "In a recent interview with Ryan Seacrest, who labeled her a hermit, Adele revealed that she has no interest in fame whatsoever: 'I'm not blinded by the persuasion of fame,' she said. 'Fame is not real, so how am I supposed to write a real record for anyone to enjoy if I'm living a very fake life?'" She has even brought privacy cases against the paparazzi to protect her and her son while they're out and about—and has won. While many celebrities seek to maintain their relevance under the public eye, Adele's not afraid to simply focus on what she cares about most: her music and her family.
04. They don't shy away from getting on a different path.
Persistence doesn't mean you have to keep doing the same thing over and over again. Take Vera Wang, for instance. While most know her as a wedding dress visionary, designer and icon, for Wang, quitting and beginning again is nothing new. At 8 years old, Wang began dedicating most of her time to figure skating, hoping to go professional one day. She continued training through high school. When she failed to make the U.S. Olympics team, however, she took her art history degree and moved into an entirely new field: editorial.
After college, Wang became the youngest editor at Vogue. There she remained for seventeen years. At the age of 40, though, she took another big leap. Wang resigned from a two-year stint with Ralph Lauren to become an independent bridal wear designer, the role for which she is most celebrated today. When discovering that one direction may not be the right one for her (even "late" in the game), Wang was open to trying something different. Without her willingness to leave a familiar path to take a bold new risk, Wang wouldn't be where or who she is today.
Each of these four women shows us how underrated characteristics of risky decisions became moments that ultimately lead to their success. So let's stop thinking about women as risk averse. Instead, let's recognize that taking risks needn't come from recklessness but from a willingness to persevere in the face of great odds and being true to our authentic self.
Photo Credit: Adele