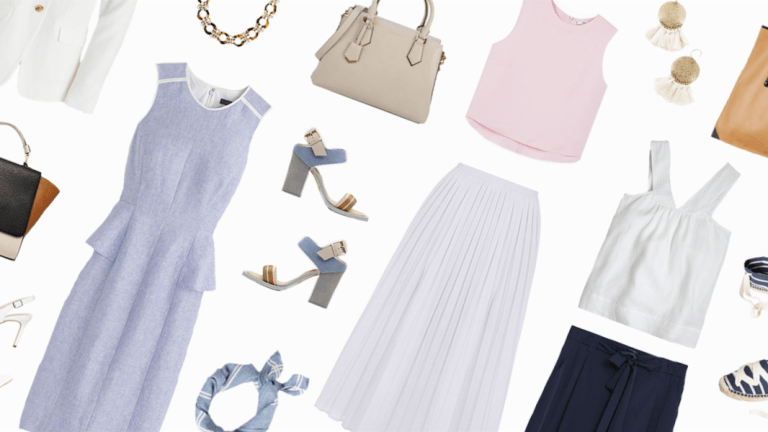 How to Keep Your Style Professional and Feminine in the Summer Heat
Whatever your work environment, there's a stylish solution to the summer heat.
As the peak of the summer humidity approaches, the women of the working world are reminded of the struggle to maintain a professional image when battling sweat and heat exhaustion. When the inevitable power walk to work results in a sweat-induced ombré blouse, looking put-together and feminine feels like an impossible feat.
Feeling gross and sticky is no way to start your workday, so beat the summer heat with some unconventional outfits for every dress code.
The Start-Up // Breezy Culottes
Ever wish you could just wear your pajamas to work? Well, you have met your match with culottes. Perfect for the start-up worker, the breezy skirt-meets-pants hybrid will keep you covered as you dash for the elevator in your co-working space and keep you comfortable as you work from the couch all day long. These luxurious trousers are stylish and tailored enough to make you feel professional, but let's be real—being pajama-comfy during the workday is all we really care about.
Business Casual // Lightweight Midi
A business casual dress code will have even the most experienced dresser scratching her head from time to time. When the temperatures float into the eighties, we often find ourselves wondering what outfits we can get away with without looking too unprofessional. Stop yourself before you start contemplating those shorts, and opt for the versatile lightweight midi skirt. Offering plenty of ventilation, the midi skirt will solve your business casual confusion with its classic silhouette. Keep an eye out for cotton fabrics in light colors. These breathable materials and hues will have you looking season-appropriate and cool, even at the office.
Corporate // Linen Separates
A corporate environment is definitely the hardest to dress for during the summer. The heat and humidity are already unbearable; add a two-piece suit, and you're a puddle before even walking into your office building. Because you can't get around the strict dress code, get smart with your fabric choices. Linen, the fabric of the summer, is ideal for allowing your skin to breathe, but it's also clean-cut enough to meet all dress code guidelines. If the sweltering heat has you feeling less than ladylike, opt for a linen pencil dress and blazer to keep you feminine and cool.