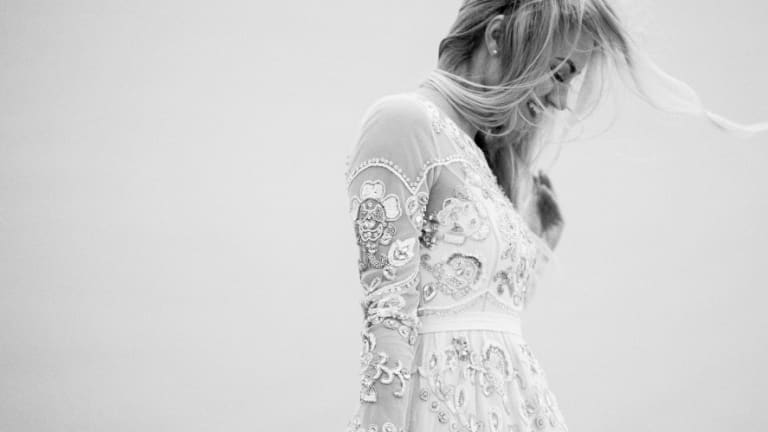 5 Savvy Things to Do with Your Wedding Dress After the Big Day
Don't let your beautiful dress collect dust.
Once the honeymoon ends, all new brides contemplate the same question: What should I do with my dress? Besides saving it for your future daughter, there are tons of practical ways you can make use of your dress even after the big day.
Whether you bought it from Kleinfeld or the thrift store across the street, your dress definitely holds sentimental value—and possibly a large monetary investment. Follow these tips to ensure that you don't leave your wedding dress gathering dust in the back of your closet.
01. Preserve It //
Chances are even if you had a tight budget for your wedding, you splurged on the dress—it may even be the single most expensive piece of clothing in your closet. If it doesn't have monetary value, its worth could be sentimental—not only did you get married in it, maybe it's the dress your mother or your grandmother wore. Luckily, there are several ways to preserve your dress so it stays like it was the moment you walked down the aisle.
Preserving your dress may sound like a hassle, but many companies have preservation kits where you send out your dress, and it's returned to you clean, preserved, and packaged in an archival box. Having your dress professionally cleaned is very important to maintaining the integrity of the dress. Stains, even if they're not visible at the time, can discolor and damage the fabric. A professional preservationist will either gently hand wash or dry clean the dress to remove all those unwanted stains.
If you'd rather save preservation for another day, professionals say to store the dress by wrapping it in unbleached, pre-washed muslin and keeping it in a sealed box.
02. Make Jewelry with It //
Maybe you don't want to keep the whole dress, but there are some nice details you'd like to keep as mementos—maybe a patch of lace, some fancy beadwork, or sparkly gems. If that's the case, then you should consider making those parts of your dress into jewelry. Past brides have made necklaces, bracelets, earrings, and headbands with small sections of their dresses. The best part about only using a small portion of the gown is that you may still be able to resell, donate, or repurpose it for further use.
Check out Etsy for some cool ways to get custom jewelry made from the best pieces of your wedding dress. Or DIY a super-quick and easy glass pendant or old-fashioned locket yourself. That way you can wear your special reminder any day of the year.
03. Convert It Into a Special Occasion Dress //
OK, so you don't plan on using your wedding dress again, but if you have a beautiful, high-quality dress, then why not put that material to use? This is why a lot of former brides choose to refashion their dresses into skirts, shirts, cocktail dresses—you name it. This is a chance to be creative, fashionable, and thrifty with your amazing gown.
First, come up with a design you like and decide what parts of the dress you want to keep and what alterations you'll need to make then take it to a seamstress. You can shorten it, cut off sleeves, take out some of the heavy fabric—but don't forget to use every part of the dress. That extra hemline can be upcycled into a stylish clutch. That petticoat will make a great tulle skirt. And the extra lace can be used to make jewelry or accessories.
Whatever you do with your dress, you're sure to have a one-of-a-kind look for date night.
04. Dye It //
If you love the cut and fit of your dress the way it is, but you want to switch up the look, then try dyeing your wedding dress. All you have to do is get a trustworthy fabric dye, such as Dylon or RIT, and get to work. You're going to need a bucket of water and a lot of patience, but it'll definitely be worth it in the end. You can soak the whole thing or dip dye the dress to get an ombré effect. You'll end up with the same beautiful gown but with a pop of color.
05. Donate It //
Maybe you're not into keeping stuff you don't use or just don't have the storage space, but whatever the reason, there are plenty of brides in need if you're willing to donate your beautiful dress. Instead of just dropping your dress off at the local thrift store, consider donating it to a worthy cause.
If you'd really like to donate your dress to a group that will appreciate its beauty, Brides Across America will give your gown to a military bride in need. Another unique organization called Angel Gowns takes donated wedding dresses and turns them into little burial gowns for families who have lost a newborn baby.
If you know your dress is worth a lot and you want to see that money put to use, plenty of other organizations will resell your dress and give the proceeds to charity. Adorned in Grace is a bridal shop that sells wedding dresses and accessories with proceeds going to raise awareness and help the victims of sex trafficking.
If you know you'll never end up taking that dress out of the trunk beneath your bed, then consider donating to a cause that speaks to you. You'll definitely make some special bride's day a dream come true.
Photo Credit: Brittni Willie