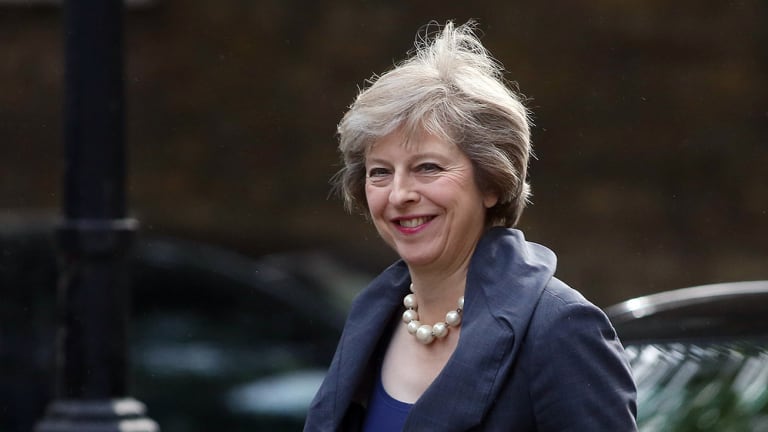 It Wasn't All Smooth Sailing for the U.K.'s New Prime Minister Theresa May
A Brit's take on the events surrounding the selection of the United Kingdom's new female PM, Theresa May.
This week Britain gained its first female prime minister since Margaret Thatcher. Theresa May has taken over office after David Cameron announced he was stepping down in the wake of Brexit. May is the United Kingdom's longest-serving home secretary and was revealed as the country's new leader on Monday as the other candidate, Energy Minister Andrea Leadsom, pulled out of the race.
As a Brit living in America, it's been interesting to observe and compare how both countries are navigating some of the biggest political seasons of our modern times. Differences in our electoral systems aside, what strikes me most right now, of course, is the matter of gender.
From the United States perspective, it can feel like this: How did the U.K. get its second female prime minister almost without even trying, but the U.S. (despite all the focus on the issue) is yet to have a woman in the driver's seat?
Naturally, the stakes are higher for Hillary Clinton, as she would be the first female president, whereas May is the second female leader for Britain. But some of the conversations that have emerged during this American campaign cycle have really struck me. First, Madeleine Albright used her now infamous line, "There is a special place in Hell for women who don't support other women," to shame women into voting for Clinton earlier this year. And then there was Gloria Steinem's contribution to the debate with her suggestion that young democratic women were only supporting Bernie Sanders because of the hot guys. "When you're young, you're thinking: 'Where are the boys? The boys are with Bernie,'" she told a talk show host in February.
As many people pointed out at the time, it's more than a little insulting—and, in fact, the reverse of what feminism should be all about—to suggest that we should vote for a candidate simply because of her gender. The hunger to make history is palpable, but true gender equality won't be won by pressuring people into voting to simply prove a point.
In Britain the race for a new PM was a different level of gender bias. Across the pond, there was an opportunity for gender to be a completely benign part of the race—because both candidates were women. What should have been a gender-neutral scenario ended up being a cautionary tale of going too far.
Last week, when asked to comment on how having children had affected her, Leadsom told The Times that being a mother meant that she had "a very real stake" in Britain's future. I guess we could give her props for turning the idea that being a mother would make her a less competent professional on its head. But in context, it instead looked like Leadsom was using her role as a mother to put down her opponent's lack of children.
Whether or not Leadsom meant to suggest that May was a weaker candidate because she isn't a mother, it's a very unfortunate implication. I can't help but wish Leadsom had used that opportunity to really drive home the idea that mothers—or any parent, for that matter—can be excellent at what they do both in and outside the home, keeping the attention on her own strengths. Instead, it looks like she used the gift of motherhood as a reason for putting herself above another in a political race.
Leadsom has since apologized to May (who revealed that she can't have children) and says she never intended to suggest she'd be a better leader because she's a mother. But the whole situation reeks of double standards. Would a man even have been asked that question in the first place? I'm pretty sure the answer is no. And fatherhood usually isn't given a second thought in the workplace. The same can't be said of motherhood.
What is clear is that none of this is helping further gender equality. Whether it's condemning women for not voting for our own on principle alone, as is happening in America, or ranking ourselves based on the very personal matter of motherhood, as Britain experienced last week, the issues facing women are on full display this political season.
So, yes, whether it happens in 2016 or not, it will be a historic moment when the United States elects a woman to the White House. But wouldn't the bigger victory for gender equality be that a country could elect a woman without her gender playing a role at all—electing her because the people truly believe she's the best person for the job? Call me naive, but I'm holding out for that day.