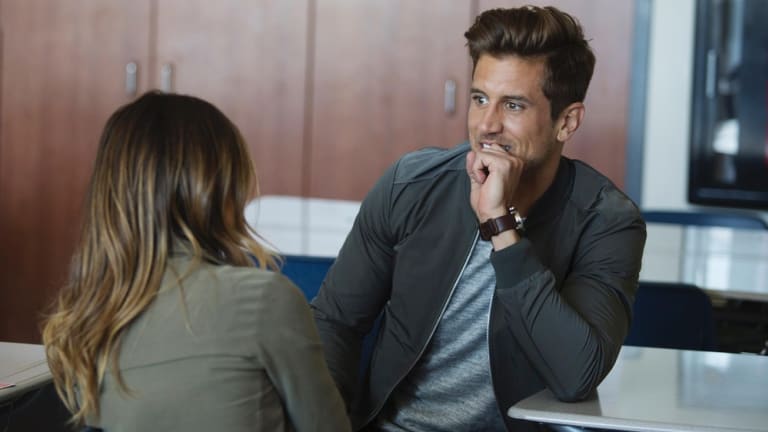 The Bachelorette: Don't Expect a Good Date After Two Nights in a Fantasy Suite
Well, this is a recipe for heartbreak and confusion if ever I saw one.
This year, we've decided to follow along with all of The Bachelorette action. Say what you will about the show, but there are lessons to be learned from it (even if just what not to do), and we'll be watching to see just what they are.
During last week's episode, we found ourselves visiting the families of Robby, Jordan, Chase, and Luke on the hometown dates. Everyone pulled out the stops to welcome JoJo, but when it came time to the final rose ceremony, Luke didn't make the cut. But wait! Luke was supposed to be The One! He made one last grand gesture (reminding us why he should have been the last man standing), but we were left watching JoJo in tears, agonizing over the choice she had already made.
Here is what went down on the eighth episode of The Bachelorette.
Let's talk about the fantasy suites.
The tenth episode finds us in Thailand on one-on-one dates with Robby, Jordan, and Chase. At the end of each date, JoJo has the option to invite each of the guys to spend the night with her in the "fantasy suite," aptly named for the unrealistic importance placed on a night snuggling behind closed doors.
JoJo invited Robby and Jordan back to the fantasy suites on their respective nights (we will get to Chase). The morning after his date, Jordan said to JoJo something to the effect of them having taken "a big step last night." And he said it was "everything" he needed. Now, I can come to certain conclusions about that, but I'll choose not to. The Bachelorette gave me the option to think that nothing happened between them, so I'm sticking to it. Why? Because the alternate option, getting sexually intimate with multiple boyfriends as you're trying to figure out whom you love, is a recipe for confusion and heartbreak, not clarity. I would like to think that JoJo knows better. But then again, she did think trying to find authentic love while being filmed on a reality TV show was a good idea . . . twice.
For what it's worth, JoJo—if you're still listening—it's best to avoid the fantasy suites in the future. I mean, they use the word "fantasy" for a reason, girl! All that snuggling creates an illusion of intimacy that—after, what, two months of juggling feelings for lots of different guys—is likely just not there. If it's sexual compatibility you're worried about, be assured that psychologists who specialize in sexual intimacy in marriage, such as Dr. Kevin Leman, author of Sheet Music, will tell you that the secret to a fulfilling sex life all starts with a strong relationship outside the bedroom. So if you really want to know who you are most compatible with, spend more time talking and get a good night's sleep, so you have your wits about you when it comes time to dole out the long stems.
Chase's date from hell.
Honestly, Chase got totally shafted this episode. For one thing, he got the last date with JoJo, who was all bleary-eyed and sleep-deprived from her back-to-back sleepovers with Robby and Jordan (so incredibly awkward!). But then when he finally said the three words JoJo so desperately needed to hear him say—so that she could feel secure and special—she dumped him on the spot. Talk about a date gone wrong. Chase was surprised, embarrassed, hurt, and angry—understandably. JoJo begged him tearfully for some understanding, but he was clearly still processing the whole thing and left leaving her conscience unsettled.
While I disagree with JoJo's decision and feel strongly that had she been better rested, she would have been thinking more clearly, I do think it was kind of JoJo to spare Chase the charade of the fantasy slumber party if she knew it wasn't working for her.
Class act.
OK, I was obviously on team Chase, but how cool was it that he came back to apologize for acting angry and to wish JoJo well?!
Despite his wounded pride and heart, Chase interrupted the rose ceremony to apologize and wish JoJo all the best. He told her he was in shock at the time, but that he is proud of her and just wants the best for her in the end. Super-classy, Chase. Super-classy.
The truth is, I as a viewer need to take some time to grieve Chase. I still have two more episodes of The Bachelorette to watch, and I'm stuck with Jordan (who I get insincere vibes from) and Robby (who allegedly dumped his four-year girlfriend three months before the filming of the show—apparently I'm the only one who thinks this is super-shady). Spare me.
Tonight, all the guys we forgot about and a couple we didn't (cough, Chad) are back in a special "Men Tell All" episode. Then next week, JoJo introduces her parents to her final two men, Robby and Jordan. We're in the home stretch here, people. And thank goodness!
Photo Credit: ABC