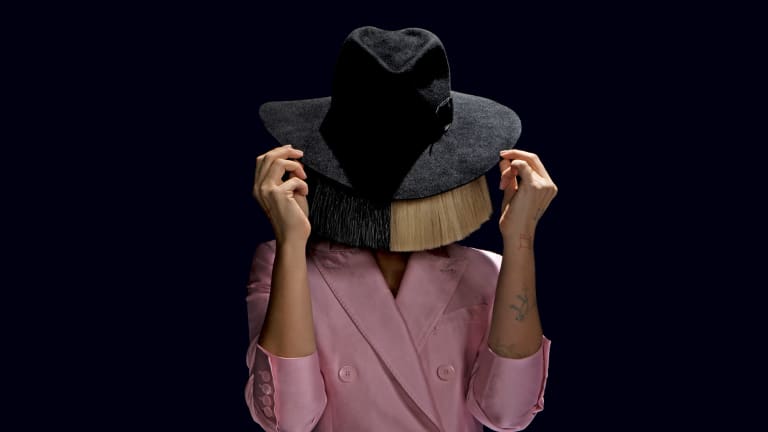 How Sia's Unusual Rise to the Top Is Challenging the Status Quo
She may be today's most talented (and countercultural) pop star.
Sia, the enigmatic Australian-born pop singer who hates performing live, hides her face during interviews, and sells some of her best songs to other musicians just watched one of her hits top the Billboard Hot 100.
This would be monumental for nearly any star, but on Monday the singer-songwriter became the first woman over 40 to produce a chart-topping single in sixteen years. Her dance-worthy hit "Cheap Thrills" has been climbing the ranks for twenty-three weeks since it came out with her album This is Acting in January. Not since Madonna's "Music" topped charts in 2000 has a middle-aged female sung a number one hit.
Besides cranking out powerhouse singles for herself and other stars, Sia is also well-known for, well, not being well-known. Due in great part to her shyness and stage fright, when she does perform live or agree to interviews, she either stands with her back to the audience or wears her signature blond bob with bangs covering her eyes.
Last year Sia told her friend Kristen Wiig for Interview, "I would like to be able to make great pop music for another twenty years. And it feels like creating a sort of inanimate blond bob and allowing other people to play the role of the pop singer, it affords me a little bit more freedom in terms of my expiration date."
If her act seems gimmicky to you, Sia agrees. But there's more to her carefully crafted odd-girl persona. In the same interview, she adds, "When people say, 'Show your face, you're not ugly.' I want to say, 'I know. I'm not doing it because I think I'm ugly; I'm trying to have some control over my image. And I'm allowed to maintain some modicum of privacy. But also I would like not to be picked apart or for people to observe when I put on ten pounds or take off ten pounds or I have a hair extension out of place or my fake tan is botched.' Most people don't have to be under that pressure, and I'd like to be one of them. I don't want to be followed by paparazzi."
In other words, she wants to make good music without sacrificing herself in the process. Not a bad thing to strive for. What's amazing is how she has succeeded at writing her own rules and playing by them. After releasing her previous album, 1000 Forms of Fear, including the hit songs "Chandelier" and "Elastic Heart," Sia participated in hardly any PR for the album, didn't go on tour, and what few performances she did on TV were done under her unconventional conditions of limiting her face time. Nonetheless, everyone devoured what she felt comfortable dishing, and it didn't hurt the success of that album in the least—if anything, it primed the market to have even greater demand when this next album released.
Sia is even more of an anomaly if you consider how the music industry typically treats women. For an industry where being young and photo ready seems equally—if not more—important as having vocal talent, she's managed to break through the mold to incredible success. Not only does she have a voice that combines the power of Adele with the husky angst of Lana Del Rey, but she also writes smash hits for artists from Beyoncé ("Pretty Hurts") to Maroon 5 ("My Heart is Open") to Rihanna ("Diamonds"). Sia says she composes most of her songs in under an hour; "Diamonds" took her fourteen minutes. Sia's trademark of emphasizing explosive choruses with melancholic undertones could be a reflection of her own personal journey.
This journey includes a hard-earned resilience that comes from learning one's limits and protecting oneself. After getting into the music industry two decades ago, Sia found it hard to cope with the pressures of fame. She developed an alcohol addiction, she told OK! Magazine, and later was diagnosed with bipolar disorder and wrestled with depression. She became addicted to antidepressant drugs as a result. By 2010, she planned to commit suicide—and even wrote a note. But a friend happened to give her a phone call, and the little part of her that still wanted to live won out.
Since then, Sia has been getting the help she needs and walking the fine line between privacy and fame. It's inspiring how much she stands firm on her boundaries to protect herself in an industry that so typically eats women up. And it's remarkable how in doing so, the excellence of her music can be seen for what it is as it rises to the top. She serves as a reminder to all of us: When we are truest to ourselves (even in ways that others deem unconventional), we have the most to gain and the least to lose.
Photo Credit: RCA Records