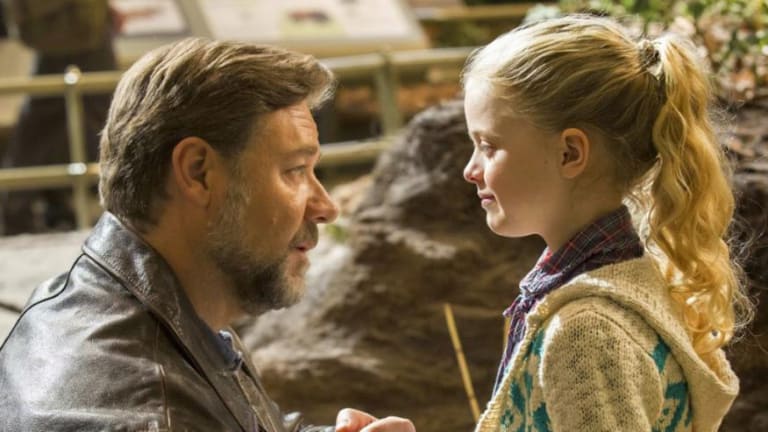 4 Reasons the New Fathers and Daughters Movie Is So Powerful
This new release with a stellar cast does not disappoint.
Released in theaters today, July 8, is Fathers and Daughters, a film featuring Russell Crowe and Amanda Seyfried as father and daughter grappling with the drama of love, loss, and grief in what may be the most powerful story of the summer.
The narrative begins when Katie (Seyfried) loses her mom in a car accident; her father Jake (Crowe) survived the accident but not without injuries that affected his brain. As they face their new life together, just the two of them, Jake soon finds that his ability to raise his daughter may be slipping through his grasp.

I watched Fathers and Daughters expecting powerful acting and an even more powerful story line, and I got it. The film features not only acclaimed actors Crowe (Gladiator, A Beautiful Mind) and Seyfried (Les Miserables, Lovelace) but also a full all-star cast that includes Quvenzhané Wallis, Aaron Paul, Diane Kruger, Octavia Spencer, and Jane Fonda.
But what really surprised me watching the film were the powerful insights that stayed with me days after the credits rolled. The film draws on timeless lessons of life and love, but it also carries some unexpected revelations on modern relationships.
01. The Difference a Dad Makes
At the start of the film—which, full disclosure, has some racy scenes—viewers quickly witness a dramatic interpretation of the realities that affect countless girls worldwide. In short, Katie embraces promiscuous behavior and struggles to foster any loving connection—a phenomenon that research shows affects many girls and women today, as we know that a correlation exists between a father's presence and a daughter's risky behavior.
As the story switches between Katie's modern day and flashbacks, we quickly learn her dad's efforts to be a present father were cut short. Without spoiling the plot turns (because you should see the film), I will say that the sex scenes were unlike Hollywood's average token additions. In this film, it was actually an important part of the plot—one that highlighted how Katie's lack of a dad for part of her formative years affected her attitudes on love and sex. 
While it's something of a sad plot element, it's refreshing to see a film grappling with real issues that women face, from a compassionate lens, and with the context of a hope to grow beyond them.
02. The Importance of Seeking Help When You Need It
In the film, viewers encounter real-world villains. Not the least of which come in the form of physical challenges. Jake experiences seizures after the car accident and struggles to balance taking care of himself and taking care of his daughter. As we see, it's hard to care for someone else when your own self-care is suffering.
As Jake faces his mental health challenges in flashbacks, Katie's modern-day story echoes the benefits of getting professional help, as she pursues a career helping others heal from past trauma. As Katie furthers her studies in psychology, she is tasked with providing clinical therapy to a young girl who, like herself, is healing from the loss of a loved one. The movie is powerful example of how healing takes many forms and often is a long, but worthwhile, process.  
03. Everyone Is Worthy of Love, No Matter What They've Done or Experienced
Yes, I know it sounds fluffy, but I'd be remiss if I didn't mention this pearl of wisdom that resounds in the film. There are moments in the film that Katie doesn't know if she's worthy of being loved by her new friend Cameron, an aspiring novelist. Somehow, the trauma of having had her parental love tragically cut short, Katie's ability to receive love was stunted. Similarly, Katie's clinical patient Lucy struggles to even communicate at all since her mom died. Both, in different ways, cut off connection with others as a mode of self-protection from further pain. 
When we're deprived of love, we can be tempted to think we don't deserve it. But, as the story unfolds, both Katie and Lucy discover that they are worthy of love. Lucy opens her mouth to talk after over a year of silence. Katie slowly opens her heart. As Katie and Lucy's relationship grows, we're also reminded how sometimes in order to receive love, we need to give love.
A lesson like this could easily come off as sappy, but in Fathers and Daughters, it comes off as a refreshing reminder, even a challenging one at times. At one point Katie intentionally hurts someone who loves her as an act of betrayal. But upon further reflection, viewers see can see there is a destructive coping mechanism at work, recycling past unhealthy habits that keep Katie from facing her own wounds. Katie has to live with the repercussions of her actions, but she ultimately realizes that despite her past mistakes, she is not a bad person. She made bad choices in the past, but she has the power to change her behavior in the future, which leads us to the last powerful takeaway from the film.
04. Sometimes Our Worst Challenges Are the Backdrop to Our Greatest Accomplishments
Ultimately the most compassionate thing Katie can do for herself and others is to take ownership of her issues and resolve to end what have become destructive cycles of behavior. There's a distinct human temptation at times to think we're beyond redemption, we're defined by our past, and there's nothing that can change that. But while some of us may have longer roads of hardship than others, we all have the potential to overcome them. 
As the story comes to a close, Katie ultimately takes the challenging road of recovering from past pain, overcoming unhealthy habits, and opening herself to enjoying a relationship with greater potential for love. Her father, a writer, fights tirelessly to provide for Katie and not have custody taken away from him—which, in order to afford the costs, ultimately pushes him to write his best book yet, aptly titled Fathers and Daughters. 
It's rare for a film with so many interwoven story lines to feel resolved at the end, but this film manages to tie it all together. Fathers and Daughters ends strongly with a timeless reminder: Some of us may be predisposed to certain hardships in life, and we may be our own worst enemy at times, but we always have the freedom to choose how the story ends.
Photo Credit: Vertical Entertainment