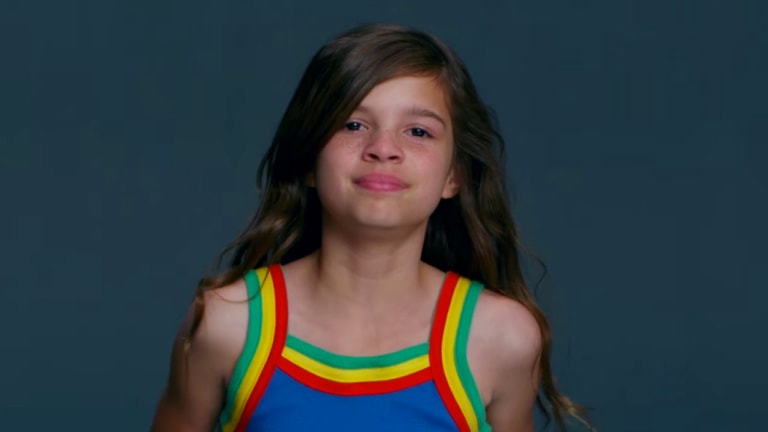 5 Empowering Ad Campaigns That Are Breaking The Beauty Mold
We're making strides toward positive advertising.
When it comes to women in the media, there's no question: sex sells. The imagery we see, whether on billboards, on TV, in the pages of magazines, or elsewhere all create the perception that you're not enough if you're not slim with voluminous hair, flawless skin, and a perfect smile; if you're not willing to bare it all and tempt your audience with your female form. And nobody's a bigger culprit of this than the advertising industry. But the ads we've been exposed to for years—imagery of unrealistic, retouched women—are really being brought to task in the name of female empowerment.
Dove just did a study that shows women and young girls are still feeling the pressure to conform to the "perfect" body—maybe more than ever. According to the study, eight out of ten participants (both women and girls) said they felt pressured not to make mistakes or appear weak—in other words, to be perfect. This may be why the mayor of London, Sadiq Kahn, pushed to ban ads in public transportation that promote negative body image issues. And it's why the world's second-largest advertiser, Unilever (which owns Dove and Axe, among others), recently made a pledge to be less sexist in their ads. The company's chief marketing officer, Keith Weeds, says, "The time is right for us as an industry to challenge and change how we portray gender in our advertising." Many more brands, such as ModCloth, are also pushing for advertisement reform to portray real women in advertising. 
In a world inundated by ads that make us feel less than, here are some campaigns that will have you feeling ready to take on the day!
01. JCPenney #HereIAm
JCPenney recently launched its "Here I Am" campaign featuring several prominent plus-size women breaking the beauty-standard mold on their journeys of both worldly success and personal self-acceptance. The women featured here reveal that society has made them feel like they needed to change their entire lives—and some have spent their whole lives trying to change their looks—until they realized that society's perception of them is not the best measuring stick for their worth and ultimately will never limit what they can do. Contrary to what critics have said, the "Here I Am" campaign is not about glorifying obesity, it's about helping women accept themselves as worthy of dignity, no matter their size. 
02. Always #LikeAGirl
Ever since its much-talked-about debut as a Super Bowl ad a couple years ago, the Always campaign "Like a Girl" has quickly become a classic in the world of positive body image advertisements. The commercials highlight the careless way people use the phrase "like a girl" by asking men and women of different ages, "what does it mean to do something like a girl?" Most people interpret it as an insult, while the younger girls viewed it as a positive statement about themselves, ignorant to how it could possibly mean anything else.
As the ad says, young girls suffer a serious drop in self confidence when they hit puberty, and that seems to be the turning point for many when it comes to belittling who they are with phrases like these. But, with this ad campaign, Always wants to change that. "Like a girl" should never be an insult—it should be a fact. And, as one young woman in the ad said, "Why can't run like a girl also mean win the race?"
03. Aerie #AerieReal
Aerie has been a proponent of untouched advertisements for a few years now, and as the #AerieReal campaign maintains its popularity, the brand continues to put society's unrealistic beauty standards to the test in its ads.
The "Aerie Real" campaign has committed not to Photoshop models, and recent reports say that the campaign is not only helping their street cred but also their revenues. They've been publishing a series on their YouTube channel called "Real Talk," which gives their models a chance to share what not being retouched means to them. While it would still be nice to see the Aerie Real campaign not equate body positivity with being stripped down, it's hard to deny this messaging is a step in a better direction than most other ads out there. 
04. Dove #MyBeautyMySay
A pioneer of the body-positive movement for more than a decade now, this Dove campaign continues to counter society's definition of beauty. The ad features a group of diverse women of different body types, backgrounds, and careers. The one thing that connects these women is the strides they had to take to get where they are today. 
The women in this ad share what other people have said to discourage them, whether they're too this or too that. But despite all the people tearing them down, all these women have achieved their dreams and confirmed their own beauty because beauty can't be defined by any one set of standards. It's as unique as the person herself.
05. Nike #BetterForIt
You've probably already seen some of the hilarious ads from the Nike #BetterForIt campaign—a series of advertisements that say what every woman thinks when she exercises: "No shame in running half a half marathon," "Oh good, a bunch of models right in front of me," and, "Don't mind me over here with my little baby weights...baby arms." Exercising can certainly cause insecurities for us all. But these ads encourage you to push through the head noise. 
The ads have actually been so successful that they've spawned their own YouTube series Margot vs. Lily that promises just as much wit as it does strategic product placement. Although they may not feature women of diverse body types, they do show diverse mental perspectives. These ads might just be the motivation you need to run that extra mile—not because you have to but because you can. 
Photo: Always