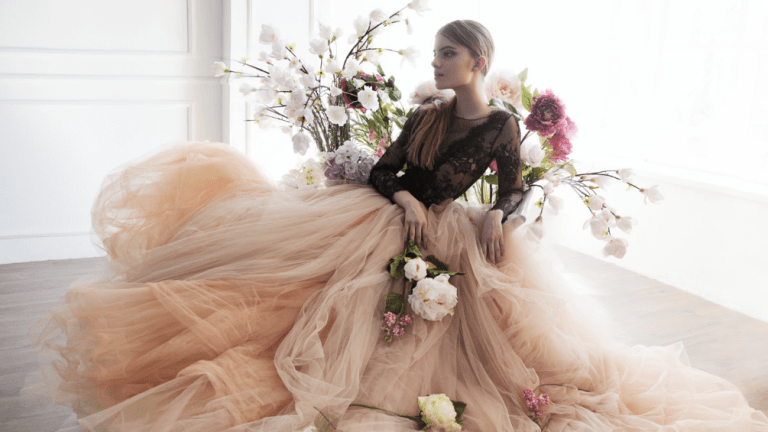 8 Stunning Wedding Dresses That Will Convince You to Rethink Your Dream Gown
Who says your dress has to be white?
Let's be honest, we have all imagined what we might look like on our wedding day. Perfectly arranged bouquet, soft curls cascading down our backs, and of course, the white dress. 
But what if it didn't have to be white? With the increasing popularity of dip-dyed, floral, and pastel wedding dresses, we can't help but think: what if?
If you're more traditional at heart, don't be dismayed! A colorful wedding dress can be as extreme or as subtle as you desire. Whether you still need to be convinced of this vibrantly hued bridal trend or you already have a non-white number picked out, we have a few of our favorite colorful gowns to inspire your wedding day daydreaming. 
Something Blue //
These dresses are taking the old wedding rhyme "something borrowed, something blue" to a whole new level. Just imagine yourself floating down the aisle resembling all the dreamy splendor of the morning sky or the rolling sea. These airy gowns of baby blue are just as awe-inspiring as any other white dress while offering a unique flair to set you apart from the rest. Add varying intensities of blue into your skirt, or go all out in a solid blue tone for a Cinderella-worthy look.
Coming Up Roses //
With rosy-hued skirts like these, we are ready to quite literally be "blushing brides." Billowing chiffon, tulle, and silk in ethereal pink tones has us reminiscing about elegant degas ballerinas and our whimsy childhood days of dress up. Make a bold yet soft statement at your own wedding by wearing a full-length pink gown or by adding a layer of nude tulle into your skirt or bodice.