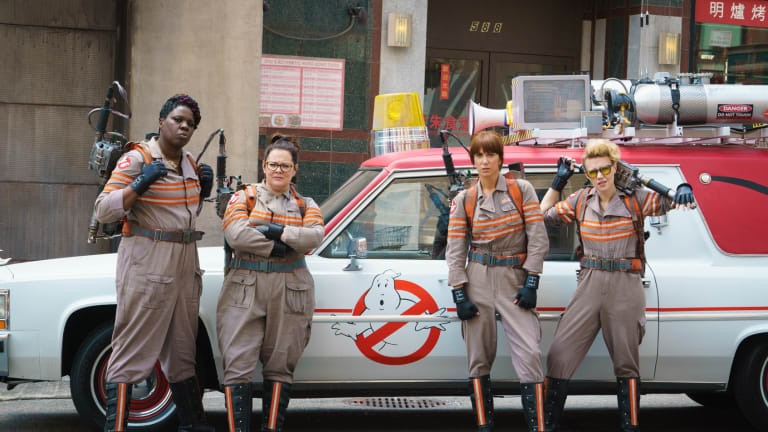 Here's Why You Should Go See the New Ghostbusters Movie (Don't Believe the Haters!)
Seriously, it's so much better than you think it will be.
Ghostbusters opened in U.S. theaters this weekend to the tune of $46 million. There's reason to believe the Sony execs are disappointed with the turnout, given that the all-female Ghostbusters reboot cost the studio $144 million to produce. But in the wake of the movie's boycott-type response by tons of fans of the original Ghostbusters (1984), the lackluster opening isn't so surprising.
While theories to explain the backlash vary from sexist (four women can't possibly fill the roles of Ghostbusters!), to politically incorrect (talk about forcing a feminist agenda, replacing the male quartet with four leading ladies), to purist (where are the original story lines, anymore?), I think the most likely one is closer to the same reason Star Wars fans hated when George Lucas re-edited his films to add new scenes and reinterpretations to his formerly final work. Somehow, with this version of Ghostbusters starting from scratch, as opposed to picking up where the last one left off, was abominably offensive to old fans.
As I watched Ghostbusters this weekend, I found that not to be the case. I loved the original, and I was entertained by this reboot. So, for those original Ghostbusters fans who are holding out, here are just some of the delightful things I encountered in this movie.
01. Melissa McCarthy
Need I say more? The comedy powerhouse, who was the third most lucrative actress last year, delivered as expected. Without doubt she's one of the best comedic actors today, having been nominated by the Academy Awards for her breakout role in Bridesmaids and nominated by the Golden Globes for Spy. McCarthy not only has on-point comedy, but she can also pull off heart-wrenchingly serious scenes as well—something she achieved alongside Bill Murray in the 2014 film St. Vincent. In her role as the scientist Abby in Ghostbusters, McCarthy continues to master her perfect combo of heart and hilarity. Yes, she herself is reason enough to watch this movie.
02. Kristen Wiig
I've decided each of these actresses deserves her own spotlight, because they're just that good. Kristen Wiig, also known for her role in Bridesmaids after years on SNL, played McCarthy's childhood friend Erin and collaborator in the exploration of where science meets phantom realm. The two, who have a history of friendship and falling out and renewed friendship, perfectly and hilariously capture the dynamic between two ladies who knock heads but love each other underneath. Among my favorite scenes is when Wiig's male boss as Columbia University comments on her clothing as being problematic, and she says something to the effect of, "I know...too sexy"? Mind you, she's wearing a blouse buttoned up to her neck with a blazer on top. Spoofing women's challenges of looking both professional and feminine in the workplace, FTW.
03. Leslie Jones
Many naysayers bemoaned Leslie Jones' role in the film as racist—all the film's scientists are played by white actors, while Jones plays the less educated "street smarts" one (and these facts probably deserve that criticism). Still, I couldn't help but cheer when I heard Jones would be in the film, because, I kid you not, she is my favorite comedian working today. Here's my crude barometer: Nothing has made me laugh harder in the past two years than Jones' skits for Saturday Night Live. The Ghostbusters writers could have probably written more Jones-like humor into the role of Patty for greater impact, but they didn't completely blow it either. She was remarkably funny in the film and perfectly fit with the others, proving that no she was not just the token black actress filling a spot. She's one of a kind, and one of the best.
04. Kate McKinnon
Kate McKinnon, also a cast member of SNL, was possibly my favorite part of this film. McKinnon plays Holtzmann, an engineer who fits the wacky scientist character sketch in female form to hilarious effect. My favorite scenes from this Ghostbusters feature McKinnon at center stage. There's her fight scene at the end (the most kickass female fire fight I've seen of late), and her awkward-but-so-heartwarming speech, which will ring familiar to anyone who has one of those brilliant cerebral friends who has difficulty expressing emotion. So human and so hilarious on every level, McKinnon's role in Ghostbusters shows she's is only at the start of a great career. Now onto the other reasons I was highly entertained by this film...
05. The Cameos
The movie has several amusing cameos by the original Ghostbusters greats, all of which happened in the latter half of the film. Bill Murray appeared as professor who debunked myths. Dan Aykroyd, who was an executive producer, appeared as a taxi driver who added a funny memorable line evoking the original Ghostbusters song. Ernie Hudson and Sigourney Weaver also made appearances, much to the delight of viewers. 
06. Turning Female Stereotypes on Their Heads
If you expected some stereotypes to be smashed in an all-female Ghostbusters, you won't be disappointed. The group's hired secretary, played by Chris Hemsworth, embodied the stereotype often used against women of being the damning combo of dumb and pretty. Looks ridiculous on a man, right? Yeah, that's how ridiculous it is to apply it to a woman, too. 
07. Actually a Pretty Good Villain
Films these days can have pretty lame villains. Even Star Wars: The Force Awakens suffered a bit being in the shadow of Darth Vader. But this one wasn't so bad. Here we have a bullied boy turned psycho bad guy played by Neil Casey, a comedian in his own right who has written for both SNL and Inside Amy Schumer. And, after unleashing some pretty terrifying ghosts and demons along the way, he has that much more scare factor...in the goofy Ghostbusters kind of way, of course. 
08. It Didn't Go the Crude Humor Route
Perhaps some readers will be pleased to hear this last one, which only came to mind after a friend asked me how raunchy it was. Anyone who saw Spy or Bridesmaids would attest, it's not just male-centric comedies that are raunchy these days. So I expected some crude humor, but what I found was by and large a clean film. As it turns out, it was rated PG-13, and mostly for scary imagery.
Which is an applicable point to end on, because as I watched the film in a matinee screening, the theater was full of kids with their moms. It got me thinking: These kids most likely have never watched the eighties version of Ghostbusters. They don't know what came before. And they enjoyed this for what it was.
I would submit that if this were the first Ghostbusters film—if there never were any eighties version for old-schoolers to hold on to so dearly—it would have gotten a much greater turnout opening weekend. Personally, I think it stands on its own as a good and fun film.
So to the angry fans who resent the new Ghostbusters, it's OK, you have your childhood memories. Now a new generation can have theirs.
Photo Credit: Columbia Pictures