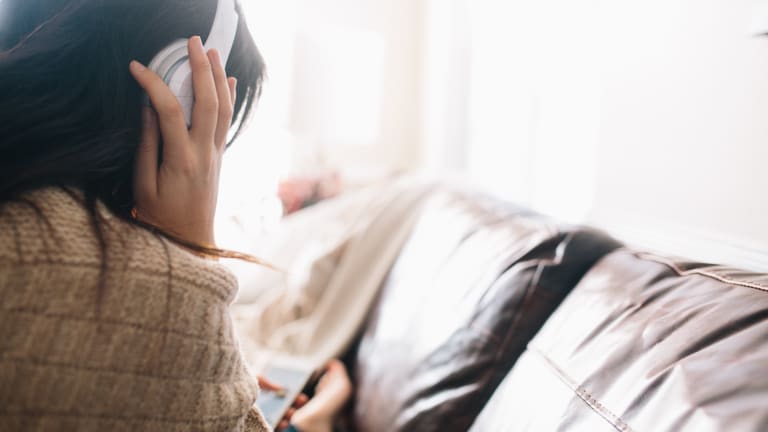 These Chart-Topping Sad Songs Could Actually Make You Happier, According to Science
Emo lovers, rejoice—and check out our favorite sad artists of the moment.
Sad male artists are having something of a moment in pop music right now. Yes, we've long had The Smiths and Radiohead and emo bands beyond counting. But right now a number of fresh male musicians are strumming their sad songs all the way to Billboard's Top 100.
Maybe it's because more people are starting to realize what we old-school, sad-song lovers have known for a long time: that listening to sad music actually can make us happier. Researchers at Tokyo University concluded that "unlike sadness in daily life, sadness experienced through art actually feels pleasant possibly because the latter does not pose an actual threat to our safety."
Whatever it is we glean from melancholy melodies, the new wave of male crooners shares a distinct repentant tone in its songs, a turning-the-corner feel. I'm sad because of my past mistakes, they almost say, but now I know better. Or I'll try better. If ever you're ready to press pause on Adele, here are just a few of our favorite rueful male singers on airwaves now.
Mike Posner 
Mike Posner returned to the Billboard list this year with a bang, releasing At Night, Alone, an album titled in such a way as to suggest when and how it should be listened to. The singer whose last hit song was the seriously catchy 2009 tune "Cooler Than Me" suggests in this new album that after that song made it big, a dark cloud of loneliness accompanied his newfound fame. As a result, we have songs such as "I Took a Pill in Ibiza" effectively saying that the partying and fun really left him feeling emptier than before. Even the remixed versions of the song still capture a resigned sadness in his voice, and if that weren't clear enough, his refrain exclaims that for all his partying and living it up, "all I know are sad songs."
"You don't wanna be high like me / Never really knowing why like me / You don't ever wanna step off that roller coaster and be all alone / You don't wanna ride the bus like this / Never knowing who to trust like this / You don't wanna be stuck up on that stage singing … / All that I know are sad songs, sad songs."
Later in the same album, though, Posner continues his prodigal son sound by turning to his mother, whose encouraging words he sings in the refrain of a song "Be As You Are": "Just be as you are / Life is not always a comfortable ride / Everybody's got scars that they hide / And everybody plays the fool sometimes, yeah."
All around a solid sad-boy album, even if it's as fizzy-pop sounding as a shaken-up root beer.
Twenty One Pilots 
Next among the top sad songwriters on airwaves today is Twenty One Pilots. The duo first hit airwaves in 2015 with its song "Tear in My Heart," followed by the more melancholic "Stressed Out." The album Blurryface, on which these tracks appear, just won them the album of the year award at the Alternative Press Awards this month, not to mention artist of the year. In "Stressed Out," musicians Tyler Joseph and Josh Dun sing of how growing up has brought them to a place of sadness and insecurity they hadn't expected.
"I was told when I get older all my fears would shrink / But now I'm insecure and I care what people think … Wish we could turn back time, to the good old days / When our momma sang us to sleep but now we're stressed out."
Later in the album on a track called "Polarize," Joseph sings, "I wanted to be a better brother, better son / Wanted to be a better adversary to the evil I have done," rounding out an album that evokes a sense of growing resilience amid the wreckage of past mistakes.
James Bay 
Continuing the list of the hottest tracks hitting sad notes on pop airwaves today is James Bay. Released last year on the album Chaos and the Calm, Bay takes his soulful voice to the minor key to sing his way out of wrong turns and a dead-end relationship. As he puts it in "Let it Go":
"I used to recognize myself / It's funny how reflections change / When we're becoming something else / I think it's time to walk away / So come on, let it go / Just let it be / Why don't you be you / And I'll be me."
Not unlike the other rueful singers on this list, Bay captures a sad sense that he can't continue living this way: "Trying to push this problem up the hill / When it's just too heavy to hold / Think now's the time to let it slide." That's right, brother! You're not alone!
Bleachers
This last choice may be the most chipper of them all, but it nonetheless captures the sad-boy-makes-good element found in each. Jack Antonoff (most known for his role as lead guitarist of the band fun.) started a solo project that resulted in the album Strange Desire. The biggest hit from that album was "I Wanna Get Better," in which Antonoff sings of coming-of-age sorrow:
"I chase that feeling / Of an 18-year-old who didn't know what loss was / Now I'm a stranger / And I miss the days of a life still permanent / Mourn the years before I got carried away / So now I'm staring at the interstate screaming at myself, 'Hey, I wanna get better!'"
He ends the song singing of a dream he woke up from about "how a life can move from the darkness." Few songs on the airwaves are as simultaneously remorseful and energizing as this.
In an age when glammed-up ideals of living "the high life" seem everywhere from reality TV to social media feeds, it's somewhat refreshing to hear songs that seem to say: been there, done that, didn't quite live up to the hype, but there's more to life. Everyone has moments of emptiness, and it's cool to hear these boys not ashamed to admit it. Maybe it's this element of acknowledging the dark moments in order to move to sunnier days that makes these songs so popular—because, enjoying their spots among the top songs today, clearly they're resonating with many.
Photo Credit: Death to Stock Photo