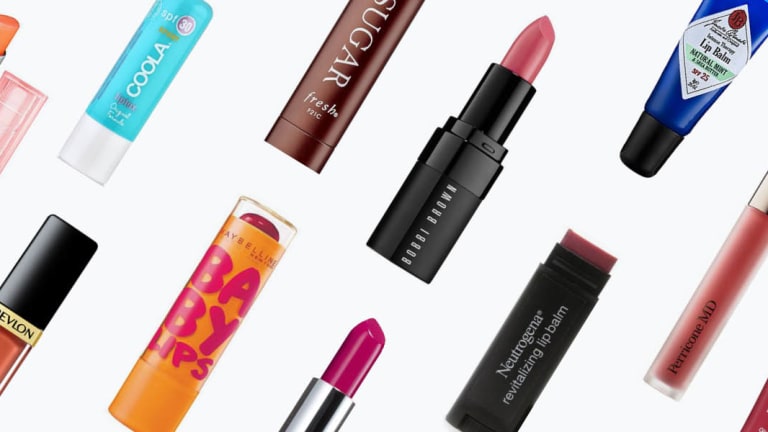 The Best Lip Balms, Lipsticks, and Glosses with SPF Protection
Your lips can get sunburned, too.
Going on your summer vacay or taking off for a weekend getaway? While you may have remembered to pack your SPF body spray, you might be forgetting to protect an area that is constantly exposed to the harmful UV rays: your lips. If you have ever felt the stinging pain of burnt lips after a long day in the sun, you know that SPF is vital for preventing short- and long-term damage.
SPF lip products aren't always easy to find, which is why we've rounded up our very favorite lip balms, glosses, and sticks to help you protect your kisser.
Lip Balms //
Blistex Raspberry Lemonade Blast SPF 15 // $1.70
If you hate that sunscreen taste, don't worry—the lemonade flavor makes it impossible to detect in this sweet stick. Rich in vitamins C and E, this ultra-smooth balm tastes like summer. At less than two dollars a pop, it's hard to beat.
Jack Black Intense Therapy Lip Balm SPF 25 // $7.50
With skin conditioners and antioxidants like green tea extract, this paraben-free balm comes in several varieties, including grapefruit and ginger or shea butter and vitamin E.
Coola Liplux SPF 30 Original // $12
This organic, hypoallergenic balm hydrates the lips with fruit butters like raspberry and avocado.
EOS Lemon Drop Smooth Sphere Lip Balm SPF 15 // $3.50
Spherical lip balms are easy to apply and perfect for digging out of your handbag. Enriched with vitamin E, shea butter, and jojoba oil, this one helps your lips fight UV rays and stay perfectly hydrated.
Tinted Lip Balms //
Neutrogena Revitalizing Lip Balm SPF 20 // $9
This SPF 20 tinted balm instantly moisturizes lips. The ground-breaking technology not only helps improve your lips' texture, but also restores the look of rosiness. A lip balm that naturally enhances your rouge even after you take it off? We'll take two!
Maybelline Baby Lips Moisturizing Lip Balm SPF 20 // $4
Don't be deceived by it's girlishly playful packaging! This powerful lip balm fights against UV rays while restoring your lips' health with all-day hydration. Now, who said lip protection couldn't be fun?
Dior Addict Lip Glow SPF 10 // $33
This balm highlights your natural lip color by reacting with your lips to create a unique-to-you tint. Enriched with mango butter and loofah extract, this tinted balm is worth the price tag.
Fresh Sugar Petal Tinted Lip Treatment SPF 15 // $24
This cult-favorite, sugar-sweet balm comes in sixteen beautiful shades. Black currant oil and real sugar give the balm its sweet flavor, while vitamins A, C, and E protect the lips from wrinkles.
Lipsticks //
Avon Beyond Color Lipstick SPF 15 // $8
Avon's Beyond Color Lipstick with SPF 15 uses caffeine to make your lips appear fuller while also protecting them against UV rays. We love Avon's variety of summery shades that offer a satin smooth finish at an affordable price.
Sonia Kashuk Satin Luxe Lip Color SPF 16 // $10
The award-winning SPF 16 anti-aging lip color by Sonia Kashuk isn't just about its luxurious texture. Lip-nourishing ingredients, such as brown seaweed extract, preserve your lips' elasticity, while peptides visibly reduce the appearance of wrinkles.
Bobbi Brown Rich Lip Color SPF 12 // $28
This rich, moisturizing SPF 12 lipstick glides on smooth with a unique, lightweight formula that combines pigments with a colorless lipstick base. The result is a long-wearing, crisp, lip color with full coverage that will keep lips moisturized for hours.
Wet 'n' Wild MegaShield SPF 15 Lip Color // $3
We are all about drugstore steals and this Wet 'n' Wild SPF 15 lipstick is definitely at the top of our list. Delivering a long-wearing lipstick of sheer-to-medium coverage that goes on buttery smooth, MegaShield also provides a formula that includes vitamin E, amino acids, avocado oil, and rice bran oil.
Lip Glosses //
Revlon Super Lustrous Lipgloss SPF 15 // $6
Lip glosses are notorious for their sticky feel, which is why we love Revlon's Super Lustrous Lipgloss SPF 15 that offers a silky application for a glamorous yet natural shine. The LiquiSilk formula has silk-enriched moisturizers plus vitamins C and E that work together to protect and keep your lips healthy.
Perricone MD No Lipgloss Lipgloss SPF 15 // $30
If your lips have experienced some sun damage, consider trying the anti-aging lip treatment serum by Perricone MD designed to nourish your lips. The "No Lipgloss Lipgloss" works double time to protect your lips from further sun damage with a mineral-based SPF 15. 
Colorescience Sunforgettable Lip Shine SPF 35 // $29
Science meets beauty in this high performance gloss! Colorescience Sunforgettable Lip Shine SPF 35 offers a formula of essential oils. The peptides stimulate collagen production, giving you a hydrated and healthy look. Now this is more than just your average gloss!
Neutrogena Moisture Shine Lip Soother SPF 20 // $6
This SPF 20 gloss hydrates, relieves, and protects dry lips whilst providing a beautiful high-gloss shine. If you're wondering what makes this gloss smell so delicious, the cucumber and chamomile extracts might have something to do with it.