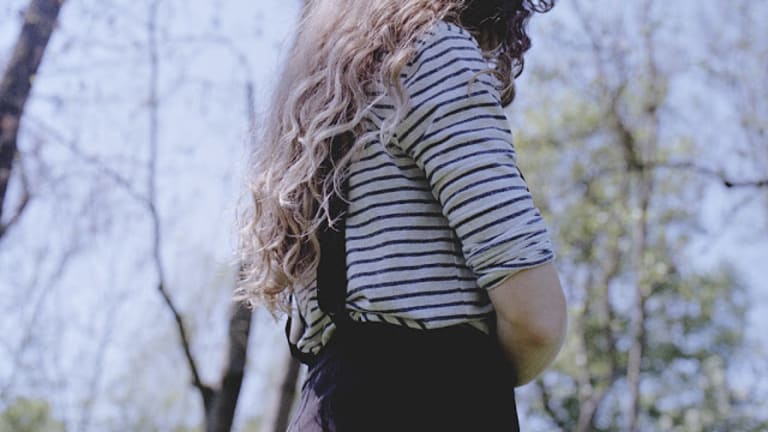 5 Ways We Can Teach Our Daughters to Fight Rape Culture
Whether mom or mentor, we can all help guide the next generation.
When the male character Kristoff in Disney's runaway blockbuster Frozen asked Anna if he could kiss her, most of us swooned at the romantic gesture.
But we also knew it was no accident. Of course it was a sweet moment, but more so it was a really respectful one—and directly aimed at criticism that Disney has faced in recent years over messages being sent to kids in its animated films. Disney classics such as Sleeping Beauty and Snow White and the Seven Dwarfs famously had princes kissing the princess to save her—while she wasn't even conscious. Some have criticized these movies for sending the message that consent isn't always necessary.
According to Dr. Christy Sim of the Kansas Coalition Against Sexual and Domestic Violence, it's never too early to talk to your kids about the importance of things like consent. When she and her toddler watch this scene from Frozen, for instance, they cheer every time. Considering girls are exposed to sexualized imagery earlier and earlier today, it's good to keep in mind some ways we can help combat problematic attitudes about women's worth and male sexual access (what many call rape culture) when it comes to the next generation of girls.
As we keep being reminded, if we don't teach our girls healthy scripts for relationships, often negative influences in mainstream media and porn will step in. According to recent studies, nearly a third of girls see their first pornographic images before they turn 13. Much-followed female pop culture icons are undressing on social media, which correlates with nine out of ten millennials saying they've sexted nude photos of themselves. It's clear that we owe it to each other to talk about all of this and to help guide younger generations into healthy lifestyles.
So, let's look at some alternatives, shall we? Here's a start.
01. Encourage authenticity.
It's always good to remind our girls of their individuality. And knowing the power of social and peer pressures to fit in, it's a good idea to make this an ongoing and intentional conversation. One way to remind them they don't need to look or act like anyone but themselves is to encourage them to embrace their own personal style and express their true feelings, even and especially when they're different from the popular trends. This also involves being aware that getting naked is not a real or healthy barometer for authenticity. The more affirmed we are in the beauty of our uniqueness at an early age, the more comfortable and self-possessed girls will be as they grow into women.
02. Don't romanticize men taking from or mistreating women.
It may seem obvious on the face of it that we shouldn't romanticize men mistreating women, but the thing about romanticizing things is that it's packaged very nicely—in other words, it is not always obvious. For instance, last year when a girl was playing on a playground and was hit by a boy, she was told "he probably likes you," as if that would somehow justify the action of hitting her. The outraged mom shared the story online, and it went viral for bringing great attention to how seemingly small gestures like that can contribute to unhealthy views on the kind of treatment women should expect from men.
In the same vein, Dr. Sim stresses to use occasions that come up as teaching moments for girls. For instance, watching Beauty and the Beast, viewers learn "there's something sweet, and almost kind. But he was mean and he was coarse and unrefined. And now he's dear, and so unsure, I wonder why I didn't see it there before." Probably because it's not a great idea to spend time with someone who treats you poorly. Well all love a good turnaround story, but this is also what leads a girl to think she can help a bad boy change, sacrificing herself in the process. It's on occasions like this that Dr. Sim encourages mentors to tell girls: "If someone is mean and coarse–rough and harsh … maybe they aren't someone we want to spend time with. It's up to you to make those kinds of decisions about who you want to spend time with. It's not romantic to be mean." A girl might not encounter a beast when she grows up but she might encounter a guy who puts her down, acts superior and tries to control her. Men should treat women with respect, and any man who doesn't isn't worth her time.
03. Hold others accountable for their actions (don't blame yourself).
Another timeless life lesson people of all ages can benefit from is to notice the difference between what's your responsibility and someone else's. In other words, cultivate healthy boundaries. It's a common phenomenon for women to feel bad for saying no to something, or to fear being viewed as being too harsh or assertive especially in relation to men. This phenomenon is important to combat for obvious workplace-related reasons, but it also applies in situations of sexual assault, because often girls who are assaulted by men feel somewhat to blame for it. Knowing that you are responsible for your actions and others are responsible for theirs from a young age helps combat this self-criticism in the face of possible abuse.
04. Be careful what you consume and who you spend time with.
Another big part of not buying into rape culture is not consuming the media around us that sells it. Dawn Hawkins, executive director of the National Center on Sexual Exploitation told me, "with popular TV shows like Game of Thrones ripe with sexual exploitation in every episode, video games like Grand Theft Auto where gamers can violently rape and kill female avatars, Calvin Klein's up-skirting, and gang rape ads contributing to the normalization and acceptance of sexual violence in today's culture, it often feels like young girls must simply accept rape culture as a part of their existence in this world."
In addition to limiting the negatives of what we consume, we can increase the positives. Spend time with people who make us feel uplifted and ourselves instead of "not enough." Mentors of girls today can "help them to see that their worth is tied to much more than their sexuality" and "teach them from a young age how to understand the lies in the media images thrown at them."
Hawkins, whose organization holds a yearly summit to address ways to decrease sexual exploitation, stresses, "this work to help protect, prepare and equip our girls and boys must now start before they even reach school age," because that's where the outside influences and peer pressure have increased roles in their lives. And as adults, we can refuse to "laugh at sexist jokes, don't buy movies or songs that promote rape culture, say something to a store manager if they are selling sexually explicit magazines, and so on. Recognize that creating a better world for our sons and daughters means that we cannot remain silent and expect others to carry on this work."
05. Keep lines of communication open.
When speaking with more than seventy girls and writing her book Girls and Sex, journalist Peggy Orenstein noted that "fully half of the girls had experienced something along a spectrum of coercion to rape.... Only two had previously told another adult what had happened." But those very girls felt comfortable telling Orenstein about them when she asked them point-blank.
Let this serve as a reminder to women everywhere—let's not be afraid to ask the girls who look up to us: Have you ever felt pressured to do something you didn't want to do? Has anyone ever crossed a boundary you set? We have a priceless opportunity to hear them out and remind them that if they've been mistreated by others, they didn't deserve it and it's good they told you. Keep lines of communication open especially during the teen years when pressures to be cool and mood swings can peak around the same time and create a perfect storm of misunderstood feelings. So simply knowing there's an adult they can turn to, talk to, and trust will check up on them can go a long way in reminding girls they matter.
Obviously, this is far from exhaustive, but it's a good start in terms of healthy alternatives to the sexualized messaging around us. We can all choose to be more intentional about the kind of messaging we accept and choose to reflect. Here's to accepting the challenge.
Photo Credit: Tina Sosna