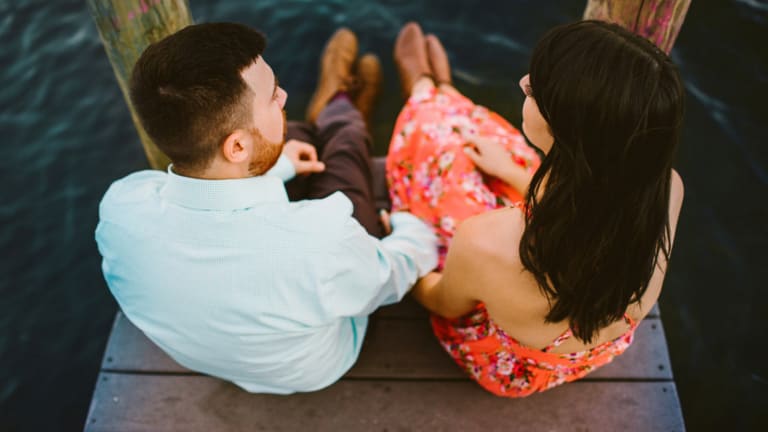 How to Boost Your Marriage In One Weekend
You don't have to leave town to prioritize your relationship.
In the lead-up to getting married, young brides get a lot of advice—most of which goes in one ear and out the other. But fear not, those nuggets of wisdom will hit you in the back of the head a few months after your honeymoon. At least, that's how it's been going down for me.
It's been four months since my husband Joe and I said "I do," and with each month that goes by, those little lessons from our pre-marriage prep have been working their way back into our consciousness and finally making sense.
It may seem like a silly thing now, and it did for me at the time, but one of the best pieces of advice Joe and I received from a marriage prep counselor was to take a staycation a month after our honeymoon to spend one-on-one time together. It was Peter McFadden, Verily contributor and marriage counselor, who told us to schedule a mini honeymoon—right in our own apartment if need be—to reconnect and recalibrate.
At the time that sounded nice and everything, but it hardly felt applicable to us. We always had plenty of quality time together, so why would we need to plan more?
But it turns out that married life does eventually start to feel like just an average day, and one average day after another can get in the way of quality connection and romance—even when you are sharing the same bed. Luckily, Joe and I knew what to do.
You don't have to plan an exotic getaway in order to take a break from the noise of your average day. With a little planning and commitment, you and your man can reconnect and come back to life with your romance refreshed without ever leaving the comfort of your own home. But before we get started on planning your perfect romantic staycation, keep these four principles in mind.
Shut it off. 
This is the most obvious ingredient for a relaxing escape, but also the hardest to pull off. Tell your friends you are "out of town" this weekend and mark yourself "away" on your calendars. Next make a pact that you both will silence your phones and log off your Facebook apps. Your phone is now only for GPS and cute selfies (that you will save to post until after you return from your romantic getaway). 
Make your time together meaningful. 
Don't forget that your staycation isn't just about taking a break from the daily grind of your average day, it's also a retreat from your typical conversation. Bills, scheduling, and laundry have no place here! 
Make a point to reminisce about your honeymoon, reflect on your relationship now compared to what it has been in the past, take the opportunity to express gratitude for one another (be specific) and ask for forgiveness for mistakes or failings. Create a new plan to help meet one another's expectations and satisfy your needs. 
Create ambiance. 
This step is essential to a true staycation getaway. Without a concerted effort toward ambiance, it's harder to detach from your to-do list and mentally get away. Clean up before the staycation so you aren't distracted by messes all weekend. Change the sheets, so your bed feels fresh like a hotel. Don't just have dinner together. Dim the lights, light candles, cook something special—linger over your meal with a soup before and a dessert after.
Plan ahead.
Nothing makes a date feel special like a little forethought. How do you want to spend your time together? What will make your staycation feel special? Maybe you plot out a picturesque hike and gather everything you need for a decadent picnic?
No need to schedule yourself out of spontaneity and relaxation, but a loose itinerary will help you and your guy stay focused on each other.
To make your time memorable, tap into your creative selves by going to a local pottery class. Or maybe you like a little mind game, in which case a scavenger hunt is perfect. Each of you hides items around town with clues that relate to your own history with each other. Some of my other favorite special date ideas include taking dance lessons, or for the more outdoorsy type, going for a long, leisurely bike ride. Last but not least, use your staycation as a chance to finally splurge on dinner at that restaurant you've been dying to try. Get dressed up, make an effort to have great conversation, and enjoy each other's company—plain and simple! Any activity can be fun as long as you're both in it together.
 Photo Credit: Shannon Lee Miller