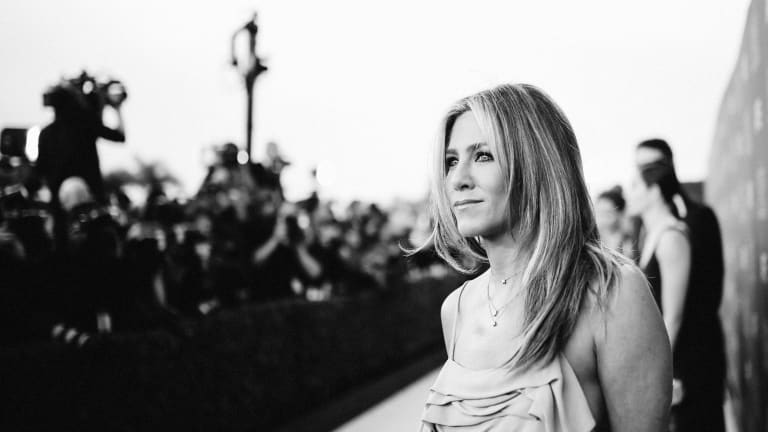 Jennifer Aniston Reminds Us That We Have the Power to Consume Consciously
The Friends star really got us thinking with her open letter.
For a solid decade now, America has been obsessed with Jennifer Aniston's womb. Would she and Brad Pitt produce an heir equally as famous and gene-blessed as them? And post-divorce, every time Aniston was seen with a male, a headline soon followed that she was marrying him, having his baby, or both.
Now the 47-year-old actor is married to fellow actor Justin Theroux. And when the June cover of InTouch Weekly stirred the pregnancy pot for the millionth time, speculating about photos of the couple from a vacation in which Aniston's stomach looked ever so slightly fuller than usual, the rumors felt more real than they ever have before.
But after being congratulated on her phantom pregnancy one too many times, Aniston drew a line in the proverbial sand and said enough is enough. She penned a scathing critique of celebrity culture, female objectification, and America's idolization of motherhood, and all we can say is wow.
Fed up with being taken for a pregnant woman when, really, she looks like a normal one, Aniston voiced her frustrations on a blog entry for the Huffington Post this week. She's never addressed pregnancy rumors before, but she decided to speak up, she said, because the issue extends far beyond her and her post-lunch belly.
"If I am some kind of symbol to some people out there, then clearly I am an example of the lens through which we, as a society, view our mothers, daughters, sisters, wives, female friends, and colleagues," she wrote. "The way I am portrayed by the media is simply a reflection of how we see and portray women in general, measured against some warped standard of beauty. Sometimes cultural standards just need a different perspective so we can see them for what they really are—a collective acceptance . . . a subconscious agreement."
We can all nod our heads and concur that tabloids are petty and exploitative. But where do they come from, and who are they catering to? Both questions are posed not just to the media but to all of us consumers as well. It can be easy to assume that celebrities aren't bothered by the press they get or that it's just the price they pay for all their privileges. And we often think our consumption of this media makes no real difference in the world.
But Aniston is proving us all wrong. She hears it, and she cares. And we should, too.
Celebrity news focuses an inordinate amount of time and energy on women's bodies rather than their whole persons because really that's how we see all women. In Aniston's case it's not enough that she's beautiful and successful—to be our true idol we must also will her to be a mom. We treat both beauty and motherhood as the crowning achievements of any woman. But as her letter proves, not all women want children, and many aren't able to have them; they shouldn't be seen as "less" for that.
While Aniston recognizes that tabloids will (unfortunately) continue on and cash in on our lust for pretty faces and fresh gossip, what can change is how we sift these ideas in our minds. Celebrity news only serves us what we want to see. In it we hold up a mirror to ourselves and what we value as a culture. So let's reject the sordid news cycle. If consumers stop devouring their sleazy offerings, maybe the tabloids will be forced to offer up something of more value.
Photo Credit: Getty