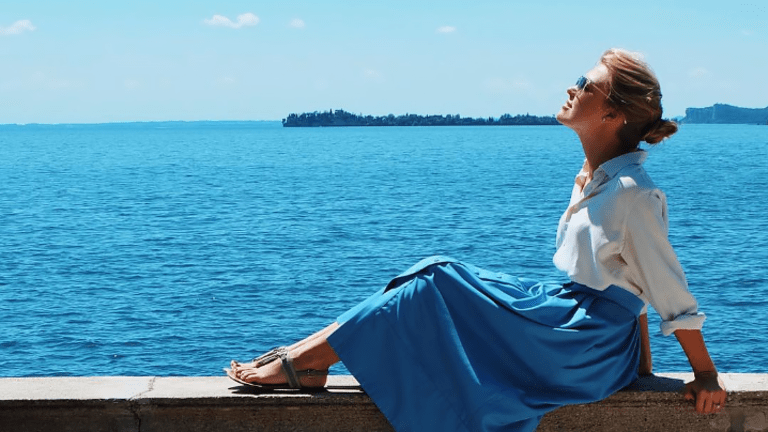 Elegant Italian Style Secrets You're Going to Want to Learn ASAP
Bring the Amalfi Coast home to your wardrobe.
Crystal blue seas. Quaint and colorful cliffside villages. Plates brimming with langoustine pasta. We challenge anyone to think "summer in Italy" and not be awash with visions of a glamorous yet impossibly simplistic lifestyle.
And what's the hallmark of that dolce vita we all daydream of? For starters, a feminine style that transcends any other. The Italian woman, not unlike her Parisienne counterpart, commands an outfit with ease. And we could all do well to take a few cues from her.
You may not be donning designer clothing and zipping around on a Vespa, but you can imitate Italian allure in a way that works for your own style. Here are five things the unapologetically fabulous Italians have taught us so that we can say ciao to chasing trends and buongiorno to timeless elegance.

01. Carry your look with confidence.
Besides beautiful fashion and great food, there's one thing that ties all Italians together: confidence. They have a true pride in their country that gives them an air of certainty and determination. Italians know that, while it's very important, style isn't everything. In other words, it's not just about your clothing and makeup—it's about how you present yourself.
Take the opportunity this summer to explore your own style and cultivate your confidence. Whether you're in the grocery store or strolling on the beach, tell yourself that you're beautiful, that you're intelligent, that you're unique. The Italians prove that loving yourself translates into looking good all the time. If you're second guessing that experimental outfit you've been wanting to wear all summer long—just do it. Throw on those statement heels, and walk as though you're shopping in Via Montenapoleone.
02. Don't worry about perfection.
With all their confidence and boldly feminine fashions, an Italian woman knows that perfection is a silly ideal to chase. With dark hair cascading down her back in every which way and not a hint of contouring makeup on her face, she is naturally beautiful and cares little of her imperfections. Let's just put it this way; does an Italian woman worry about how many calories are in her plate of fettuccine? Of course not! She's far too busy living life. 
Freed from internal expectations to look flawless, she wears exactly what she pleases which allows for more creative and authentic fashion choices. A rumpled blouse half tucked into a glittering gold skirt, a chic messy bun, or sneakers worn with a dress, Italian women show us that true style is not about the unattainable pursuit for perfection. Fashion is the platform through which they unabashedly celebrate their natural selves. 
03. Flatter your body.
If you're looking to snag Italian style, the most important thing to keep in mind is flattering your shape. Italian women are always conscious of flattering their figure. Italian women know that a flattered body is always in style and choose their clothing based on this principle. This results in an overall more feminine style that revolves around the classically figure-flattering silhouettes of pencil, circle, and maxi skirts or dresses. Channeling Italian style truly means embracing your natural beauty and accentuating your best features.
To adopt this approach to your wardrobe, begin by learning about your unique body shape. Learn which dresses, skirts, jeans, and tops complement you most and begin focusing on those items when putting together your everyday outfits. Traditionally flattering pieces definitely don't mean a boring wardrobe. To really embody the Italian bella donna style, choose items in bold colors and fun patterns like street-style queens Gilda Ambrosio and Giorgia Tordini did above.
04. Have fun with your style.
On the streets of Milan, New York, or anywhere for that matter, you won't see Italians rocking normcore styles. There's nothing wrong with minimalistic style, but when in Rome (or your home city) you've got to embrace a little elegant excess. Your goal is not to blend in but rather to stand out. Giovanna Battaglia is the ultimate example of how Italians embrace fashion with joy and playfulness. Kooky patterns, contrasting colors, daring ruffles; it's all about having fun with fashion. There is a reason why Italians are the masters of couture.
If you're nervous about going all out, begin by practicing tasteful extravagance and craft your outfit around one statement piece, like a colorful clutch or huge earrings. Let your girlish love for all pretty things shine through, and choose accessories that make you smile. Don't be afraid of rocking unconventional details such as embroidery, metallic touches, retro patterns, or even sequins. Try mixing and matching your accessories and pair contrasting bracelets together to add wild flair. The look you're going for is cohesive eclectic.
05. Transcend trends.
When thinking of Italy, three things come to mind: beautiful cities, sophisticated fashion, and good food. Yes, Italians know how to keep up with the trends—because they practically start them—but they also know that some styles outlast all fashion week fads. To them, clothes are not a means to seek uniformity, but a form of speech to express individuality. Miuccia Prada was right when she said, "Fashion is instant language." Italian women are known for being bold, loyal, and passionate and their style communicates this. So forget about wearing trends to fit in with the crowd, your style is a chance to show the world who you really are.
Dressing to express your personality is a tall order. So begin by steering clear of fast fashion stores that function on a trend-to-trend basis. Take a trip to your local thrift, consignment, or vintage store and peruse through the racks. Without the mass produced trendy items confusing how you make fashion choices, your personal tastes finally will emerge and you will be naturally drawn to clothes you genuinely love. Allow patterns, colors, prints, and styles from different decades to inspire you. Ask yourself if the items truly express your personality and only buy things that will make you excited to get dressed every day. Slowly, but surely, you will start to embody the essence of the Italian woman in your own right.