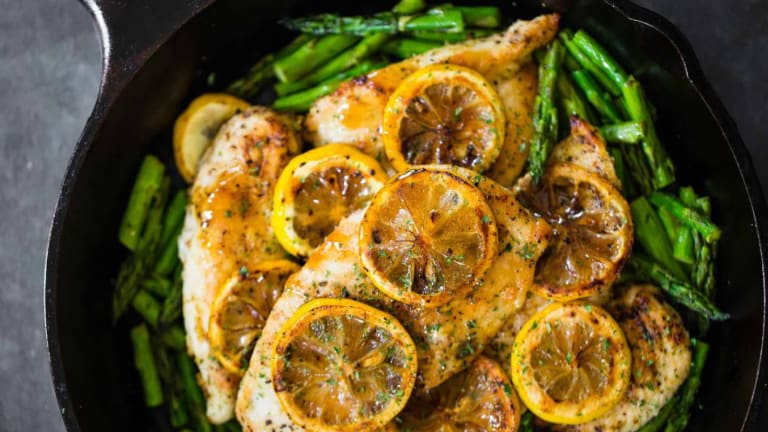 10 Easy Dinners You Can Make with Ingredients You Already Have
Take the stress out of meal planning with these awesome ideas.
After a long day, the last thing anyone wants to do is make dinner, which, unfortunately, leads to boxed mac and cheese or instant ramen. While cooking may be hard, eating healthy can feel even harder, taking more prep time and ingredients.
But it doesn't have to be that way. Eating fresh and nutritious food won't break the bank or swallow up your entire day if you reserve a few "fridge cleaning" recipes in your back pocket. Here are some quick and easy meals from our favorite food bloggers for those days when you don't want to slave over the kitchen stove, but want to use up ingredients you may already have in your pantry or fridge.
01. 4-Ingredient Basil & Tomato Soup by A Virtual Vegan
Need a break from canned or boxed soup? This Easy Vegan Tomato Basil Soup by A Virtual Vegan will have your mouth watering before it's done. It's a good thing it only takes twelve minutes to make. This smooth and creamy soup is worth the (short) wait.
02. Chicken Stir-Fry with Asparagus by Rachel Schultz
This tangy stir fry by Rachel Schultz is a super-quick and simple way to get protein and a ton of flavor into your meal. If you're not in the mood for chicken, substitute it for your protein or vegetable of choice: tofu, broccolini—whatever you have on hand! Heap it onto a bowl of hot white or brown rice, and you'll have a dinner that leaves you full and satisfied (and maybe even some leftovers for lunch the next day).
03. BLEAT Sandwich by Pip and Ebby
This creative new twist on a classic is just the thing for someone who wants something other than the good old BLT. Pip and Ebby's BLEAT Sandwich (that's bacon, lettuce, egg, avocado, and tomato) elevates the everyday with a runny yolk and smooth avo. Switch it up with microgreens, banana peppers, kimchee, hummus, or whatever delights you find on fridge cleaning day.
04. Easy 3-Ingredient Black Bean Soup from Honey and Birch
If you're not in the mood for a trip to the grocery store, this black been soup from Honey and Birch may be the dish for you. All you need is two cans of black beans, broth, a can of diced tomatoes, and you're ready to go. Combine all the ingredients into a large pot and blend. Top with cheese, chives, salsa, sour cream, or guac to your heart's content!
05. Grilled Caprese by Dinner at the Zoo
Why settle for a boring old grilled cheese when you could have something ten times better in the same amount of time? Dinner at the Zoo's Grilled Caprese is a classy version with mozzarella, tomatoes, avocado, and basil. If you can't find any of those ingredients in your fridge—don't fret, there's plenty of room for variation here. You can pair cheese with any meats, fruit jams, veggies, and herbs you find. Whether it's a Portobello mushroom, chives, and Swiss or strawberry, mint, and brie, this is sure to be your new go-to comfort food. Experiment!
06. 5-Ingredient Lemon Chicken from Pinch of Yum
If you need to make a dinner for guests in a pinch, this 5-Ingredient Lemon Chicken from Pinch of Yum has got you covered. This zesty dish can make it to your table in twenty minutes, so you don't have to keep your guests waiting. Don't have asparagus on hand? Substitute it for your favorite veggie—broccoli, Brussels sprouts, green beans, green peppers—you can't go wrong with these flavors.
07. Green Goddess Quinoa Summer Salad from Pinch of Yum
Looking for something good for you and still delicious? Then get ready for another dinner winner by Pinch of Yum. This Green Goddess Quinoa Summer Salad is sure to wake you up on a lazy, low-energy day. Although the recipe calls for cherry tomatoes and spinach leaves, don't be afraid to get creative. Lindsay, the brains behind Pinch of Yum, says this salad is great for your "Fresh Start Monday craving"—and holds up for the rest of the week. "You can add or swap just about anything to this summer salad, and it's going to be great. Trust me because I've added every possible thing that I could have ever found in the fridge—pickled onions, crushed almonds, fresh sweet corn, Sriracha, beans, leftover grilled brats, more veggies . . ." You get the picture.
08. Garden Fresh Tortellini Salad from Averie Cooks
If quinoa isn't really your thing, try out this Garden Fresh Tortellini Salad from Averie Cooks. This vibrant and fresh pasta salad is the perfect dish to bring to a dinner party or eat on the back patio on a warm summer night. Again, feel free to throw in those fridge "rejects"—it'll only make this dish even more delectable!
09. Sausage, Potato, and Green Bean Foil Packets by Damn Delicious
These Foil Dinner Packets by Damn Delicious are a lifesaver when it comes to making dinner in a pinch. Instead of popping a pre-made frozen meal in the microwave, wrap up your protein and chopped veggies of choice in a sheet of tinfoil and throw it in the oven! The ingredients concentrate, creating something intensely juicy and flavorsome. The best part? There's virtually no cleanup! When your food is done cooking, just trash the foil and sit down to a well-deserved meal.
10. 5-Minute Pita Pizza by The Baker Chick
The Baker Chick's 5-Minute Pita Pizzas are the ultimate food when it comes to using up those odds and ends. All you really need is pita or flatbread and tomato sauce. The rest is up to you! Top your mini pizzas with mushrooms, anchovies, pineapple—or just plain old cheese. There's no going wrong with a meal this simple. Host a make-your-own-pita-pizza party with friends, or enjoy on Netflix nights.
Try one of these next time you're in a "But I have nothing to eat!" emergency. Or let us know what you like to whip up on the fly in the comments below.