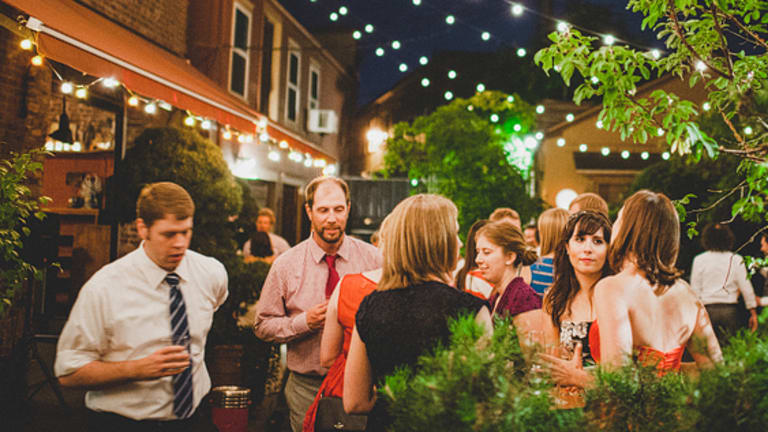 Up to Date: 8 Tips Real Women Use to Meet Great Guys When 'Getting Out There' Just Isn't Cutting It
So you thought that doing things you love would lead to more dates? You might want to try these tips instead.
When it comes to dating, things are never as easy as they should be. From trying to figure out where to meet nice guys to navigating a budding romance, dating can often feel like too much to handle on your own. So we asked some smart and savvy women to give us their takes on modern dating.
Any woman who has lived in a city long enough knows that after you have found a social niche and dated around a bit, the well can start to feel a bit dry. Where do you go to meet men when your routine seems to put you in front of the same ten unavailable or undateable guys every day?
Most people will tell you to "get out there!" (What does that even mean exactly?) The rest will advise you to "pursue a hobby you like and meet similar people through that." Am I the only woman out there who found myself wishing I had a passion for men's pickup basketball?
It seems to me that simply "doing what you love" isn't necessarily going to put you in front of dateable men. There must be a bit more strategy involved in eyeing a good guy. 
So ladies, my question for you is this: How do you enjoy yourself while also leaving the door open to meet a potential boyfriend?
Christina: Expand your horizons. 
When I moved to Arizona in 2014, I wasn't exactly what you would call an "outdoorsy" girl, but because there are so many great trails in Phoenix, I decided to give it a try. I discovered that I actually do enjoy the outdoors. After my first 6 a.m. hike up Camelback Mountain in 100-degree heat, I was hooked.
I'm thankful that I gave hiking a try, not only because it became one of my favorite forms of exercise and beauty-seeking, but also because it was the perfect first date activity to suggest to my now-boyfriend when we met. I had no idea that he loved hiking but later found out that he was pleasantly surprised that it was my first suggestion. He grew up in Alaska and loves the great outdoors, and hiking quickly became one of our favorite things to do as a couple. I love the fact that I discovered my inner outdoorswoman before we met because it's our thing instead of just his thing.

Maggie: Hang out with your married friends.
I've been told that I need to hang out with more single people, that I need to make more friends who are like me. Perhaps you've heard the same advice?
Here's the thing: I really enjoy spending time with my married friends, and I've actually found that hanging out with them has helped me meet some great guys! I'm in my mid-20s, and more of my friends are married now than not. My girlfriends have married truly wonderful men. It only makes sense that their husbands are friends with some other legit—and single—men.
One couple I love once invited me out with their friends, secretly hoping to set me up with a guy. I went out and was surrounded by couples—but so was the one other single guy who came. Naturally he paid special attention to me and ended up asking me for my number.
The experience showed me that participating in the activities I enjoy, with the people I love (regardless of their marital status), does in fact allow me to meet a quality guy. Bonus: If the guy is already friends with one of your friends, then you can trust he's been vetted. 
Taylor: Don't go anywhere with the goal of meeting a guy.
When sending yourself out into the world—whether it's to an event, a cooking class, a bar or a new office—don't go into it with the sole purpose of meeting a single guy. Not because you won't, but because if you don't, you'll end up feeling disappointed or bad about yourself for no reason.
As someone who currently lives this reality every day, I've benefited a lot from adjusting my definition of being "out there" and "trying." I read a great book earlier this year called Meeting Your Half-Orange. The book is built around the concept of "Dating Optimism," and at the beginning essentially asks the reader: "What would you do with your life and your time if you knew for certain that you would meet your Mr. Right in the next year?" 
There are all kinds of mentality components to the book's advice, but my biggest take-away was that it's not just about "going out there and doing you" but also feeling as good about yourself as you can in every choice you make and then making a conscious effort to radiate those good vibes everywhere you go, because others will pick up on them.
Cut yourself a little slack the next time you decide you'd rather stay in and host a solo Downton Abbey marathon on a Friday night than meet your friends at a bar. Rather than changing your life around in hopes of meeting a guy, try changing your attitude about how you already live.
Erica: Smile.
I don't do it on purpose, but I have come to realize that I have a slightly smiley resting face. I don't really intend to be smiling all the of the time, but I am really grateful for it because it makes me seem open to talk to strangers. So when I'm going about living my life and doing things that I enjoy, people talk to me.
Once I was riding my bike and noticed a guy in front of me and didn't think anything of it really but gave him a polite smile. Then later that night I saw him again on my way home. We got stopped at the same red light and chuckled that we had seen each other earlier. We started chatting, he asked me where I had gone, and then when we had to part ways, he asked for my number, and we went out a few times.
We can all get so caught up in our phones and looking down (myself included) that we forget to interact with the people in our everyday lives. It's really refreshing to engage with those around you and the tiniest smile (literally mine is just an upward curve of my lips) tells a guy that you're available to talk to!
Christina: Don't be afraid to fly solo.
As anyone who has ever watched a group of teenage girls knows, women like to travel in packs. There's safety in numbers, and if you go to a party or a club with a girlfriend, you know that even if the guys end up being lame, at least you can laugh about it with someone later. In my experience, however, there are times and places when your chances of meeting a dateable guy increases when you go it alone.
As a high school teacher and overall nerd, I have the opportunity to go to a couple of work-related conferences each year, and I usually don't go with a group. Being alone at events like this gives me a really good excuse to introduce myself to that cute guy I eyed during the break without feeling like a weirdo. If you are in a safe environment, try branching off on your own and making conversation with the cutest guy in the room. Why not take the risk?
Maggie: Go to weddings without a plus-one.
I love attending weddings, but I've never been to one with a plus-one. I've been doing so for years because it is something I enjoy. But guess what, you can also meet nice guys at weddings!
Meet a man at a wedding? Cue the eye roll to this total cliché. But, guys, I am here to tell you it works. It happens. I met my boyfriend at a wedding last year. 
I wouldn't suggest going to a wedding with the hope of meeting a man. But if, like me, weddings are an event you enjoy, then go! You don't need a man on your arm to have fun. And who knows, you may walk away with a new date just by being yourself and having a good time.
Taylor: It's all about the parties.
I don't want to rain on this whole "do the things you enjoy to meet a guy who also enjoys doing them" parade, but that has literally never worked for me in fifteen-odd years of dating. Seriously.
I've played on an after-work indoor soccer league. I joined a non-profit volunteer group of young professionals. I go to the concerts of bands I love. I ski, hike, bike and travel in my free time. I've never dated a guy I met while doing any of those activities—and I don't think that's a bad thing! (I never feel my cutest when I'm wearing five layers of ski gear anyway.)
That being said, I truly believe that being "out there" is all about parties. Birthdays, housewarmings, launch parties, barbecues, and yes, weddings—you name it—this is where the action is. Personally, I thrive when I'm a guest of a guest. That is, I tag along to parties where I probably won't know many people, but those people are sort of loosely tied to my social circle. Your closest coworker's friend is having a rooftop party? Sure, you'd love to go. Your roommate's brother's birthday? You are so there. Invited to a wedding without a +1 and you won't know many people? RSVP yes!
These kinds of parties are a way to make that whole "he's a friend-of-a-friend" thing way more realistic. When you don't know the entire guest list, you'll feel much more empowered to initiate conversations, introduce yourself to strangers and let go of some of those (perfectly normal) inhibitions that might hold you back from keeping eye contact with a handsome stranger for just one second longer...
Erica: Try hosting. 
Most of my favorite activities are not real hot beds for available men, so "getting out there" hasn't been a super successful endeavor for me. I have, however, found that sometimes all it takes is an invitation and guys really do just show up at your door!
Let me explain. One of my all time favorite things to do is host people in my home. I love to carefully decorate my house with treasures I find at yard sales and flea markets. I love to sit in the living room and imagine how other people feel when they sit here. I love that when people walk in they often say, "wow, your place is so inviting." My brother and I live together and we have an extra bedroom so we decided to list it on Airbnb; we knew we could make a little cash, meet really awesome people who would stay with us from all around the world and have a home to share with others.
It never crossed my mind that I might meet a handsome man this way. One Friday afternoon, I was rushing around to get the beds made for two guys that were coming from San Francisco. I was sweating, hadn't showered in a few days and had on overalls. I turned the corner to see one of the most handsome men I've ever laid eyes on standing in my doorway. I blushed and got really chatty (which is what happens when I try to be flirtatious). I knew I couldn't make any moves (he would be rating me on Airbnb after all), but I invited them out with me and my friends that night. We got to know each other over morning coffees and sitting on the couch chatting. Turns out he felt the same thing in the same moment that he walked into my house that first day.
So I guess what I'm saying here is that there is opportunity to meet men by opening your home to friends and strangers. Maybe you don't want to put your house up on Airbnb, but the art of hosting is a gift in more ways than one.
Photo Credit: Manchik Photography