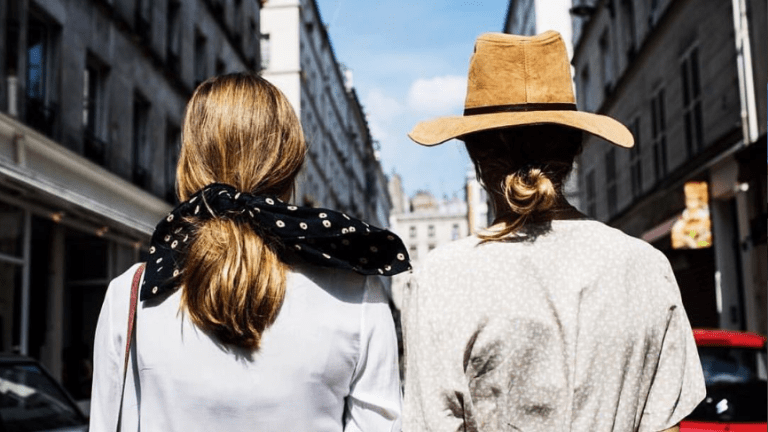 Dreaming of Paris? Add Some Feminine French Style to Your Wardrobe with These Easy Tips
Channel your inner Parisienne to beat the summer heat.
Copying French fashion is great for any time of the year, but the très chic uniform of the Parisian woman is especially appropriate during the summer. The simplistic, comfortable, no-fuss style is ideal for staying cool in hot weather. Less is definitely more when battling humidity, so we're eager to take a page from all our Parisienne friends' proverbial wardrobe book. French style can be yours—just follow these easy tips.
Top Off Your Outfit with a Sun Hat
Gazing at the Eiffel Tower is better when wearing a wide-brim straw hat. Women traversing the River Seine have mastered this often-forgotten accessory by incorporating it with casual classics for an upgraded ensemble. Practical and fashionable, the boater hat will keep the sun out of your eyes and your outfit on point.
Scroll left or right to shop the look: 
Stay Feminine and Comfortable in a Loose Dress
When not wearing relaxed button-ups and boyfriend jeans, the French woman embraces her feminine side with soft, deconstructed dresses. Forget restricting bodices and curve-hugging fits. A loose, breezy frock in cotton or silk perfectly suits the need for comfort while maintaining that je ne sais quoi. When out for brunch with friends or running errands during the peak of the summer, we can't think of a more breathable option.
Scroll left or right to shop the look: 
Get Nautical with Breton Stripes
How could we leave out the classic Breton striped top? These nautical stripes are a French wardrobe staple and perfect for embracing the spirit of summer. So whether or not you're actually on a sailboat in the French Riviera, the Breton top is an easy way to incorporate the effortless and timeless style of the Parisians while remaining comfortable.
Scroll left or right to shop the post: 
Stay Stylish Down to Your Toes
Parisians and bikes are an iconic combo. When taking on your favorite city, take a cue from the French, who perfectly blend comfort with style. Rather than sticking to your go-to sneakers, try a pair of espadrilles or strappy sandals. That way, once you're done sightseeing, you'll be café-appropriate.
Scroll left or right to shop the post: 
Move Freely in Relaxed Fits
A French woman battling the summer in skintight pants? That's a sight you won't see along the boulevards. Now is a better time than ever to make loose-fitting trousers a staple in your wardrobe. Ventilation is key for beating the heat, so make like a Parisian and choose relaxed fits.
Scroll left or right to shop the post: 
Embrace Minimalism
There's nothing more modern and French than a "borrowed from the boys" crisp white button-up. Thankfully, this is the easiest and cheapest look to snag. Nail the casual styling by haphazardly tucking it into your belt and pushing up the sleeves. The best part about this look? No ironing necessary.
Scroll left or right to shop the post: 
Messy Hair? Don't Care
Blown-out locks and well-coiffed hairstyles during a heat wave? No way. Do it the French way, and embrace your messy summer hair. If humidity is giving you some extra waves, just go with it. An effortlessly thrown-back sloppy bun, a ponytail with whimsy flyaways, or just hanging loose—liberate your natural state and rock the bed head.
Scroll left or right to shop the post: