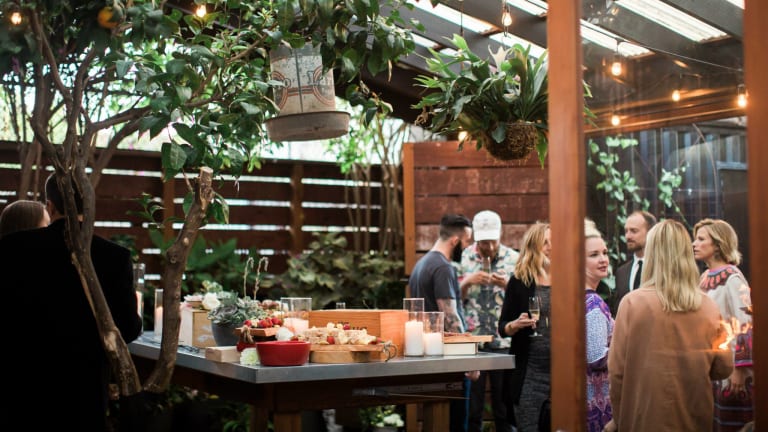 5 Things You Need to Remember If You've Moved Around a Lot
Anywhere can feel homey if you make the effort.
City living can be daunting. Since moving from a small town in the Midwest (Tipp City, Ohio) a decade ago, I've traversed the terrains of San Diego, New York, and Los Angeles in pursuit of creative jobs from film to fashion. Given my transient living situation, "permanence" hasn't always existed in my vocabulary. Home, as I knew it, became a place I visited once a year for the holidays.
Maya Angelou once wrote, "The ache for home lives in all of us. The safe place where we can go as we are and not be questioned." As my career has taken various twists and turns, this ache for home has grown more acute. Instagram and Skype help fill the void, but a desire for permanence is creeping up on me.
Researcher Becky Pettit from Princeton's Center For Research on Child Wellbeing found that the desire for permanence is a necessary part of a person's ongoing formation, beginning as children. Pettit reports that moves, especially early in life, can have profound affects on us as we struggle with the loss of social capital. Pettit writes that social capital refers to relationships between people or communities, which, "like economic or human capital, may be used to foster skills and capabilities of children." According to Pettit's and other researchers' findings, residential mobility, "disrupts social capital by breaking ties between parents, children, and other members of a community."
I'm ambitious and brimming with wanderlust, but I'm also growing convinced of the importance of building permanence, whether my stay be for a day, a month, or five years. When I decided to approach "home" with this new mindset, it was no longer specific to a certain house or collective of people. It involves consistency, fostering opportunities for authentic human connection, and learning to love your sense of place by leaving it better than you found it.
If you too find yourself in an unfamiliar place or are still trying to feel settled, here are a few ways I've made the various cities I've lived in feel like home even though I was two thousand miles away from my family.
01. Tradition! Tradition! Tradition!
"And how do we keep our balance? That I can tell you in one word: tradition!" Tevye sings in Fiddler on the Roof. It may sound old school and boring, but there's wisdom and truth in it.
Midwest living, for instance, once felt so slow and uneventful. Call it stereotyping, but we do love our front porches, bringing pies over to new neighbors, bowling on Saturday nights, and dipped cones from Dairy Queen. The unwavering consistency was a point of frustration at times, yet it seems to be exactly the thing I'm craving now that I'm in the midst of constant change and unpredictability.
I decided to start encountering the city through the eyes of my Midwestern self again. In the midst of the day-to-day, find moments to start new traditions or bring back ones from your childhood. Sunday brunch potlucks? Jazz Wednesdays? Weekly bike ride to the donut shop? Invite one person and have them bring another, and see how the ritual grows!
02. Lure the like-minded.
Consider participating in a weekly group with like-minded people to study or do an activity around a shared point of interest. Sure, commitment sounds intimidating because our city schedules change all the time, but a few rounds of sticking to a routine with the same interesting people can be incredibly rewarding. Vino and Plato? Hiking and history Meetup? Studies on great and obscure artists? This is a great way to forge a bond with an acquaintance by asking them along or to make all new friends once you're there.
03. The neighborhood bulletin isn't as lame as you think it is.
Call me a nerd, but I love learning about my neighborhood through the locals. I've signed up for my community newsletter. Sure, it's not full of slick articles about productivity and technology, but it does help me learn more about my neighborhood and how I can get involved. It's a great way to learn about free concerts, talks, and farmers markets.
04. Talk shop.
Have you taken a minute or two to introduce yourself and chat with your local librarian, bank teller, the deli counter people, car mechanic, church ushers, cobbler, postal worker? There is warmth and history in the smallest pockets of your city. I've found belonging just in being familiar with those around me. My bus driver now knows my name and asks how I've been. I ask him about his family, and we wish each other a good day when I hop off the bus to transfer to the train below. Through this brief exchange, I get my daily taste of Midwest comfort first thing in the morning! So go ahead, put yourself out there in small ways and see what a difference it makes in your life.
05. Be generous.
Let's face it, we often work late and overcommit ourselves, so of course we rarely want to share our precious time. But there's a good chance you aren't the only one in your circle who misses home. I recently hosted a mid-week, sit-down, family-style meal for friends that finished with live music (thanks to the guitar players in the group!). Making a mid-week commitment can feel stressful, but we all left rejuvenated and ready for the rest of the week.
Also consider taking a breather by volunteering to make your city more beautiful or to help the less fortunate. It is a sure way to slow down, meet the locals, and foster a close-knit community. This new app called Giventure is going to help anyone volunteer, anytime while matching your interests and skills. Finding purpose and getting involved is the key to loving where you're at.
Investing in people is not always easy, especially when we are anxious about life's necessities. But I promise that the more you practice small doses of savoring the mundane moments, the city will grow smaller and more manageable. While I'm all for painting the town red from time to time (the city will never tire of new things to do!), I believe we should treat the city less as a platform for achieving our dreams, and more as a home for us to nurture.
We have chosen to make it our dwelling for the time being so why not nest a little and build community while you're at it? You—and wherever you end up next—will be all the better for it.
Do you have other ideas on how to make your city feel more like home? Share in the comments below!
Photo Credit: Britt Rene