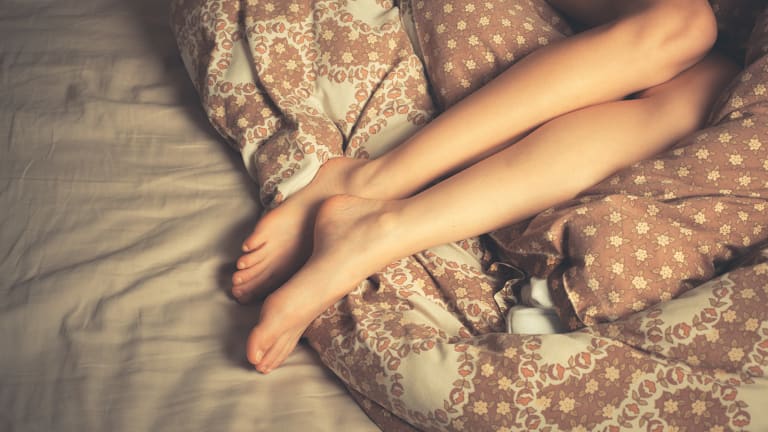 Why Getting Naked Isn't as Empowering as Everyone Keeps Telling Us
If you don't want to strip down, that doesn't mean you have poor body image.
Nudity. It used to be something reserved for the bedroom and hippies, but in the summer of 2016, it appears to be a full-blown trend.
At least, that's what it looks like if you turn on the TV or stand in line at the supermarket lately. Shows such as Naked and Afraid on the Discovery Channel and Dating Naked on VH1 employ nudity as a plot device, suggesting something primal and authentic as well as a gimmick to gain viewers. Semi-naked performers in Times Square have returned to headlines as New York officials announced new restrictions limiting street performers to certain areas. Still, see-through dresses showcase nearly nude bodies of celebs on red carpets, like that of the Met Ball last year, and magazine covers all over newsstands. Singer Demi Lovato says that getting naked makes her feel more confident, Selena Gomez posed nude on her latest album cover, and fans follow suit with partially dressed self-portraits on their social media accounts.
This isn't just a trend for celebrities and reality TV ratings. Cosmopolitan surveyed its readers in 2014 to find that nine out of ten millennials said they have taken naked photos of themselves. Allure magazine devotes an entire issue to the topic every year. A selection of celebrities strips down for a photo shoot each year, the fruits of which are printed in the magazine alongside an assortment of nude-centric articles. "Get Naked, Be Happy: The Beauty of Baring It All," read the May cover, "PLUS: Your Naked Spirit Animal."
If there is any doubt that the nearly nude imagery plaguing magazines influences readers to embrace nudity in their own lives, Allure's latest cover story straight-up instructed women how to strip down publicly with pride and confidence. An image of skinny dipping fun accompanied the article, telling its female readers that if they haven't stripped down in public yet, this is the summer to take the plunge.
It's striking to read a women's magazine editorial telling women to throw inhibitions to the wind so flippantly. If it weren't for the female bylines and editorial mastheads, I would swear a man were somewhere behind all this.
But I think it's safe to say that, given the frequency of these articles, and despite all the advice they offer up, a lot of women do not feel comfortable naked. And there's nothing wrong with that. In fact, there's a lot right with it.
According to a study by the University of Michigan in which female and male students were asked to perform cognitive tasks while wearing either a bathing suit or a complete outfit with a sweater, the female participants wearing less clothing performed worse at math than those fully dressed. Meanwhile, the difference didn't seem to affect the men at all.
This isn't an accident. The researchers determined that objectification affects women's psyche in significant ways, and I believe it's because we as women have more to lose when it comes to baring ourselves.
The collective cultural thinking appears to assume that the discomfort many women feel by stripping down can be only a symptom of weak self-esteem brought on by a hypercritical society. But there are plenty of positive and healthy reasons why a woman would want to keep some aspects of herself private. Sure, lacking body confidence may indeed be a factor for someone who doesn't want to publicly undress. But that isn't the only reason, and we'd be wrong if we assumed it was that simple. Women are much more complex. There are plenty of women, for instance, who are very comfortable with their bodies and who still don't want to bare them for all to see. In fact, a quick, sober assessment of reality suggests that the discomfort many find in nudity may simply result from a healthy awareness of a slew of possible negative repercussions.
Sure, in an ideal world, these problems would not exist. In an ideal world, people would respect women regardless of what they wear. No one would attempt to take advantage of a nude woman. No one would sexually objectify her as she walked down the street. No one would publish photos of her without consent. But the fact of the matter is that there are plenty of people all around us willing (and actively seeking) to exploit the female body.
Unfortunately, many of these effects are nearly impossible to mitigate: unauthorized photography and its resulting distribution, sexual objectification and exploitation, catcalling, sexual harassment, and sexual assault. Yes, many of these threats are present regardless of what one wears, but the vulnerability brought on by total nudity is unparalleled, and I think we ought to think twice before encouraging women to ignore that.
Of course, there are some women who acknowledge objectification occurs and yet choose to undress in defiance of it. "You're going to objectify me anyway," they might think, "so I might as well change the rhetoric to empower myself in the process." There's reason to believe that's what's influencing a lot of female celebrities today. According to Peggy Orenstein, author of the recent book Girls & Sex, this sense of empowering rebellion as an attempt to lift ourselves back up is mainstream now. And, sure, the rush of undressing can be confused with feeling empowered, at least in the moment. But the fact remains that this only changes rhetoric, not reality.
My point here is that many of the inhibitions that we have, inhibitions that prevent us from walking through a particular part of town alone at night or from stripping down in public, are good and healthy inhibitions to have—inhibitions that are rooted in reality and self-protection. And seeking to remove those inhibitions at any cost as part of some misguided pursuit of freedom is not necessarily the smartest course of action.
There are, of course, circumstances that call for less clothing than others. And developing the confidence to navigate those circumstances comfortably is undeniably important. But what articles advising to "get naked" miss is this: It is entirely possible for one to be utterly comfortable with her body and yet unwilling to expose it publicly. There are dozens of good reasons to remain clothed in public that have nothing to do with self esteem. Yes, body positivity is good. Confidence is important. But privacy is also a beautiful thing. Instructing women to ignore their inhibitions and strip down in public is simply bad advice.
Photo: Adobe Stock