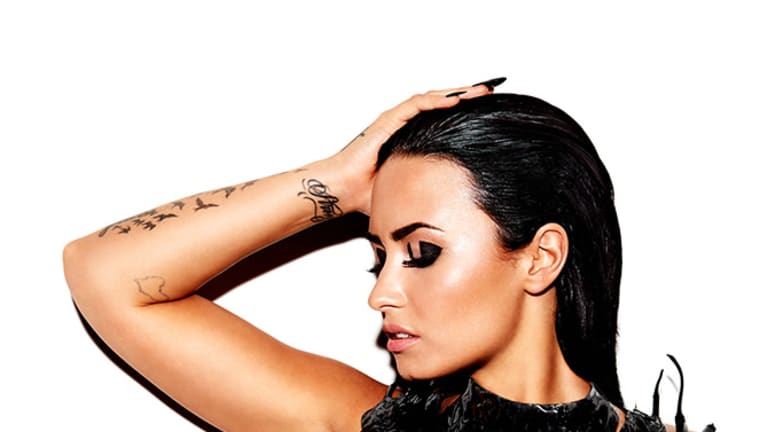 Demi Lovato Has Always Been Outspoken, But Her New Message Is Pretty Extreme
This type of 'body confidence' doesn't seem very healthy.
Following a dramatic yet brief hiatus from social media, Demi Lovato dropped her new single on Twitter over the weekend, and the Internet blew up. Fans and media alike swooned over her "sexy new single," whose release was accompanied by several nude Instagram photos of the pop star. The promotional image paired with the single itself shows Lovato on a bed, her bare back facing the camera and a lacy bra behind her on the sheets.
If her last album Confident was a bold statement, "Body Say" is a lion's roar—without a doubt, her most explicit work yet. But what troubles me most about this new song isn't just how hypersexualized it is, it's the message that in following our physical impulses we should turn off our brains.
The song finds Lovato crooning to a man across the room about how her body wants her to sleep with him. "I want your sex," she says, and "if my body had a say, I wouldn't turn away...If my body told the truth, baby, I would do just what I want to." Then later she fears, "My mind is getting in the way; can't feel what my body say."    
The song itself is unremarkable. A generic piece of ear candy, it's what we've come to expect from pop music. And the disrobed visuals are what we've come to expect from Lovato, considering she stripped down for a Vanity Fair shoot last year.
Lovato has situated herself in the popular culture as a warrior, emblematic in her tattoo bearing the word. She has been very open about her battles with mental health issues, including bipolar disorder, suicidal thoughts, eating disorders (anorexia and bulimia), self-harm, cocaine addiction, and alcohol abuse. It's in overcoming these challenges that the former Disney star solidified her presence as an example of someone who can rise above, grow.
But now, she's singing a different tune. She told Elle magazine, "I used to talk about mental illness and my struggle with it, but then I kind of felt like it was starting to define me as a person and as an artist." She continued, "I didn't want people to think of my sob story when they heard my name. I want them to think of my music."
So what will we think of, then, when we think of her music? The essence of Lovato's new song is this: Listen to your body. OK, yes, listening is good. Don't listen to your mind. Wait, what? Yep, with a lyric bemoaning "my mind is getting in the way," the song gives a distinct sense of conflict between the two. And in that conflict, the song recommends, ignore your mind; do whatever your body says.
Lovato has been very focused on body image and female empowerment. Her interviews almost always lead to the same sound bites about resilience and fortitude in the face of hardship. Given this, her lyrics about acting on impulse come as a bit of a surprise.
The problem is that when it comes to sex, focusing on matter over mind is not a great approach. It is not healthy to downplay the emotional and mental aspects of sex, no matter what your body might be "saying." If Lovato adopted the same attitude toward mental illness, she likely never would have been able to overcome the demons that plagued her. 
The idea of throwing caution (or your brain) to the wind to pursue what your body is telling you is not new or remarkable, especially in the world of pop music. Britney Spears' "Slave 4 U" comes to mind. So does Christina Aguilera's "Dirrty." All songs that were perhaps written to add an empowering script to the already hypersexualized trends. But it's hard to say they're succeeding. Maybe that's because I don't believe in a sexiness that suggests a woman should ignore her inner voice or intuition. Or a sexiness that's equated with embracing anything less than the whole person for that matter—and that means respecting our minds and emotions, too.
Photo Credit: Island Records