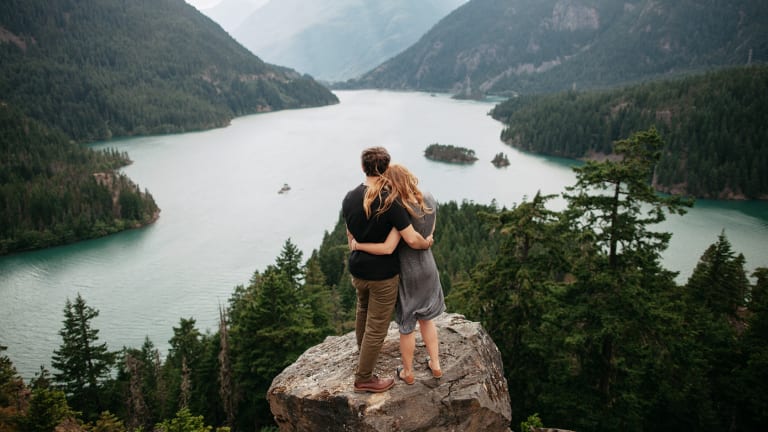 Gentlemen Speak: How I Went from Being a Wanderer to an Eager Husband in Just 6 Months
I was looking for my next adventure—little did I realize that would turn out to be commitment to an awesome woman.
Six months ago you would have met me and thought, "This guy is not settling down anytime soon." I had recently returned home after a year living abroad in New Zealand, and my mind was more focused on my next international adventure than on a serious relationship.
You would have been wrong.
At the beginning of this year I had my first Tinder date and fell in love. I wasn't exactly ready to settle down, and I certainly wasn't looking for something as serious as marriage. But recently I got engaged, and if it weren't for intentional dating, there's no way I would have been ready to get down on one knee.
Never before had I believed in love at first sight, and I still don't. There was nothing "wow" about the date. Sparks did not fly, but what did stand out were her convictions, her values, and how sincere our conversation was, even while casually sipping coffee at 11 a.m. on a Wednesday.
For me, this Tinder date wasn't about finding a casual hookup, but it wasn't about finding a wife either. I just wanted to meet new people in my hometown—which, after my time away, had become too unfamiliar. It was clear to me after our first date, however, that she was marriage-oriented and wanted a family of her own some day. She never overtly stated this, but the passions, interests, and desires she chose to express to me made this unambiguous.
Despite our difference in intentions, her natural confidence in her goal for marriage didn't put me off. On the contrary, it drew me in.
There is a stigma in the dating world that women who are upfront about wanting marriage or about how they expect to be treated by men are sealing their fate—that the guy will immediately run. I'm here to tell you that being honest about your expectations is not a turn off. In my case, my now fiancée's upfront nature is what attracted me to her the most. 
During our early courtship we continued to talk regularly and meet up. I am not sure if you would call our in-person interactions dates, but we were certainly not just hanging out. As our relationship progressed she made a point to bring me around to her friends, introduce to me to her sisters, and discuss with me what she wanted from her partner—like the time she told me how she felt about porn and how she doesn't want it to have any place in our relationship. I learned more and more about her values and she asked questions about what I wanted in life as well.
She asked me once how many kids I wanted. "I don't know," I responded, because it wasn't something that I had given much thought. 
That was my response to many of her questions related to my future. I thought I just wanted to see the world, but she never got upset with me or broke things off because of it.
Her confidence and clarity about what she wanted and what she expected in a relationship challenged me. The intentional way she approached dating helped me to evaluate what I really wanted. Without even realizing it I started giving her questions some thought and really wondering what I wanted for my future. I am not saying that I suddenly had all the answers, but the way I approached our conversations began to progress in a different direction.
"I think I would make a really good dad," I said to her over dinner one night.
The more thought I gave to my future, the more seriously I began to take my time with her, and the more involved in my thoughts about the future she became. Because she was so willing to share her dreams with me, I felt more comfortable thinking about and sharing my own. It takes vulnerability to be open about your deep desires—what if they don't happen, what if someone thinks you're dumb for wanting a particular thing? These thoughts can be really hard to overcome. Seeing her own her dreams about love and family made me want to commit to having my own—with her. 
I had no epiphany or eureka moment that let me know I should marry her. Love and the desire for commitment grew organically from these kinds of conversations. There was no timeline to figure out if she was "The One." We just continued to move the relationship forward by discussing the things we felt were important. We even got advice from relationship articles, friends, and family about what you should talk about before getting married. The more conversations that we had—the more questions that were asked and then answered—the more confident I became that a lifetime with this woman was the adventure I really craved.
Just six months later I was so confident and ready for marriage that I had lunch with her dad, bought a ring, and asked her a big question with so much conviction that it made her fingers shake as I put that ring on her finger.
Many men like me are made to believe that life is meant to be lived first and that marriage is just settling. But I don't believe that is how we are meant to live. Through the clarity, patience, and leadership of my now fiancée, I discovered the freedom found in seeking marriage with intention and ultimately embracing the adventure of commitment whenever it presents itself.
Photo Credit: Jordan Voth