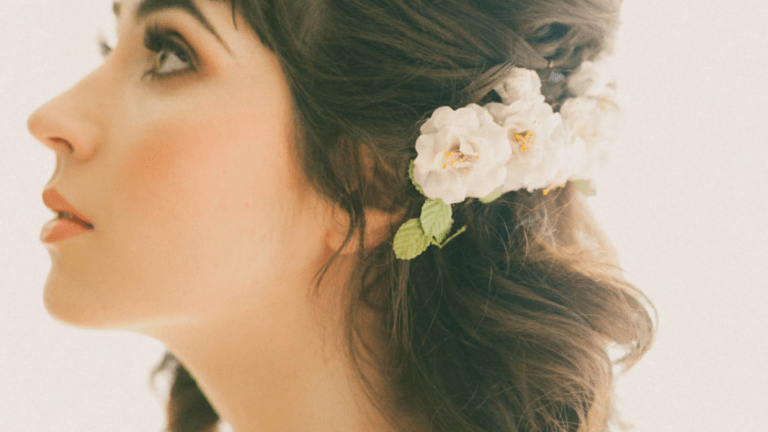 Which Bridal Style Are You? Use Our Guide to Complete Your Look for the Big Day
You have your wedding dress—now it's time to add the finishing touches!
After visiting tons of bridal boutiques and trying on (what felt like) hundreds dresses, you've finally found the one. Your dream dress. So, now what? 
You may have found the ultimate wedding gown, but your look isn't complete just yet. The final touches of your bridal look are important for fine-tuning your vision and creating a cohesive picture.
When it comes to accessories, makeup, hair, flowers—all the little details—many brides start to feel a little lost when trying to translate their unique tastes into a unified look. To help you complete your bridal ensemble, we have a few tips for your inspiration.
The classic bride is all about understated glamour. Her inspiration is all things Grace Kelly and "simple elegance" is how she describes her desired bridal look. Timeless styling is her goal to create a wedding ensemble that will be relevant for many years to come.
If you fall into this category, you have most likely already picked out a simple dress without excessive embellishments. To complete your classic look, stick to your traditional tastes and opt for jewelry that surpass all trends. Pearls and diamonds are the perfect way to add sophistication without tackiness. Try delicate pearl drop earrings or a stunning diamond bracelet to highlight your classic styling. 
For your hair and makeup, think natural with an emphasis on your eyes. Rosy hues for your cheeks and lips will create a fresh and youthful appeal while a defined liquid liner on your top lash line will bring the focus to your most captivating feature. Pull your hair back into a Princess of Monaco–worthy low bun. Finish the look with an equally classic bouquet of lilies.
The bohemian bride is a little more carefree with her styling, opting for an experimental yet relaxed look overall. She loves mixing and matching unconventional pieces and is open to incorporating various pieces from different decades into her bridal outfit. If you have chosen a loose A-line or sheath dress and want your wedding to be more casual than fancy, you might be a bohemian bride at heart. 
Let your free-spirited tastes shine and get inspired by nature with a woven crown or leaf pins and bangles. Stack on some rings and wear a whimsical, Spanish lace veil for an eclectic, unique look. Don't be afraid of color accents in deep, brooding tones like navy, burgundy, and forest green. 
For your makeup, try earthy, moody hues for your eye shadow and leave your lips nude. For your hair, forget perfection and let it hang loosely around your shoulders or in a beachy braid. Let your bouquet tie your theme together with an assortment of wild flowers, dried berries, and greens.
The vintage bride relishes in the bridal fashions of the late 1800s, 1920s, and 1940s. She dreams of a wedding look that partakes in the history of brides, paying homage to those who came before her and the breathtakingly ornate styles they wore. 
If you find yourself captivated by bygone wedding photos and already have a gown with throwback potential, go all out with a bridal look to go in the books. Art deco diamonds, engraved lockets, vintage lace detailing; now, this is romance at its finest. To make your inspiration a reality, incorporate authentic vintage pieces into your bridal ensemble. Place a photo of your groom in a Victorian locket or try a Juliet cap veil. 
For your makeup, leave your eyes more natural so you can go bold with your lip in dark velvety rouge. To really commit to the vintage look, try finger waves or barrel curls for a retro glam look.
The quirky bride is all about having fun with her wedding look and isn't afraid of deviating from bridal norms. She thrives off of darling details that express her unique personality and unconventional additions that will set her bridal look apart from the rest.
If you are all about wearing what you love and making bold fashion statements, you're a quirky bride through and through. You might even already have a dip-dyed gown or a short, flouncy short dress. To really make your wedding outfit your own, stick to your eccentric tastes and choose accessories that best express who you are. Maybe it's funky charms, a pair of retro bow heels, or a sweet Peter Pan collar that sets your heart sailing. Or perhaps a surprise bow belt or pastel cloth flower. If a traditional veil isn't floating your boat, try a birdcage or fascinator. Have fun with your makeup and rock a bold cat eye and red lip. It is, after all, your big day!
Photo Credit: Whichgoose