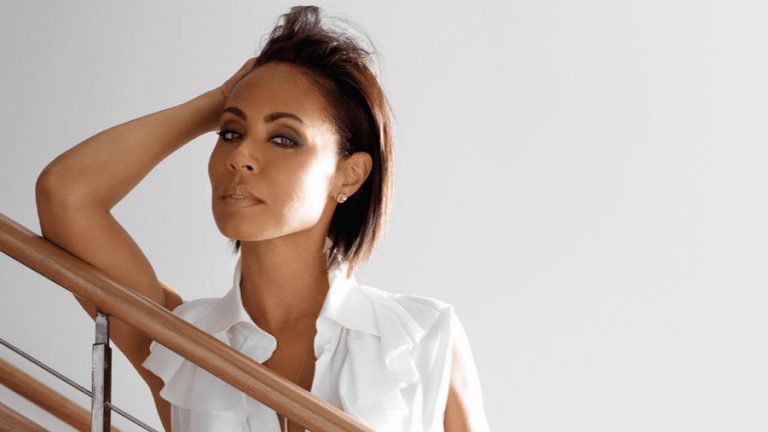 7 Refreshingly Honest Celebrity Moms to Inspire Millennials Everywhere
We're so glad these ladies got real about modern motherhood.
We've heard of the mommy wars, the mommy guilt, the mommy fails, the overwhelmed mom, and also the supermom. And the film Bad Moms, which opens today, is riding this wave of pop-cultural commentary on motherhood.
The film, which stars Mila Kunis, Kristen Bell, and Jada Pinkett Smith, promises to be chock full of laughs and parodies of momhood in the modern age. And amid all the mommy judgment swirling around, we could all use a good laugh.
Kunis has been headlining every publication around doing press for the movie, and as one would expect, all the interviews revolve around her own experience of motherhood. Kunis and her husband, Ashton Kutcher, had their first child together almost two years ago and are now expecting another. 
Her comments have been refreshingly honest—and considering her celeb status, actually quite relatable. And she's not the only one fighting the mommy judgment parade with some realness. Here are some of our favorite quotes about motherhood from celebs. 
01. Dominique Dawes
The former Olympic champion gymnast Dominique Dawes told the Today show recently that she found motherhood harder than training for the Olympics. But, even "during those tough days," she said, "even though it's challenging or I'm very tired, I know I'm going to persevere. Maybe tomorrow will be better. Maybe my toddler won't destroy the house tomorrow like she did today." 
While training for the Olympics, Dawes says there was a sense of controlling everything and aiming to achieve a perfect 10, she says. "When you're a mom, you don't have full control and you have to learn to let go… As a mom, I've had to learn to really let go of that nature of perfection, because the minute I walk in my house, the mini-tornadoes have already taken over….I've had to learn to let go of that and be patient and keep focused on the most important thing: having happy, healthy children...I want them to have a well-balanced life. That's my main focus now as a mother."
By accepting that "my house is going to be a mess every now and then, my minivan is going to be a mess and my kids are going to be who they're going to be." Sounds like a pretty good attitude to me!
02. Lake Bell
Actress, writer, and director Lake Bell recently shared some words on motherhood with Baby Center when doing media interviews for her voice role in The Secret Life of Pets. Speaking of the challenges of being a working mom she says frankly, "It's like really frickin' hard. I'm almost like offended when I hear people who are saying they are doing it all." But at the same time, she says "not to overly soapbox...it's so obviously and profoundly noble to have a baby and to raise it. That's literally, without hyperbole, our future...It's so hard, but it's also so fulfilling."
As a mom myself, I found Bell's candidness refreshing: "There becomes a time in the pregnancy even where you're kind of tapped out. And then, you give birth, and you're like, 'Oh, that's like a vast injury that I have just–.' I didn't realize that. I thought it was just going to be like, pop, and then I go back to work. And then, your brain is telling you, 'You must stay and take care of this progeny.' And all of that adds up to just quite a lot of time out of work or not being able to work."
As for mommy guilt, Bell says, "It's so intense. I think that the key to all of it is just not being quite as hard on ourselves as society." So, to combat the self-doubt and judgment of others, Bell says, "you have to kind of give yourself credit, do your best, and take care of yourself [because] that gets put to the wayside."
The actress has also told People in the past, "My happy place is holding my daughter and my husband in the same hug. It really is. I'm getting emotional just thinking about it," the actress adds. "I consider it such a privilege, and I know that I'm lucky. I never want to take it for granted."
03. Mila Kunis
Mila Kunis, starring in Bad Moms, has no shortage of fresh mom stories. Interviewed this week on Live with Kelly, Kunis said, "[When] I got pregnant with Wyatt, I put so much pressure on myself to think about how I'm going to balance work and life. And I realize it's impossible." Of that pressure to reach the unattainable, she said, "I think it literally ate me alive. No one put the pressure on me—I just did it fully to myself." But, the actress says she finds time to recharge after putting her baby to sleep every night. "From 7 p.m. on," she told CNN, "I actually do get the opportunity to make dinner and veg out in front of the TV, and just relax...I do think those couple hours at the end of the night are my lifesaver."
Kunis and Kutcher also cheer each other on, along the way, including to "high-five each other every single night we put Wyatt down. We're like, whew. We did it." Can't underestimate teamwork.
04. Erykah Badu
The 45-year old singer Erykah Badu loves motherhood so much she has decided part of her calling is helping women give birth. In a cover story for Fader magazine, she said, "I love motherhood... It's natural for me. Being a doula, or being a mom, or even, like, making food—it's just breathing and trusting, and allowing the creativity to flow through." 
As the New Yorker recently commented, "Through her life as a mother and her work as a doula, Badu has seen how mothers cannot afford to navel-gaze: They must look forward, living every day for a life other than their own, one that will hopefully carry on longer than they will."
Speaking to Madame Noire, Badu spoke to how she was inspired by those who came before her to keep her sense of self: "I came from a long line of matriarchs. There was not a lot of marriage and partnership that I saw as a child. I saw strong women: grandmothers, great-grandmothers raising grandchildren, the next generation of children, and children and children. I learned from them a lot of things. They weren't just mothers. They were also individual human beings who had careers, and ambitions… and lives. I learned from them that in my own motherhood, as a woman, I can also be Erykah, and grow as Erykah. And I think that's a beautiful gift to have. Just the knowing of that."
05. Kristen Bell
Another leading actress in Bad Moms (and perhaps more famously the voice of Anna in Frozen), Kristen Bell has also learned a lot from motherhood. As she recently expressed in an interview for WUSA, you still are your own person, even if that role has expanded a bit. "People often forget that of course you're a mom, but you're also still you, separate from your kids." She attributes this thinking due to people's "striving for perfection in motherhood." While this "comes out of a really good intention," she says, moms need to remember to "put on your gas mask first. You're actually going to get the results you want if you take care of yourself, and sometimes taking care of yourself means going to a yoga class and letting your husband take care of dinner or going to a midday lunch with your girlfriends and having some wine—whatever it means to you." Yes, ma'am.
06. Jada Pinkett Smith
Actress and mom Jada Pinkett Smith has shared similar thoughts on moms making time for themselves to recharge and keep their energy tanks full. In a 2012 interview for a series called the Red Table Talks, she said, "Before the day is done, you better make sure you take care of yourself.... When you stop, you get out of balance and really forget how to take care of others." For Pinkett Smith, the pressures for women and moms to "sacrifice everything" and neglect themselves does no service to their families or themselves.
07. Blake Lively
Last but not least, we must mention Blake Lively—she's one of our favorite millennial celebrity moms, after all. Lively, who is pregnant with her second child with husband Ryan Reynolds, told the LA Times, "Having a baby is just living in the constant unexpected….You never know when you're gonna get crapped on or when you're gonna get a big smile or when that smile immediately turns into hysterics. It might be like living with a drug addict." But at the same time, Lively told the Today Show that her daughter is easily "the most fun, funny human being I've ever been around in my life."
So while Bad Moms may joke about the hilarity of when days go awry and sleep deprivation takes over, it's great to remember how many moms have come before and how inspiring they've found the journey. Because we aren't alone. No matter how crazy future days may be, they won't make us bad moms, just real ones.