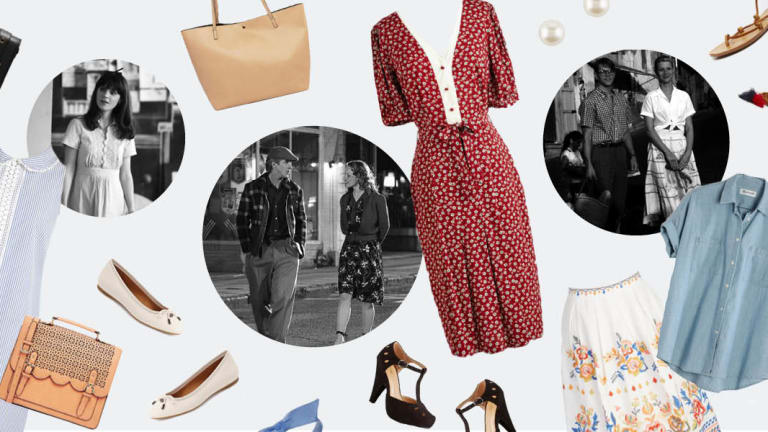 How to Dress Like Your Favorite Movie Heroine (Allie From the Notebook, Anyone?)
Cute, classy, and easy to recreate—we love these iconic looks.
As the days grow hotter, it becomes increasingly difficult to put an outfit together that's cute and not just another rendition of shorts and a T-shirt. So we turned to our favorite iconic summer films for a little inspiration. Check out some of our favorite on-screen heroines and their copy-right-now outfits.
Allie from The Notebook
Only Allie could make a summer in the south look positively cool. With her darling 1940s frocks and pumps, we're ready to copy Allie's look ASAP. Who could forget the romantic scene where Noah dances with Allie to "I'll Be Seeing You"? But more importantly, who could forget that outfit? We're snagging this vintage ensemble by wearing some throwback pumps and a floral dress. We'll be waiting for Ryan Gosling in the street.
Summer from 500 Days of Summer
Blue has never looked so good as it does on Summer from 500 Days of Summer. When sweltering in the heat and humidity, a lightweight dress is without a doubt the way to go. We are setting out to find a baby blue dress of our very own, complete with a Summer-worthy ribbon headband and ballet flats.
We're taking a cue from the identity stealing Tom Ripley and copying Marge Sherwood's look immediately. Set in sun-drenched Italy in the late 1950s (a winning combination), Marge dons midi skirt after midi skirt paired with espadrilles and casually tied button downs. Still a win in 2016!
Adriana from Midnight In Paris
Thank goodness the 1920s was all about liberating women from restricting fashions, introducing the world to the drop waist dress. Is there a better time than the summer to wear such a loose cut? Midnight In Paris is full of iconic fashion moments, but we're especially taken with Marion Cotillard's character, Adriana, and her casual white drop waist number. To really play up the 1920s' ensemble, go for the cloche hat and strappy heels.