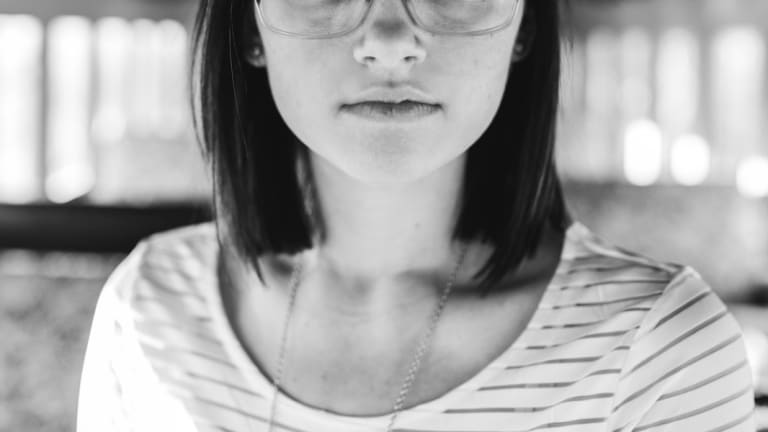 The First Thing You Should Remember When You Make a Mistake at Work
Believe it or not, with the right mindset your mistakes can be turned into empowering moments.
We all make mistakes—it's a fact. No one can be absolutely perfect, regardless of experience or skill. Still, we can't help but cringe when we slip up on the job. While it may seem like the end of the world at the time, mistakes can actually work in our favor.
It comes down to reminding ourselves: I can turn this into an empowering moment.
Sure, mistakes can be horrifying, embarrassing, and everything in between. But mistakes are supposed to happen. When we asked Kathryn Minshew, founder of job search and career inspiration hub The Muse, if her mistakes led to her own career success, she admitted, "So many times!"
Of course, this doesn't mean that we should aim for errors. It's about forgiving ourselves and being proactive about learning from our mishaps. Minshew added, "I make a lot of mistakes but almost never the same one twice."
"We tend to beat ourselves up for the ugly phase," says Tiffany Han, business and branding coach, in her podcast episode titled "On Perfection." Han reminds us that it's up to us to grant ourselves permission to not be perfect. When we do, the lowest of the lows can be advantageous for us.
The right mindset changes everything. Work on forming a healthy relationship with your mistakes through these three entry points. With time and practice, you'll be able to transform your blunders into benefits.
Believe You Can Learn from It
Think back to high school. There's a good chance that, at some point, you thought you probably had things all figured out—from questionable outfits to controversial crushes. We see you nodding your head from here. Years later, you realize that you still had a lot to learn. You were just getting started.
Here's the thing: The same could be said for who you are today. Every mistake is another step in the never-ending journey of building resilience, or your ability to bounce back from difficult setbacks. Jessica Bacal, author of Mistakes I Made at Work: 25 Influential Women Reflect on What They Got Out of Getting It Wrong, shares in her book that surviving real-life failures increases resilience. And when you consciously view mistakes as learning tools, you're more likely to improve. Bacal advises, "I would encourage every young woman to find at least one beautifully mucky place in which you're not the expert—and then to wade in." Proactively looking into your own areas of weakness will make future mistakes less likely and will allow you to feel more in control.
A study in Psychological Science monitored electrical activity in the brain that was equivalent to what researchers called the "oh crap" response and the "I made a mistake, so I should pay more attention" response. Both signals occur within a quarter of a second of the subject making a mistake. Their results showed that when people believe that they can learn from a mistake, they actually can and do.
Researcher Jason S. Moser states, "People who think they can learn from their mistakes have brains that are tuned to pay more attention to mistakes." People who think they can't get smarter, for example, will not take opportunities to learn from their mistake. This concept speaks volumes. By acknowledging that you can turn the mistake into a prescriptive moment, you either manifest or deny the chance for improvement.
Use It to Develop and Refine Your Big Goal
Newton's Third Law of Motion is, "For every action, there is an equal and opposite reaction." This law can be spun in a way that helps you handle a workplace mistake with ease.
An unfavorable action—the mistake—yields an unfavorable result. This is the equal reaction. As for the opposite reaction? It's acting with a mind toward what you truly want to achieve from the job.
Much like facing rejection, making a mistake gives you the opportunity to readjust and refocus on what you'd like the outcome to be. It doesn't matter if the mistake stemmed from a hiccup in judgment or skill. "Failing is sometimes the only way forward," Bacal writes. "You can read thousands of books about public speaking, but until you do it, you are not going to grow. Learning through experience is key."
A mistake is a signpost in the road indicating a fork of next step opportunities. Without that pause, your trip will be a straight shot void of exploration and self-improvement. Instead of brushing it off, use the mishap as a chance to think about your short- and, more importantly, long-term goals. A slip-up at work, for instance, is the best ammo to refine a professional goal or address an area that you didn't even know needed attention.
Handle It as a Gesture of Respect
Somewhere in between the humiliation and awkwardness of making a mistake, there's that dreaded moment when your heart drops to your stomach as you witness the consequences of your mistake unfold. Suddenly, competency, respect and praise seem far, far away.
But how you handle it from here is a complete game-changer for everyone involved. When you deal with an issue with maturity and grace, the ball finds a way back in your court.
It's all about owning your mistake. Denial suggests a lack of humility and cooperation. Stanford management professor, Robert Sutton, writes in his book Good Boss, Bad Boss, "Refusal to accept blame, pointing fingers at others, and wimpy language can help bosses keep their jobs for a while, but it usually backfires in the long run. No matter what is said, bosses are seen as responsible for what their people do." When you make a mistake, your boss has to figure out how to absorb the consequences, too. But when you admit your blunder and offer tangible solutions, you display honesty and a high regard for teamwork. You're saying, "I understand how this affects our business. I'm prepared to take this proper course of action."
Julie dePontbriand, cofounder and CEO of Shop Venture, expresses a similar notion. As an entrepreneur, she has made mistakes and witnessed those around also hitting bumps along the way. As a CEO, though, she says: "Individuals who are self-aware and collaborative are the ones who achieve the most for the business," she says. "We actually learn more from our failures than we do from our successes."
The next time you make a mistake, take a moment to recover. Allow the "I should pay more attention" response to follow the "Oh, crap" one. Acknowledge where you went wrong. Then make it a point to share what you learned and what you'll do differently in the future with your colleagues and supervisors. And just like that, a mistake transforms from a signpost into a stepping stone.
Photo Credit: Corynne Olivia