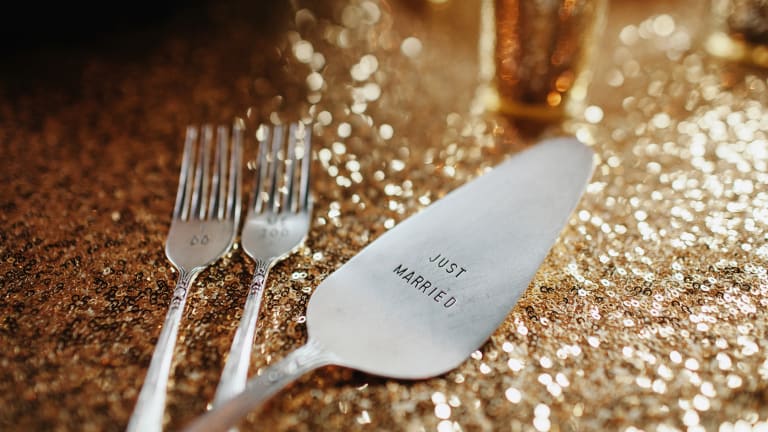 Make Wedding Gift Etiquette Easy with These 15 Ideas Under $50
These thoughtful wedding gifts won't cost you an arm and a leg and will be treasured for years to come.
Wedding season is unfolding to the sound of heartfelt "I dos" and glasses toasting. When you're a part of the couple's big day, guest duties typically involve warm greetings topped off with the perfect gift. Many of us are left wondering about the wedding gift etiquette: What's too little? What's too much?
American Express Spending and Saving Tracker reports that the average amount that a guest was projected to spend on a wedding gift was $106 for friends and $142 for family members. But gifts needn't be expensive to be eloquent. 
In an interview for the New York Times, D.C. etiquette consultant Nancy Mitchell says, "I find it really sad when a bride or groom looks at a gift and says, 'That doesn't equal the cost of the plate at my wedding. A lot of people say that is a standard way to calculate a gift, but it's not. It's not tradition, and it's not universal. People should give according to their relationship and their means."
If you're on a budget, the key is to place more emphasis on the significance and usability of the gift—not the price tag.
"Think practical," advises Viva Max Kaley, NY-based wedding planner and founder of Viva Max Weddings. "Keep the couple and their unique interests in mind."
A registry can help you get a picture of what the couple is looking for. By incorporating one of the traditional marriage themes below, you can add a symbolic touch to a gift the couple will cherish for years to come.
01. For the Classic Romantics: Lovebirds
Known for their affection and monogamous bonding, lovebirds are a classic wedding symbol. "Lovebird pairs spend long stretches of their lives perched together on the same tree branch," says Kate Lynn Nemett, Editorial Director at Borrowed & Blue. "It symbolizes a life spent by each other's side, watching the world go by."
Before you wince at the cheesy undertones, hear us out. There's a way to incorporate this theme that doesn't have to be 1970s kitschy. The secret? Simple design.

"Go subtle," advises Nemett. "Try a set of framed, modern prints that the couple can hang on their wall, like this set from Aldari Art Studio via Etsy (personalized in the couple's wedding colors), or a pair of cheeky pillowcases." Or incorporate lovebird elements into coupled gifts. A pair of matching quill feather pens will make writerly friends swoon, while Anthropologie's feather-shaped cheese knives or a gold tray will please refined tastes while nodding to the lovebirds' lifelong unity.
02. For the Nature Lovers: Timber
Consider gifting a small tree. "They're symbolic of fertility, making them a meaningful wedding gift," says Nemett. Opt for 2- or 3-year-old seedlings, such as a pine or olive tree. Add a personalized touch with fabric, ribbon, or twine. A young plant is not only budget-friendly, but, "Their marriage will grow along with the plant," Kaley says.
Or take another tip from Kaley. "If you and one of the newlyweds are from the Northeast, consider presenting pine through items such as (personalized) cutting boards," she says. By choosing a useful home item made of wood—a simple walnut-handled sandwich spreader, handcrafted prep bowls, or madras woven baskets—you'll mesh practicality with thoughtfulness.
03. For the Whimsical Couple: Pomegranate
A creative approach is essential for stylishly incorporating this fruit symbolic of wisdom and prosperity dating back to ancient Greek, Egyptian, Jewish, and Christian cultures.
For a couple that loves to host, consider gifting pomegranate-infused spirits. Cut three pomegranates into quarters and remove the seeds. Place in a large wide-mouthed jar and fill with vodka or rum. Leave in a cool, dark place for two weeks and transfer into a beautiful glass bottle with a stopper. Top it off with a silk or satin ribbon.
Or cater towards the newlywed's future home together with a pomegranate candle and soap by Jo Malone, or a framed Victorian botanical print that is as bright as their new life together.
04. For the Sweethearts: Honey
Honey's backstory is linked to the bee, an ancient Greek symbol of love. It is a traditional wedding gift in many other ancient cultures, including African, Egyptian, Jewish and Christian traditions.
It's often gifted to couples to encourage a life full of delight, sweetness, and all things natural. Nemett suggests a set of local, artisanal honeys in elegant bottles such as this honey duo by Bee Local or a cheesemonger's flight by Bee Raw.
As for non-edible ideas? "Beeswax candles, body butter, or a ceramic honey pot are great honey-inspired gifts," says Nemett.
Or consider the gift of experience! A beekeeping class will bring the couple closer together as they learn something new, mentions Kaley. Too costly? Have friends or family members contribute for a group-funded gift. Together, the total will offer a grand experience without breaking anyone's bank.
05. For the Power Couple: Bamboo
In Chinese tradition, Bamboo represents marital happiness and harmony between two human beings. Its sturdiness and natural of beauty also make it an ideal material for kitchen and dining ware such as a bamboo-handled professional wok, an elegant serving platter, or a beautiful bowl. Bamboo home goods such as fragrance diffusers, candles, and lanterns are eco-friendly and elegant. But you really can't go wrong with ultra soft bed linens or plush towels made of bamboo textiles.
The Perfect Presentation
Finally, when it comes to wrapping, think outside of the box—the gift box, that is. "How you present a gift can make it stand out," says Kaley. She suggests using textiles inspired by the wedding's color palette in a Japanese wrapping method called furoshiki. Other ideas include colors and designs that speak to the couple's cultural backgrounds or home states. For a play-by-play on various wrapping techniques from flowers to wine bottles, visit Furoshiki.
With these ideas, your present is sure to have a unique significance and personal touch. What's most important is that you gift something that you are truly excited and happy to give the newlyweds. Stay true to yourself and the couple, and your love and care will shine through.
Photo Credit: Jordan Voth