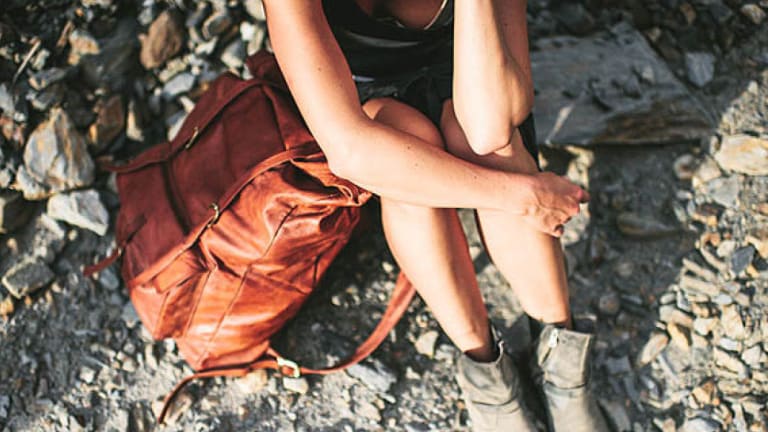 5 Clever Packing Hacks You Need to Travel Lighter
Don't be stuck with a fifty-pound suitcase this summer.
Have you ever left home for two weeks with just half a packed suitcase? I have. In my book, it's the best way for city travels. I could eat and shop like a madwoman, drunk on the power and freedom my mostly under-packed suitcase afforded me. By the end of my trip, I was loaded with exotic treats and souvenirs.
But I haven't always been a light packer. I've gone on two-day trips with a week's worth of clothes and shoes I didn't end up wearing. I've brought my own hair dryer and French press when visiting places I knew would be fully stocked because what if?! The fear of being caught unprepared in a strange place can keep us tethered to our possessions. But what's the sense in carrying around facets of the very lives we want to take a vacation from?
Whether you're planning an extended period on the road or simply aiming to come home with a bounty, cutting down on the "security blankets" in your baggage will leave plenty of room in your suitcase for new adventures.
01. Switch to travel underwear.
The first time I took a two-week trip, I packed about nine pairs of underwear. This may not sound like much in the context of a suitcase, but it left me with nine little objects to keep track of over the course of my trip. I had to think about how many pairs I had left before looking for a laundromat and make sure I didn't let the dirty ones end up with the clean.
My mother has always touted the diligence of washing my undies in the shower, ensuring I'd have a fresh pair far sooner than a laundry cycle would allow. This is a hard sell when it comes to cotton undies in a cold climate. Then I found ExOfficio travel underwear at my local adventure store. They're made with breathable, odor-resistant, moisture-wicking, and quick-drying fabric, making them super-comfortable to wear and super-easy to wash. Keep an eye out for a nylon-spandex-blend fabric like these seamless, neutral-colored microfiber boy shorts from H&M that have a comfy cotton-lined gusset. Just hand scrub them with a bit of soap while you shower, and hang them up where they'll get decent air circulation. They'll be totally dry by your next wear.
Apply the same approach to packing socks. Wool helps regulate body heat in cool and warm weather, and it dries much faster than cotton. Two pairs of wool-blend socks are a worthy travel investment.
With underwear and socks designed specifically for travel, I cut my system down to just two pairs of undies and socks on rotation, plus a spare cotton pair in case of an emergency.
02. Adopt a layered clothing system.
Layered clothing systems geared for outdoor adventurers can be useful for city travel, too. Understanding the principles of the base layer, mid layer, and outer shell, as well as the behavior of different types of fabric, can help you optimize the clothing you bring.
A base layer is worn closest to your skin, wicking sweat away from your body. Choose wool or synthetic fabric (like nylon or spandex), as they're both breathable and moisture-wicking. In cool weather, one set of high-quality merino wool thermals can do the job of three cotton T-shirts while not needing to be laundered as frequently. Plus, wool is a great insulator that still keeps you warm if it gets wet.
The mid layer keeps you warm by trapping heat close to your body when temperatures drop. A cute synthetic cardigan, vest, or jacket in warmer climates or a fleece or ethical down in cooler ones will do the trick here, but they won't provide much protection from the elements.
This is where the outer shell comes in; a lightweight, waterproof jacket to help keep you warm and dry in the wind and rain (in case of inclement weather). Invest in at least one minimalist waterproof jacket. Or opt for a classic water-resistant trench coat you'll wear abroad and at home for years to come.
Consider shopping at an outdoor adventure store for brands like L.L. Bean, Patagonia, or The North Face for travel-friendly clothing. You'll find plenty of options for base and mid layers, as well as jackets that cover you for both insulation and weather resistance. As an added bonus, outdoor jackets tend to be designed for utility and will typically include large, convenient pockets—something that many fashion brands overlook.
03. Bring beauty items that work extra-hard.
I once traveled with a companion whose beauty bag was the size of my carry-on. I don't wear makeup every day, so it was a huge surprise to learn just how big makeup collections can get. When I travel, I bring just four beauty products: moisturizer, BB cream, lip balm, and an eyebrow pencil. If you're like me and don't wear makeup day to day, four items are usually enough to see you through a cosmetic drama.
For those who love and live by their beauty products, food and fashion blogger Brighita Algeri shares her tried-and-true makeup packing tips that saw her through three months on the road: Use a makeup pallet. You want "anything that can be used for more than just its intended purpose, and palettes are just that. They offer bang for buck and work overtime."
Pick palettes that offer big variety in a small package, highly pigmented products that last for ages, buildable foundation for flexibility in coverage, and shades that can be used for both eyes and cheeks in a pinch. With her system, Algeri whittled her travel stash down from two large bags to a single compact bag that covered all her needs.
04. Go digital.
You can save a lot of space and weight by substituting a few hardcopy items with digital replacements. Thick, fascinating books take up much more space and weight than an e-book reader or iPad. E-book devices such as a Nook or Kindle will prove easier on your eyes, but if you'd rather downsize your baggage even further, simply download the reader's apps onto your smartphone.
Paper maps, guidebooks, phrasebooks and pocket directories are also easily replaced by mobile apps, which offer more up-to-date information along with advice and recommendations from fellow travelers. Many apps like TripAdvisor guides and Yandex translator can be used offline or downloaded in advance for future use.
Going digital can be tricky, however, depending on where you travel. Mobile roaming charges add up quickly, even if you're just looking up an address on TripAdvisor. Be sure to check the availability of Internet before you leave home. If necessary, prepare to purchase a local SIM card with wireless access when you arrive. In the case that you lose your device, do keep a paper copy of your detailed itinerary, including the phone number and address for your hotel or final destination, travel confirmation numbers, and emergency contacts. Write down the serial number under your phone's battery so that you can file a lost or stolen report with the national police. Back up your phone using a cloud-based service such as DropBox or iCloud so that you'll have access to your data even if you lose your device.
05. Plan your trip around packing less.
Finally, adjust some of your travel habits to ensure you can get what you need even when you don't bring it with you. This is particularly useful if you're not staying in one spot for your entire trip. Get familiar with your surroundings ahead of time, and make smart booking choices that put you in an environment you can make use of.
Buy what you need when you get there. There are some things you don't have to take with you when you leave home. Toothbrushes, toothpaste, contact lens solution, shavers and socks, for example, are commonly available and affordable in city destinations. Additionally, if you're heading to where the shopping is good, consider holding onto your clothes budget in the months leading up, and spending it while you're away instead.
Choose accommodations with amenities you can use. Finding a place with or near laundry services will allow you to pack even fewer clothes. Some hotels, inns and rental homes also provide hair dryers, straighteners, curling irons and towels, along with free or cheap Wifi access.
For an even more minimal approach, keep your bags light throughout your trip by acquiring only small souvenirs and gifts, postcards, or tokens that can fit inside a journal. With smartphones, it's easier than ever to capture memories on good-quality photo or video. You can print and share images with family and friends later.
Belongings that don't belong, at least for the short time we're away, only take up space in our bags and in our minds—pieces of ourselves attached to feelings and memories we deserve some time away from. They can be exhausting to lug around when we're trying to embrace the new. Packing lighter forces you to problem-solve in unique and fun ways, giving you a chance to remove yourself from the humdrum of everyday life. If you haven't yet discovered the joys of packing light, you'll be surprised by how a heart can grow full on a half-empty bag.
Photo Credit: Manchik Photography