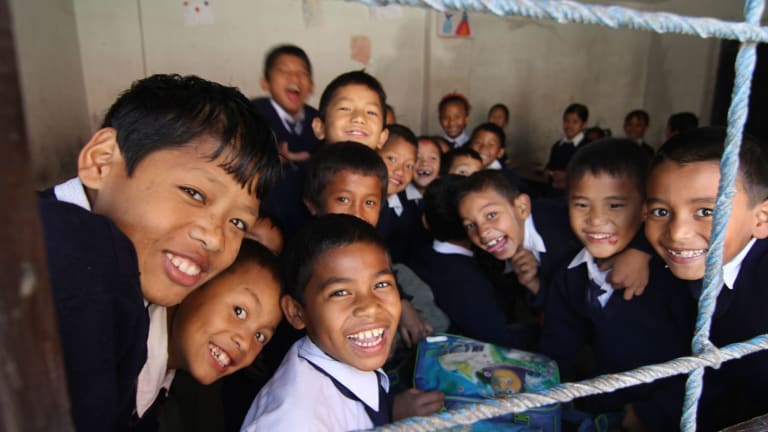 Why Volunteer Travel Might Be Better For You—and Your Career—Than a Vacation
Transform your world view—and your life—forever.
Many of us admire the selfless and courageous work of men and women like Mother Teresa or painter Lilias Trotter, who left everything to devote themselves to the poor and marginalized. And many of us dream of doing the same as we sit at our desks or in traffic. But often we're so caught up in our career or busy lives that anything philanthropic takes a backseat.
With limited time off to spare, volunteer travel sounds like the perfect compromise. You get to experience a different culture while giving back—what's not to like? But from poorly built walls to rescue missions gone wrong, "voluntourism" has gotten a bad rap. According to George McGraw, founder and executive director of the non-profit DIGDEEP, poverty alleviation projects (food, housing, water, energy, social justice) require more than good intentions.
The solution is to make an impact on the ground in a thoughtful and truly beneficial way. McGraw says that in order for it to be effective, "volunteer labor should almost always be necessary and skilled. An organization should really need the skills you bring to the table (ex. because they're expensive or not locally available). If you have any doubt about your ability to make a real impact with your trip, stay home."
If you've ever dreamed of using your talents and skills to serve others, but find yourself needing an extra kick to get out the door, here are five reasons to consider taking time off to volunteer instead of going on vacation.
01. Fulfilling a Mission, Not Just Doing a Job
Before I decided to volunteer travel, I was working in New York City. I got offered another job at a competing company in online marketing. It was a fork in the road—did I want to continue focusing on my career in marketing, or did I want to take this opportunity to do something different? 
I was at a stalling point. I liked my job. I was good at my job. But I wondered if I was really making a difference.
Sociologist Robert Bellah identifies three different ways in which people approach work: as a job, a career, or a calling. A job pays the bills, but provides little to no fulfillment. A person with a career is invested in their work and interested in excelling at it, providing a sense of accomplishment. A calling, Bellah says, makes a person part of a community "whose activity has meaning and value in itself, not just in the output or profit that results from it."
There's no one right way to view your work. Some people choose to work "jobs" because they are deeply invested in some sort of project or activity outside of work. But some research—and common sense—suggests that people who view their work as a calling have higher levels of satisfaction in work and life.
Taking time away from your job gives you the opportunity to do work you view as a calling.
When I was contemplating my career change, my brother-in-law from India recommended I consider the Friends of the Good Samaritans School, which has several schools in New Delhi serving children from the slums. I've always enjoyed working with children, volunteering at camps throughout high school and college. What's more, the director of the school wanted me to teach a marketing class to high school students preparing to choose a career path.
I chose Friends of The Good Samaritans because it is a locals-operated organization that restores the needy and marginalized in India to confident living through free education, nutrition, and medical care, and I knew could put my specialized knowledge in marketing to use in the classroom.
I spent two months volunteering at the school. I got to do work I found to be deeply meaningful. And I came away with a better appreciation for how my "job" in marketing actually could be put to use serving others.
02. Volunteering will adjust your priorities.
When I made the decision to quit my job to volunteer, everyday habits I thought were important began to change. It took me about five months to save money, raise support, and apply for a visa. I continued working and babysitting on the weekends to earn extra money before putting in my notice. My free time and financial resources were significantly restricted, but paradoxically I found that I was peaceful and happy.
Research suggests that how you manage your time and money impacts your happiness. Specifically, focusing on time leads to greater happiness than focusing on money, and spending time and money on others rather than yourself increases happiness as well. When you spend vacation time or financial resources giving back instead of laying on a beach or by the pool with friends, you do both.
03. You don't have to travel far.
Maybe taking two months off from work or between jobs is not an option for you. But even if you have just a weekend—or a single day—you can find ways to give of yourself. McGraw reminds prospective volunteers that "there's plenty to be done right in your own backyard!" In almost any city, you can count on finding a homeless shelter, food bank, or tutoring or mentoring program that would welcome your help and your particular set of skills.
After returning from my two-month volunteer trip with an Indian-operated organization, I'm more involved in local ministries and nonprofits aimed at helping underprivileged children. I have also partnered with coworkers to raise awareness and funds for organizations in my city that are doing the same.
04. It's more doable than you might think.
Once you make the decision to volunteer, you will find that support comes from unexpected places. After I decided to volunteer travel versus take a traditional vacation, a friend generously donated frequent flier miles and Friends of the Good Samaritans housed me in exchange for the time I taught. And you can raise travel funds through an organization registered as a non-profit, so family and friends can get a tax deduction.
You may find that your job supports you, too. Many companies support continued education for their employees or volunteer projects that align with their own mission.
Research reputable organizations with opportunities that fit your time, budget, and skills through The International Volunteer Programs Association, a non-profit dedicated to promoting awareness and access to ethical and quality programs.
05. It will broaden your horizons
Whenever we work to attain something, we naturally value that object because of the effort we spend on it. By investing your energy and time in helping others, you begin to value people more than, say, checking a new experience off your bucket list. And when you recognize others' worth, you also recognize your own. You find that you have a unique ability to serve others with your own set of skills, resources, and experiences. This builds a confidence that carries over into your current and future workplace. You're more likely to take notice of and validate others' talents. And you find that your worth lies far beyond vacation days or the daily grind.
I've been cataloging the many benefits of taking time off for volunteer travel. But it's important to remember that volunteering is, first and foremost, to benefit others. By approaching volunteer travel in a way that is honest, realistic, and focuses on individual growth rather than instant change, you'll make an authentic difference in others' lives and transform your own.