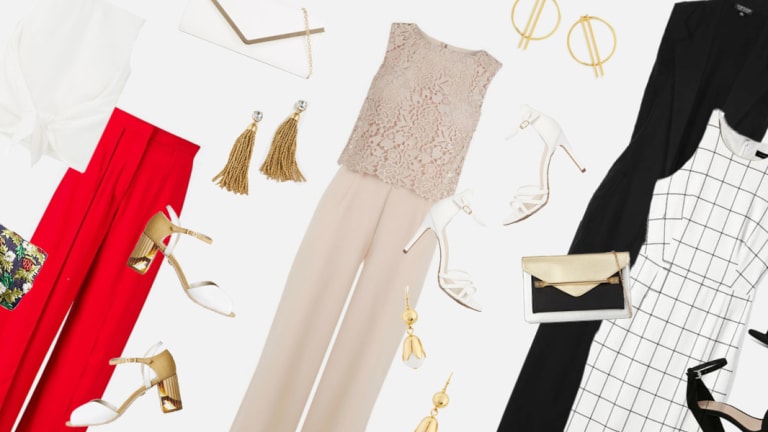 Stylish Summer Wedding Outfits You Might Not Have Thought Of
You don't have to wear a dress to a wedding, you know.
Wedding season is here, and as we desperately search our closets for wedding-appropriate attire, sometimes we just want a break from wearing our go-to wedding guest dress. Don't get us wrong, we love a good fit-and-flare, but once in a while it's time to throw in a wild card.
Wedding guest attire has evolved beyond dresses and skirts, and while you may not have considered wearing these unconventional looks to someone's big day, rest assured that your updated wedding look will turn heads—in a good way. Break from tradition and make this wedding wardrobe season your best yet.
The Jumpsuit //
With its increasing popularity, the jumpsuit is here to stay as a wardrobe staple. The elegant lines of a jumpsuit make it formal-ready, while the one-piece silhouette is edgy and fashion-forward—not to mention perfect for getting your groove on. The key to making your jumpsuit blend in with the crowd of dresses is to go for your most flowing number and wear more feminine, coordinated accessories. To bring this look to the next level, we chose sleek, matching white accessories that scream wedding-worthy. 
Drapey Duster //
If your outfit is looking a little blasé, throw on a long, drapey duster to give it the stylish flair it needs. The sleek, billowing lines of the duster offer the same fluidity of a formal dress but with a more creative approach to wedding wear. The great thing about the duster is that it can be worn over any formal or casual outfit, making it ideal for many occasions beyond the wedding. And for an outdoor evening wedding, it provides an extra layer for when the temp drops.
Palazzo Pants //
Palazzo pants are the new maxi skirt, and we couldn't be more on board. The long lines of the palazzo pant immediately elevate this look, making it perfect for even the most formal of weddings. When rocking this ensemble for yourself, keep your outfit minimal and sleek by choosing a simple top without loud patterns. In order to amp up the fancy factor, choose embellished accessories like an embroidered clutch and beaded tassel earrings.